We have taken a look at Igus' 3D printed triboplastic filaments before. Now it's time to take a look at a new product from the German specialist plastic company, as they are set to release the world's first 3D printable triboplastic resin.
Read on to know more.
Triboplastics
If you haven't heard of triboplastics before, then head over to our previous article on the Igus range of 3D printed triboplastic filaments.
Igus is a plastic company specializing in low friction plastics, which can be used as materials for bearings. The plastics themselves are "self-lubricating" meaning they emit lubrication as they wear. The maintenance required for lubricating work is zero, as a result of the. Microscopic solid lubricants that are integrated into the material.
Igus has used these plastics in a range of bearings, lead screw nuts and a range of other motion-related hardware that benefit from reduced friction. Most of their components are molded in these triboplastics, but as we saw in the previous article, Igus now offers both a variety of tribofilaments, and also, a 3D printing service bureau in case you lack the hardware to print yourself.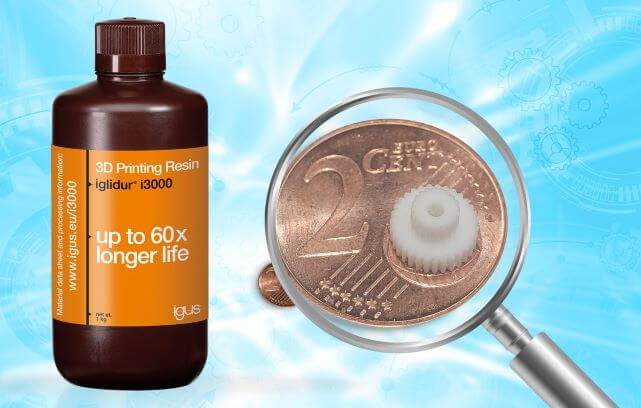 Now the company has moved into the domain of DLP resin printing, and they are soon to release the world's first tribo-resin material, named iglide i3000. The resin, which is printed on DLP printers, offers 60x longer life compared to normal plastics in a similar environment, making it suitable (like many Igus products) for applications requiring a lot of motion and wear, such as bearing faces.
What's more, is that the new Igus triboresin can be printed at extremely high levels of accuracy due to DLP having higher resolution than FDM, so not only can you print low-friction parts, you can print them really small too, in the millimeter range.
You can see an example of this in the image above, where the tiny tribo-resin gear is placed on top of a coin for scale.
When printing this Igus tribo-photopolymer on a resin printer, resolutions of just 0.035 millimeters are possible, around half the thickness of a human hair.
"A common problem with tiny components made of commercially available 3D printing resins, such as gears for model-making, is that they are not particularly robust and fail quickly," said Tom Krause, Head of Additive Manufacturing at igus.
"We were able to prove in laboratory tests that the service life of iglide i3000 is at least 30 times longer than 10 tested commercially 3D printing resins. In some applications, we even expect an increase in service life by a factor of 60."
The gear in the image above has tips of just 0.2 millimeters thick. The gear tips have highly smooth surfaces that require no post-treatment, because unlike FDM, resin printed parts are just so darned smooth you don't need to post-process those layer lines away.
Smooth + Wear Resistant
"We are now entering the beta test phase with the first customers. At the same time, we are working on ensuring that DLP 3D printing is also available in the online tool, which customers can use to upload STEP files for their components or configure gears in just a few clicks," said Krause.
"Thanks to the combination of 3D printing and online configuration, weeks of waiting for wear-free special components are a thing of the past."
Their range of printed tribal plastics, now available in FDM, SLS and SLA resin feedstocks, seem to be very popular for sure, as Igus produced more than 200,000 abrasion-resistant components using 3D printing in their Cologne site in 2021 alone.
You can read more about their range of tribo plastics for 3D printing over at this link.