IKEA, the Swedish purveyor of meatballs and rude-sounding flat-pack furniture products, has revealed their new range of 3D printed home decor items, which are currently being trialled with online customers in Germany.
So far the product line features several decorative items manufactured with a triangular lattice style familiar to AM fans.
IKEA has named this product line as "FLAMTRÄD", which according to Google Translate, means "Flame Trees".
There is a distinct lack of fire or trees visible in the product line, as currently most of the items are in the form of human heads and hands.
You can see the main item in the range in the image below, with its characteristic AM lattices giving the product its form.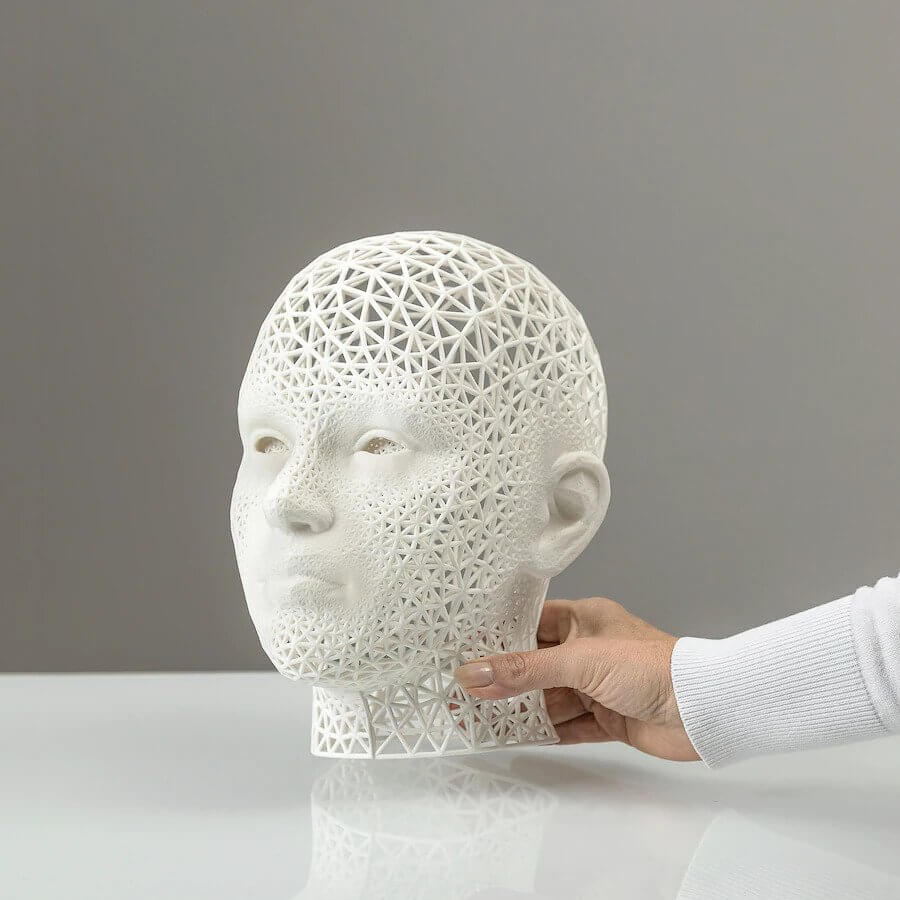 To complement the printed heads on offer, the online store boasts a selection of lattice hands throwing various shapes, which can be arranged alongside your lattice heads in some sort of gesture.
You can see one of the printed hands in the image below, rudely pointing at a clock in front of 3 extinguished candles and a wilting plant.
IKEA would clearly like us to "Memento Mori" with this subtly symbolic photo, which is a weird message to receive from a furniture company… but we digress.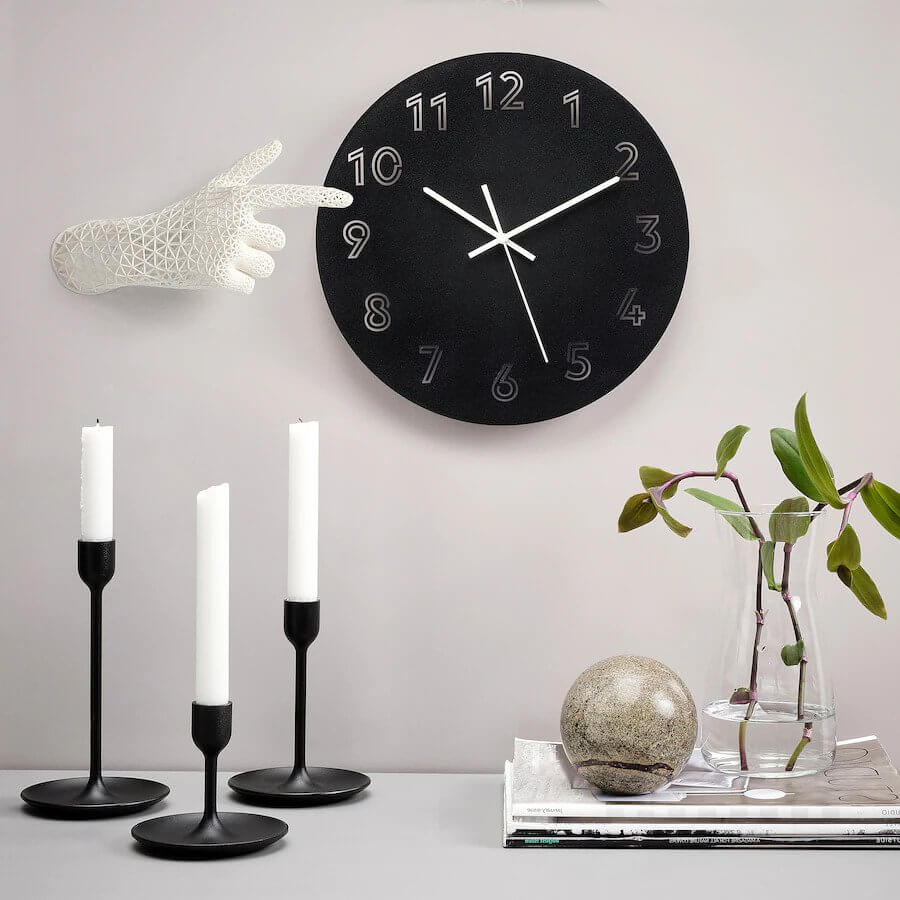 Regarding the product line itself, Not much is known about the process or materials at the moment, other than the fact that the parts are printed on an SLS printer in some unknown plastic, with some post-processing stage applied.
Naturally, this is not the optimum way to manufacture plastic parts in large quantities, so the price of the products reflects this.
The prices range from 29.99 Euros for a single posed hand, to 49.99 Euros for the full head.
The trial has begun already and the items are available on the IKEA GErmany website, and representatives for IKEA state that there are plans to expand into another EU country if all goes well with this dummy run.
Benefits of this approach include, reduced physical inventory, and the ability to change a design after it has been released. If you manufacture a part with injection molding and a fault becomes apparent after product release, it's going to cost a whole lot of money to fix it for future customers.
If you release an AM product and it's not in top form, you can simply fix the file and print an updated product without paying for new tooling.
While that last point may not apply directly to IKEA's lattice heads, the ability to evolve a product midway through its service life and produce an upgrade to the product line at very little physical cost is a pretty handy (no pun intended) ability indeed..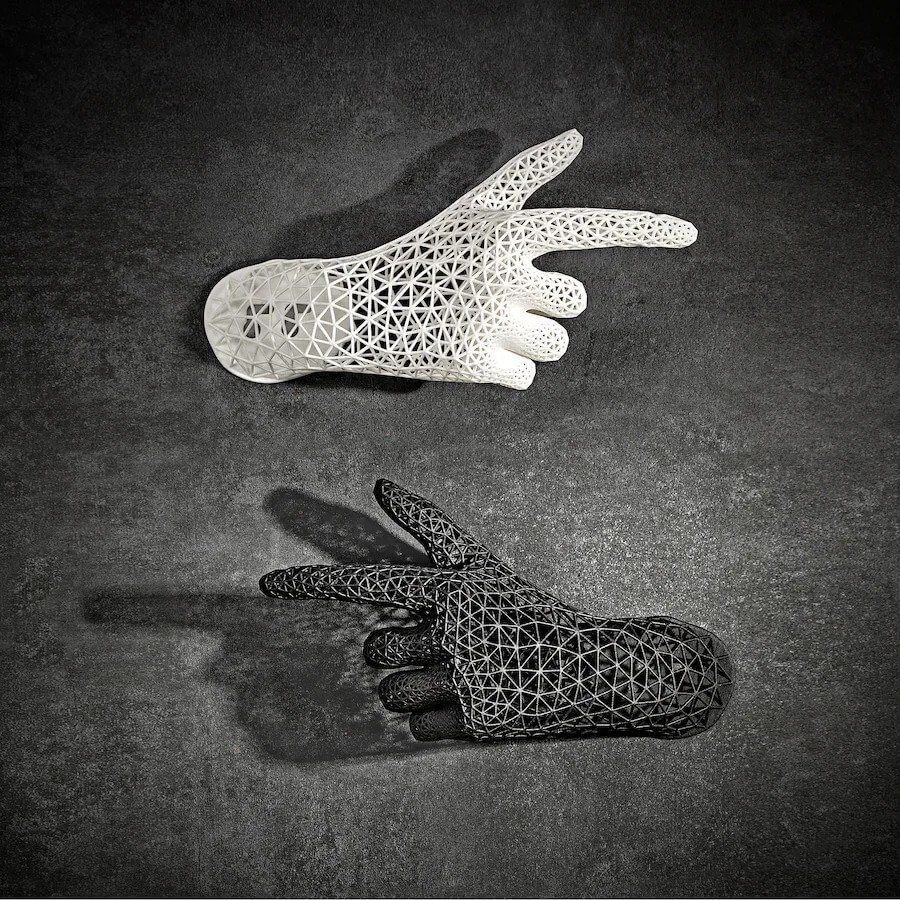 If you're living in Germany and want to get your hands on an IKEA printed head, then you can head on over to the local website and place an order at this very link.