Dutch bank ING has released a new report on the financial impact of 3D printing towards global trade and manufacturing. The report's findings suggest that 3D printing could eliminate a quarter of the global trade market by 2060. The study bases the figures on how and in what industries 3D printing is growing. As a result, they estimate that locally printed parts will increase and crucial imports will decrease.
The findings make clear that 3D printing is still in its infancy but has the potential for disruption. The report states: "Currently, the consequences of 3D printing for cross-border trade are marginal. However, the growth of investment in 3D printing over the past five years has been three times as high as in traditional machinery."
This eventuality is not far away considering that the annual growth rate for the 3D printing industry has been 29% for the past 5 years. This has dwarfed the growth in traditional technologies (9.7%). There are some caveats to this continued state of growth. For example, the current rate of investment needs to continue for 3D printing to hit the 2060 mark. However, the report paints another scenario, stating that if investment doubles every 5 years, 50% of all manufactured goods will be 3D printed by 2040.
Implications of 3D Printing & Global Trade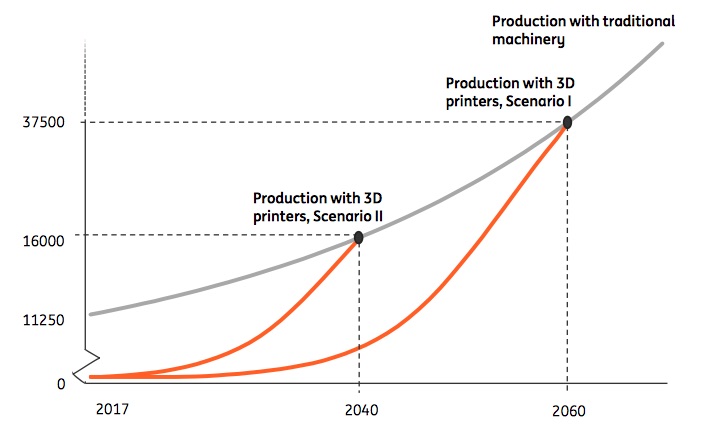 The report has a range of different findings pertaining to trade and 3D printing. It estimates that China could suffer badly considering how much it depends on trade. This could also explain why China is looking to get ahead of the tide by investing in 3D printing.
While some countries will suffer, it also has positive implications for trade deficits. The US can lower its deficit in regards to Mexico and Germany, decreasing dependence on automotive imports. Countries that deal in services are likely to take the lead if majority of manufacturing becomes localised.
Similarly, the report has also identified the type of company most likely to benefit from these changes. "… with the current state of technology, switching to 3D printing will be attractive for non mass-production companies that make products with complex shapes that require assembly of many different parts, create a lot of waste material and incur high labour, transportation and inventory costs", the report states.
All images retrieved from the original report, available here, via ING.