Poland-based Zortrax is a prominent European 3D printer manufacturer that is now looking to expand its portfolio with new technologies. The company has just unveiled the Inkspire machine, their first foray into the world of resin 3D printing. This versatile photopolymer processing device is ideal for engineers, designers, jewelers or dental prosthetists among others.
The Inkspire runs using a high resolution LCD screen and UV LED backlighting, curing photopolymers resins. It offers a very high degree of resolution, giving a range of detailed, industrial applications. It also offers a max build envelope of 74 x 132 x 175 mm (2.9 x 5.2 x 6.9 in) and very high production speeds. According to the company, one printer can make 50 to 80 parts in an hour and a half. "30 printers working together can offer an approximate monthly output of 360,000 to 500,000 parts." Zortrax states.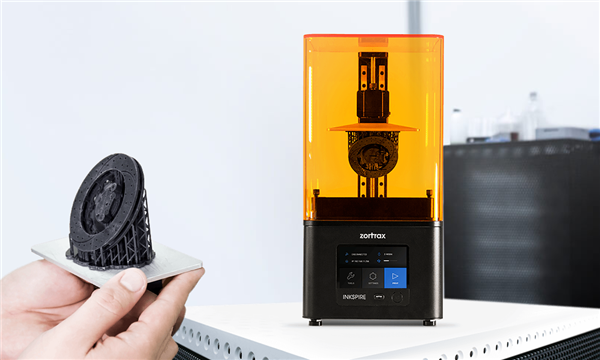 "With 50×50 microns XY resolution and 25 microns minimal layer height it is up to 9x more precise than leading SLA 3D printers. Because the entire layer is projected onto the photopolymer's surface all at once, it is also up to 8x faster.", states the company. The company clearly intends for it to operate as a basic production unit in 3D printing facilities with low to medium scale manufacturing capabilities.
The Inkspire Process
The company describes the new process in its release statement as having 3 distinct light processing stages:
Firstly, it hits a polarizing film arranged along a horizontal axis. Only a part of the spectrum vibrating horizontally gets through. Such horizontally polarized light then goes into an array of liquid crystals. Each crystal can let it pass unchanged or rotate it 90 degrees. In the last stage, the light hits another polarizing film, this time arranged vertically. If a liquid crystal between those two films does not rotate the light, the pixel is off because the horizontally polarized light can't get through the vertically polarized film. But if the light is rotated, it can pass through both films and the pixel is on.
Zortrax are also going to release the Ultrasonic Cleaner, an automatic cleaning device that uses high frequency sound waves propagated in a cleaning liquid. As the name suggests, it aims to make the messy process of cleaning up far easier for users.
Additionally, the company will add various functionalities to the Z-SUITE, their slicing and 3D printing farm management software. This will boost its compatibility with the Zortrax Inkspire DLP 3D printer offering a range of new selections, as well.
The company plans to release all these systems in Autumn 2018, pricing it around  $2,699.
Featured images courtesy of Zortrax.