Digital Alloys, a company formed just a few ago and located in Boston MA, has been working on a very exciting new metal printing technology over the past years. They call it Joule Printing™ and after years of perfecting the technology the company just completed their series B funding ($18m) last year with investors like Boeing and Lincoln Electric involved. They are now getting ready for a commercial release of the technology this year launching their Joule Printing™ Service. Here's what we know about it.
Joule Printing™
The method uses low cost wire as raw material and can process just about any metal. It's in a way similar to other wire feed methods like DED, but using resistance heating direct electrical current for melting and layer bonding. It uses wire feed systems to position the tip of the wire, then pushes current through the wire and into the part, forming a complete circuit. This melts the wire into the part using joule heating (aka "resistance heating"). It essentially uses the same physics that heat a coil in a toaster.
While the print head moves, the metal wire feed continues laying down beads of metal which fuse together, coalescing into a fully dense metal part.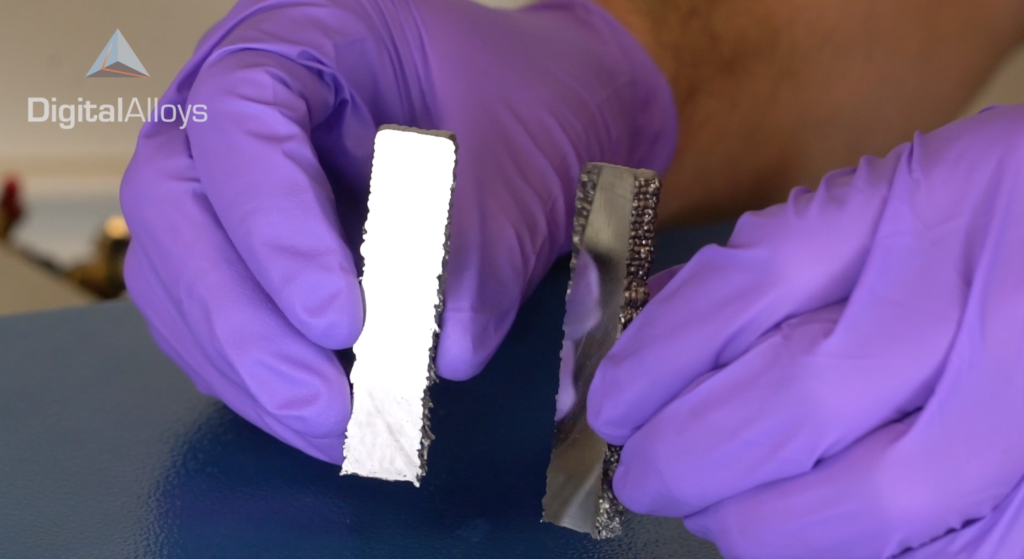 Advantages of Joule Heating-based AM
The process is simpler than others, using a far more basic raw material in a single feed and melt process. As such, this level of simplicity lowers cost and saves time. Additionally, as there are fewer issues related to powders, such as cost, safety, maintenance and reuse, it increases repeatability. It also eliminates the need for powder handling, feeding and spreading.
Joule heating is a great way to heat metal wire because it melts materials from within. Thus, there is rapid but highly controlled heating and energy transfer. Melting occurs almost instantly at the desired location, with more predictable patterns as compared to powders.
With 0.89mm diameter wire, the system can operate at speeds of up to 5‑10kg/hour. The energy required in the melting process is less than 0.5kWh per kg. It provides greater control at the voxel level and features a closed-loop system. A mix of tightly controllable process parameters (real time control possible!) allows the system to deliver consistently dense isotropic parts that are stronger than castings with wrought properties. The postprocessing is also faster without requirements of HIP'ing debinding and sintering.
It's fast!
The 3D Printer
Digital Alloys will start selling its metal printers in 2020. This Joule Printing™ system will have a build volume of 40 x 40 x 25 cm. It features machine learning software that analyses every voxel for the highest quality parts without destructive testing. One can imagine this data collection will beef up the process and give it room to grow.
Featured images courtesy of Digital Alloys.