Munich-based Kumovis released its debut 3D printing system, gearing it towards medical applications and products. The company is touting the printer's ability to convert the build chamber into a cleanroom, effectively eliminating concerns of contamination during the production process. Kumovis also intends for the printer to provide economically accessible production that caters to patient-specific needs.
The Kumovis R1 has a Delta arrangement and can print a wide range of thermoplastics, most notably high-performance ones like PEEK. The printer also includes an efficient cooling system, developed with software from startup Hyperganic. The temperature management system enables users to homogeneously heat the build chamber up to 250°C / 482°F, ensuring repeatability and dimensional accuracy.
As the video below shows, the company displayed a prototype R1's ability to print with craneoplastic PEEK. This version of the printer from last year created the plastic implant for cranial injuries within 5 hours.
"With the Kumovis R1, we are excited to provide medical technologists with a resource-efficient additive manufacturing system that meets their high requirements, and what is more, leads FLM processing of high-performance plastics to industrial maturity," said Stefan Leonhardt, co-founder of Kumovis. "In addition, with partners such as the software experts from Hyperganic, we will be able to provide rapid access to individualized medical products and, consequently, help create added value for patients and doctors alike."
According to Kumovis, Hyperganic's work with the software has led to an interface designed to allow users to customize and automate the printing processes. The software utilises algorithms to generate and design parts with structures that are complex, functional and individualised to specific patients. The software reportedly also optimizes the print process across the entire part.
Cleanrooms & Medical Printing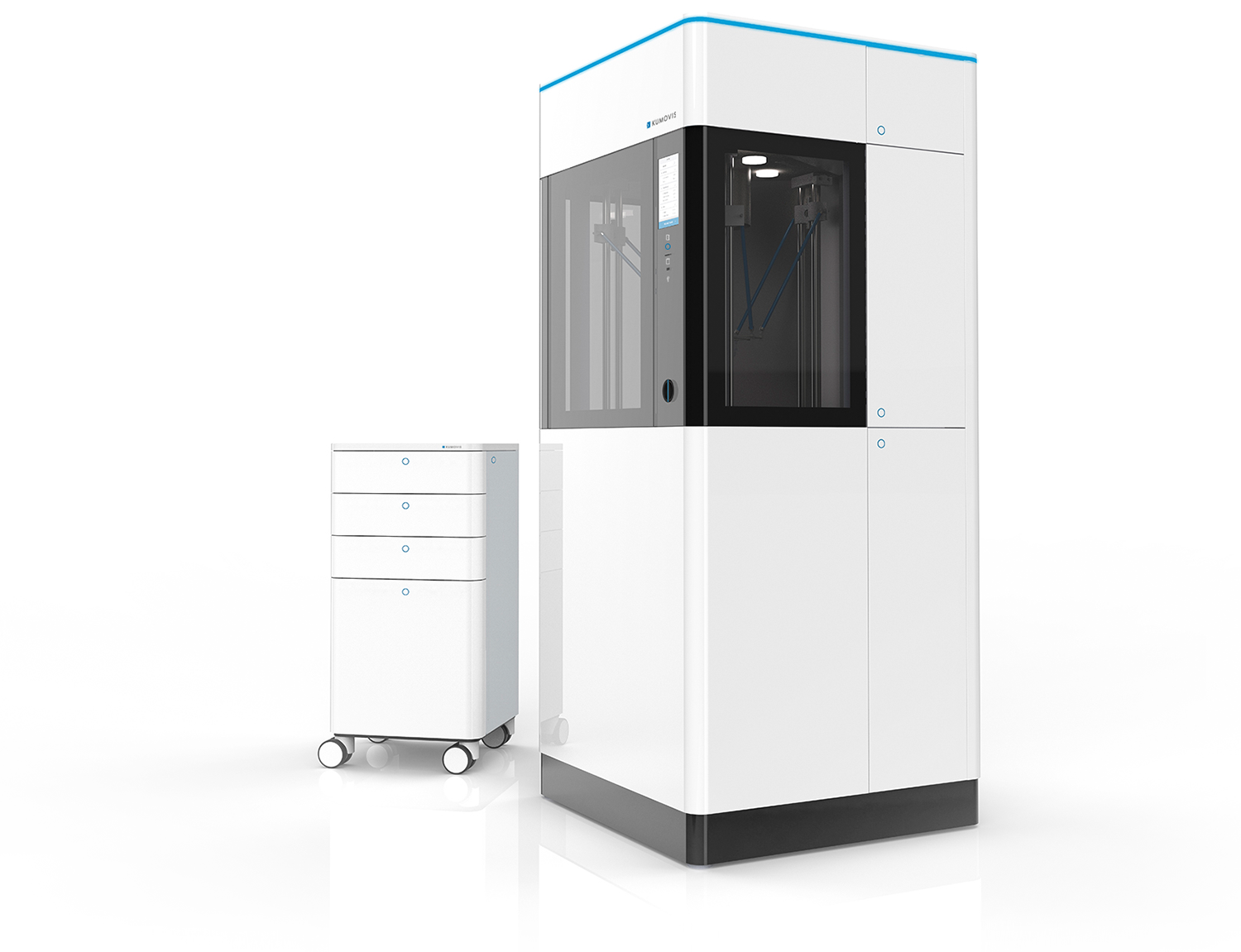 With the use of an optional filter, the build chamber can transform into a cleanroom, shutting out contaminants that could potentially cause defects in 3D-printed devices. Cleanrooms are a crucial tool for the development of medical appliances and conducting research. With the use of this filtration system, the R1 can ensure that any parts within the enclosure will meet stringent cleanliness and quality standards.
The company has integrated all the process monitoring systems to ensure constant documentation. As a result, the R1 constantly compiles data and maintains safety standards during the entire printing process, according to Kumovis.
Kumovis released the printer at the start of August 2019, available via direct sales or through a subscription model. As of yet, they have provided 3 machines to undisclosed partners. The printer is ideal for medical applications, but the cleanroom concept may be useful for other industries as well. After all, cleanrooms can also be used for scientific research or manufacturing of things like nanotechnology or high-end optics. Perhaps future spin-offs of the technology may aim for other applications.
Featured image courtesy of Kumovis.