A new water pollution monitoring system is set to revolutionize environmental monitoring practices in the water sector. Developed by a team of researchers from renowned universities in Scotland, Portugal, and Germany, this groundbreaking system features a low-cost, 3D printed sensor capable of detecting minute concentrations of pesticides in water samples.
Pesticides play a crucial role in protecting agricultural produce, but their potential harm to human health, animals, and the environment necessitates careful handling. To mitigate water pollution risks associated with pesticides, regular monitoring and analysis are essential. However, current laboratory-based pesticide tests using methods like chromatography and mass spectrometry are time-consuming and expensive.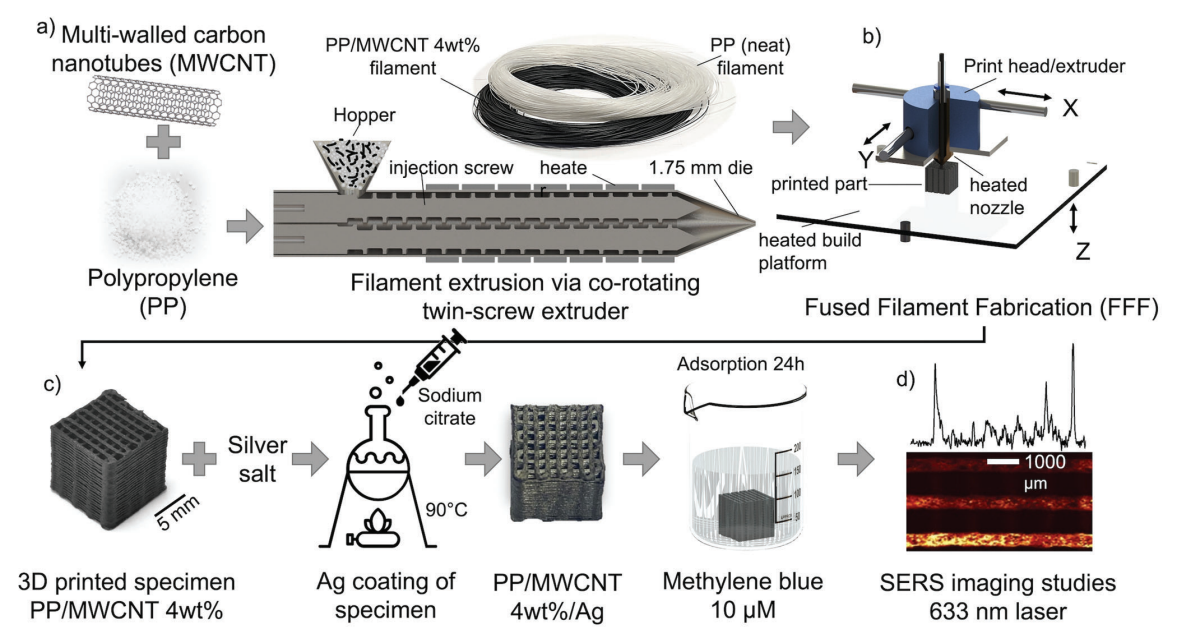 A promising alternative gaining traction in the scientific community is Surface-Enhanced Raman Scattering (SERS). This chemical analysis tool leverages the interaction of light with molecular structures to identify and detect trace amounts of molecules in test samples. By optimizing the metal surface for better molecule adsorption, SERS can detect minute concentrations of substances.
Motivated by the need for a portable and cost-effective testing method that delivers prompt on-site results, the research team focused on developing a novel approach using 3D-printed materials. They experimented with various cellular architectures composed of polypropylene and multi-walled carbon nanotubes, coated with silver and gold nanoparticles. The team evaluated different architected designs and found a lattice design combined with silver nanoparticles to be the most promising.
The researchers successfully tested the system using water samples spiked with low concentrations of real pesticides. The test strips were able to detect pesticide molecules at concentrations as low as 1 micromolar, demonstrating the system's effectiveness. Professor Shanmugam Kumar from the University of Glasgow praised SERS as a valuable diagnostic technique applicable in various fields.
Dr. Sara Fateixa from the University of Aveiro highlighted the adaptability of the system, suggesting it could be used to monitor the presence of a wide range of chemicals in samples. For example, in farming, the system could provide affordable and reliable results for testing milk from cattle treated with antibiotics before allowing it back on the market.
This innovative water pollution monitoring system has the potential to streamline environmental monitoring processes, making them more efficient, economical, and accessible to a wide range of industries and applications.
The team's work has been published in the journal 'Macromolecular Materials and Engineering' under the title "Additive manufacturing-enabled architected nanocomposite lattices coated with plasmonic nanoparticles for water pollutants detection."
Come and let us know your thoughts on our Facebook, Twitter, and LinkedIn pages, and don't forget to sign up for our weekly additive manufacturing newsletter to get all the latest stories delivered right to your inbox.