Maxfilament, the Polish manufacturer of industrial filaments, has teamed up with a leading distributor of Flashforge printers to bring some interesting industrial filaments to users of the Creator 4 printer.
Flashforge Poland is the largest distributor of Flashforge printers and authorized service provider for Flashforge in Poland.
The new collaboration will help push the Maxfilament range of heavy duty filaments to the masses.
Such filaments include various unfilled filaments as well as chopped fiber composites including carbon fiber and aramid (kevlar) fibers.

Maxfilament has developed brand new PLUG&PRINT profiles for their industrial-grade filaments for the Flashforge Creator 4, to ensure easy and convenient compatibility, with resulting high-quality prints.
The materials were designed to meet the needs of the automotive, aerospace, industrial and service industries.
Maxfilament Materials for FlashForge Poland
The engineers at Maxfilament have been developing print profiles for their MAX SMART ABS, MAX ASA, MAX PA6, MAX CARBON PA12, MAX TPU93A filaments, as well as their MAX HIPS support material so that you just install the filament, select the right profile, and print!
Now thanks to the new profiles, there is no need for messing about with tweaking settings or any of that malarkey.
They are currently also working on print profiles for different industrial materials such as MAX PET-G FR, MAX PET-G ESD and MAX ABS ARAMID.
Let's have a look at some of their filaments in detail.
MAX SMART ABS
The material has physico-chemical and mechanical properties ideally suited for automotive and industrial applications. It prints very easily, allowing large parts to be created without the risk of warping and distortion. Printing is significantly accelerated when using MAX SMART ABS when compared to common-or-garden variety ABS filaments.
MAX ASA
ASA has similar properties to ABS, but has increased moisture and UV radiation resistance. It has been developed as a replacement for ABS for outdoor use. Like ABS, it is strong, has high impact resistance, and also has an attractive finish making it ideal for automotive end-use applications.
MAX PA6
MAX PA6 is a polyamide that maintains outstanding printability while meeting the highest industrial requirements. It is highly resistant to heat and chemicals, and has a high tensile strength making it ideal for printing machine parts in demanding environments.
MAX CARBON PA12
This filament is a high-performance PA12 reinforced with carbon fibers. It resists high temperatures and is both strong and stiff thanks to the chopped carbon fiber reinforcement. The carbon reinforcement also serves to make shrinkage very low making it dimensionally stable so that your final print is just like the CAD model that it came from. It also looks nice!
MAX TPU93A
Maxfilament's MAX TPU93A is a flexible and rugged material, reaching a Shore hardness of 93A after printing. It is resistant to chemicals such as acids and oils making it great for flexible parts and seals constantly exposed to harsh conditions.
MAX HIPS
Commonly used as a support material for ABS and ASA, MAX HIPS is soluble in limonene acid and can also be broken away from the printed model mechanically. It can also be used as a modeling material. It has an aesthetically pleasing matt finish and can be effortlessly polished.
Filaments / Profiles in Preparation
MAX PET-G FR
The "FR" stands for flame retardant which is exactly what this PET-G filament is. And being a PET-G material means it's easy to print too. It is both more durable and resistant to higher temperatures than PLA. It has extremely low shrinkage and does not absorb water making it great for outdoor applications.
MAX PET-G ESD
Are you building enclosures or handling equipment for sensitive electronic devices? Then you need an ESD-safe material. MAX PET-G ESD is a charge-dissipating material that provides safety for integrated circuits and other machine components, minimizing the risk of partial or permanent damage.
MAX ABS ARAMID
MAX ABS ARAMID is a high-performance ABS reinforced with aramid fibers. It is easier to print and has less shrinkage than regular ABS, but has increased toughness thanks to its reinforcing chopped fibers . It is ideal for creating parts that require high strength in their end use applications.
All of the materials described above can be purchased from Maxfilament and FlashForge Poland.
Creator 4 – Industrial Grade Printer
The Flashforge Creator 4 is an industrial printer with a large working area, two extruders with interchangeable modules, and an advanced temperature control system.
The machine handles demanding industrial filaments, such as carbon or aramid fiber, and perfectly handles non-flammable and flexible materials.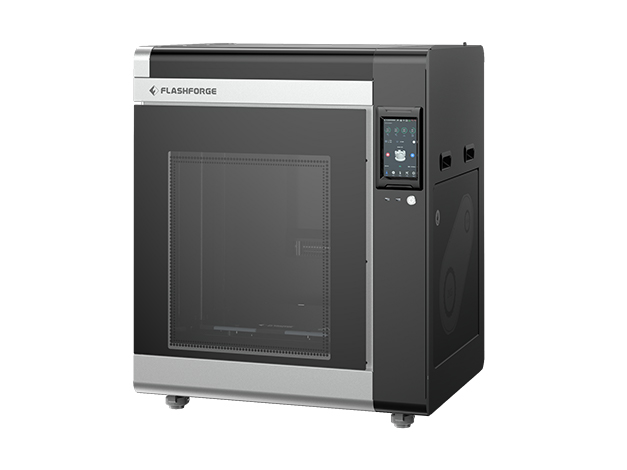 Advantages of the Creator 4 printer:
– Large working area,
– Heated and sealed chamber,
– IDEX system with two independent heads,
– HD camera with 1080P resolution,
– Print resume function for recovery post power failure,
– Slicer with print profiles adapted to Maxfilament materials.
Maxfilament is a Polish manufacturer and supplier of professional filaments for industrial applications. It has a wide range of state-of-the-art materials suitable for prototyping, machine parts, finished products, and more.
For more information about the company, please visit their website at this link.