Modix are known for their cost-effective, sturdy, large format filament extruding 3D printers. They range in size from the BIG-60 (60cm x 60 cm build plate) all the way up to 1.8 meters (x-axis) for the BIG-180X machine. They certainly offer a lot of bang for your buck.
And to add even more bang to that aforementioned buck, the company has just announced major updates and a fresh new look for its 3D printer range.
The new "Generation 4" variants will expand the core performance and capabilities of its line of 3D printers. And thanks to an aesthetic upgrade, they look nice too!
Generation 4 Updates
1 – IDEX Dual Printing
IDEX stands for Independent Dual EXtruder. With this feature, each extruder can 'park' outside of the bed when inactive, while the other one carries on printing with a different filament. You can see an object that has been printed with the IDEX mode on the BIG-METER printer in the image below. Note the two filament reels on the side.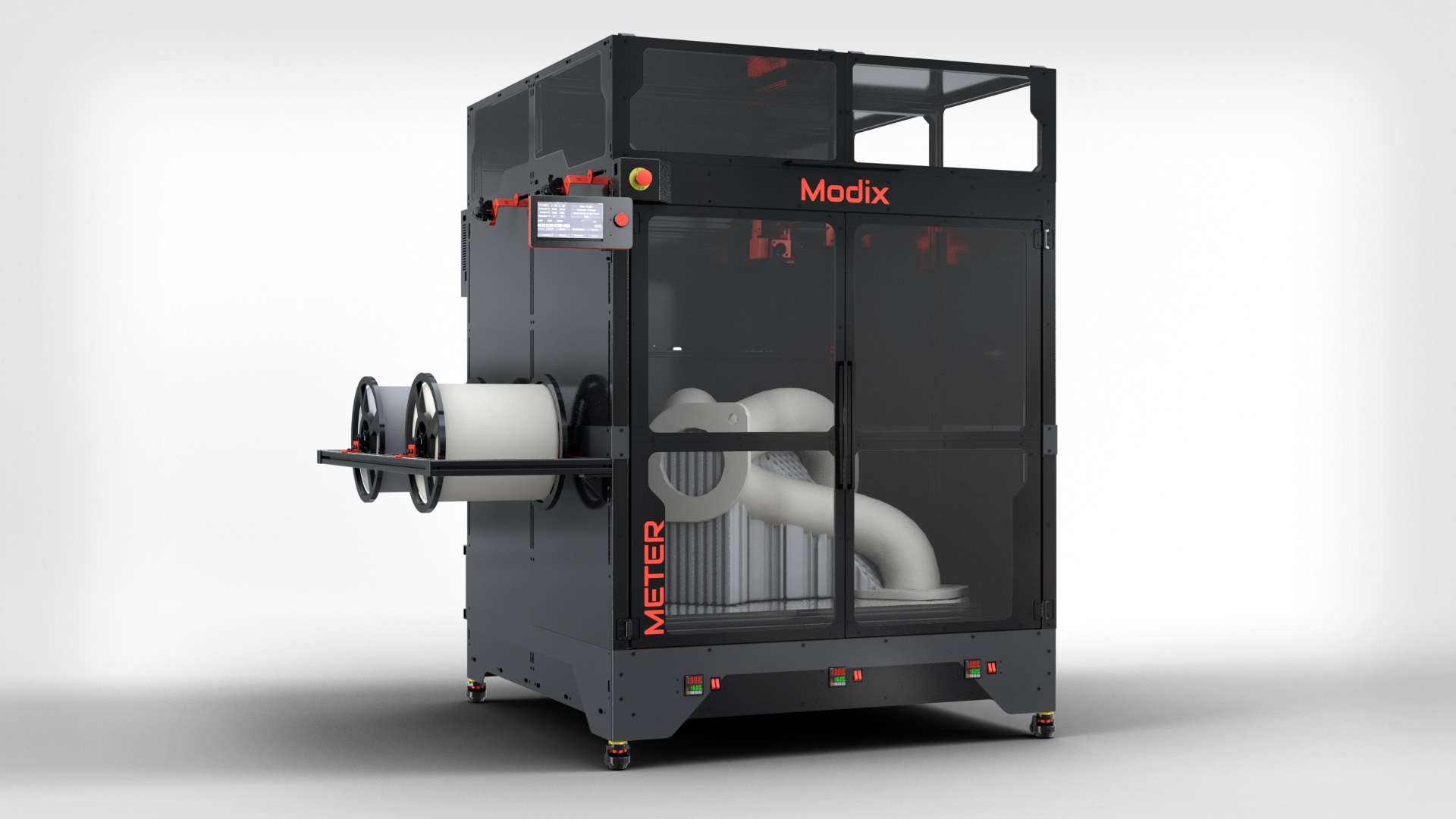 IDEX drastically reduces the manual labor involved in removing supports by efficiently using a special type of breakaway support filament. This is especially critical for printing advanced models with internal geometries using water-soluble filament. The IDEX add-on is a significant upgrade in Modix's offering.
Here's a look at the IDEX'd part in more detail.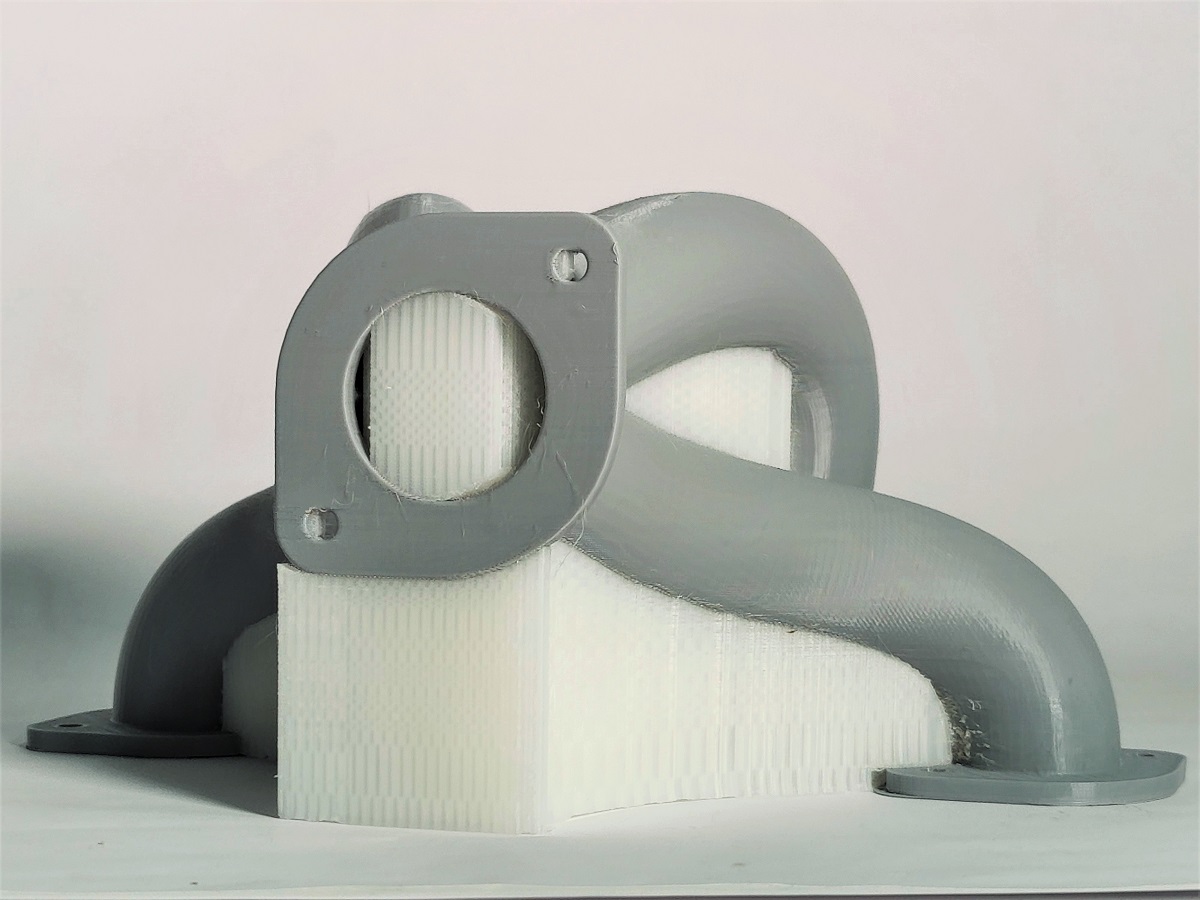 2 – Faster Printing
The new machines can reach speeds of up to 350 mm/s, with high quality printing being achievable at 100 mm/s, and higher speeds being used for draft printing.
Such remarkable speeds are made possible by the strong Nema-23 motors on the X -axis, which replace the current Nema-17 motors.
Also, since the IDEX configuration uses two Y-axis motors (one per extruder), the motor
weight-load on the Y-axis is reduced, and thus, the speed is increased.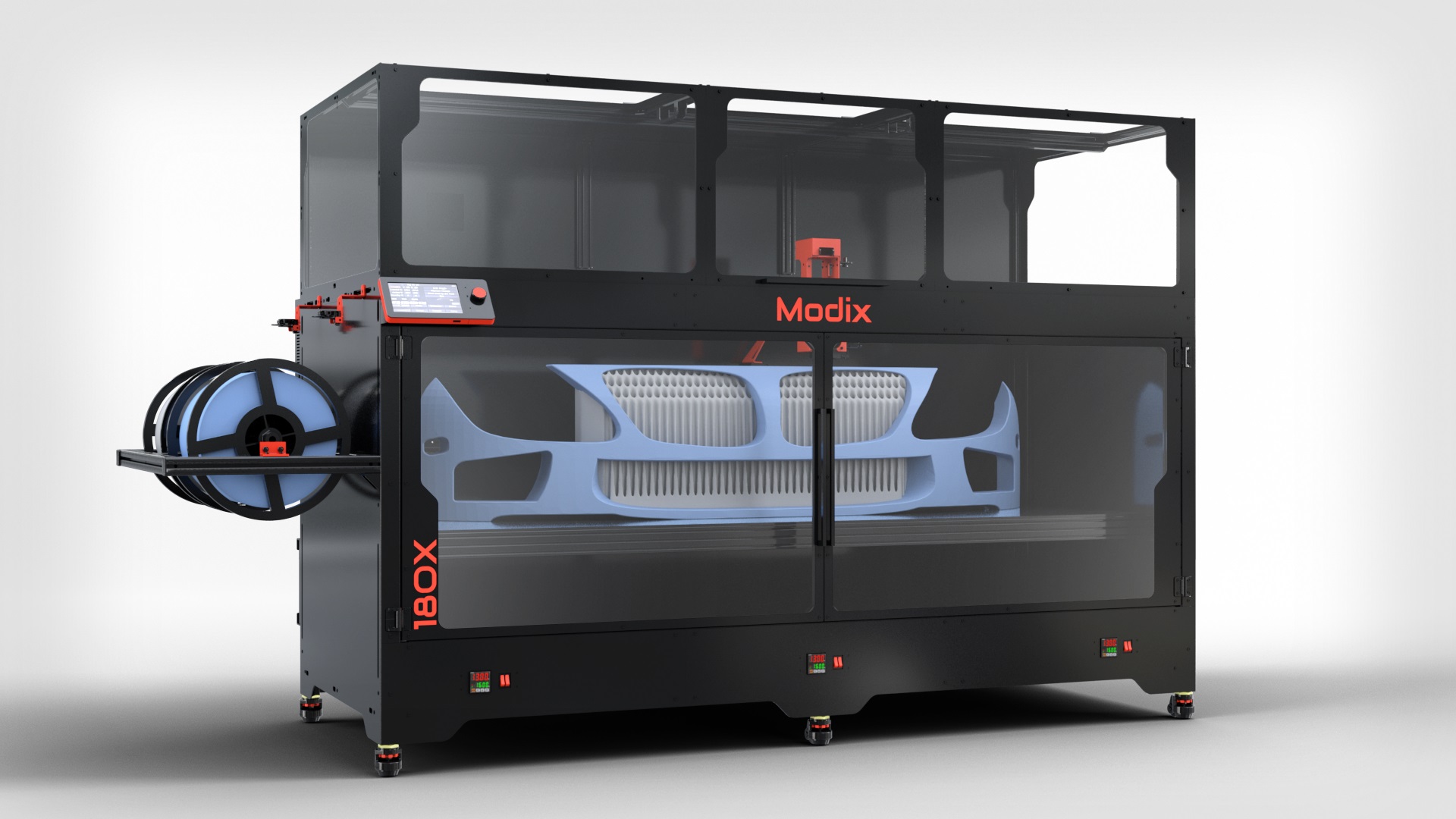 3 – Fully Automated Calibration
Modix is now offering a full set of automated calibrations routines to all our models including automated bed tilt, bed leveling, gantry alignment, and Z offset calibration.
Multiple other improvements including optical end-stops that improve job recovery accuracy, stronger Nema-23 Motors on the z-axis as well, improved enclosure design, and emergency stop button as standard.
And it all comes in a fresh new aesthetic. You can see the revamped BIG-120Z machine in the image below.
The "Z" suffix means that the largest print dimension of 120cm is in the z-axis, just as a reminder.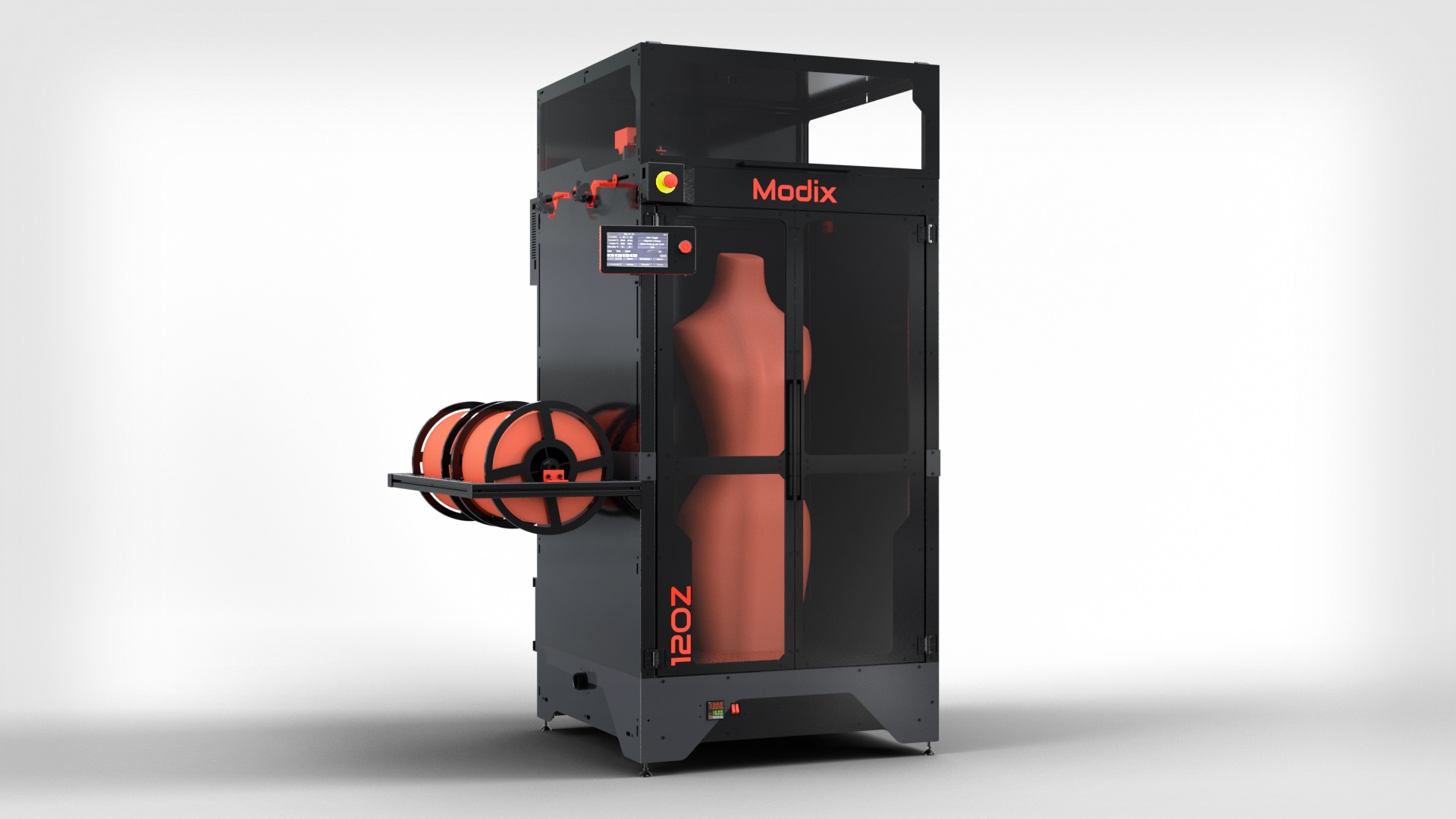 The product will continue to evolve in future also, with a near term add-on road map including a closed-loop motion system, heated chamber (wow!), and a XXL-flow extruder.
"Modix continues its journey to becoming the market leader by integrating top of the line technologies while maintaining its printers outstanding price-to-performance ratio," said Shachar Gafni, Modix CEO.
"Our unique modular self-assembly kits approach allows us to move fast and improve our platforms gradually over time, instead of waiting for a major release".
The company has seen several key improvements to their range over the past year, including a new print head, clog detector and a magnetic bed. Modix sees this as a perfect time to refresh the platform with the new design.
As always, backward compatibility is an important value for Modix, so all owners of previous models will be able to upgrade their machines with these new technologies. Everything is interchangeable!
"The new IDEX technology allows Modix to expand its offering by answering to more types of customer's needs," said John van El, CCO at Modix.
"As a result, Modix reselling partners will be able to close more deals with more types of customers."
For more information about Modix printers, head on over to their website at this link.
Formnext 2022
Modix will be showing off their new wares at the Formnext 2022 event next week, and you can find them at Hall 12.1 B01.