UK-based jetsuit company Gravity Industries has announced their plans to develop a new flying suit, this time with an electrical propulsion system rather than a hydrocarbon-burning kind.
As you can guess by the spoilerific headline, this new product, named the Gravity eSuit, will be realized thanks to the wonder of 3D printed engineering plastics.
Specifically, the new flying suit will be constructed from Ricoh's powder-based 3D printed polypropylene, which has been selected due to its lightweight, durability and strength.
The eSuit will be unveiled to the public this July, so we don't have any pictures of it yet. But just in case you haven't seen the turbine based systems, then you can see the mk 3 in the image below.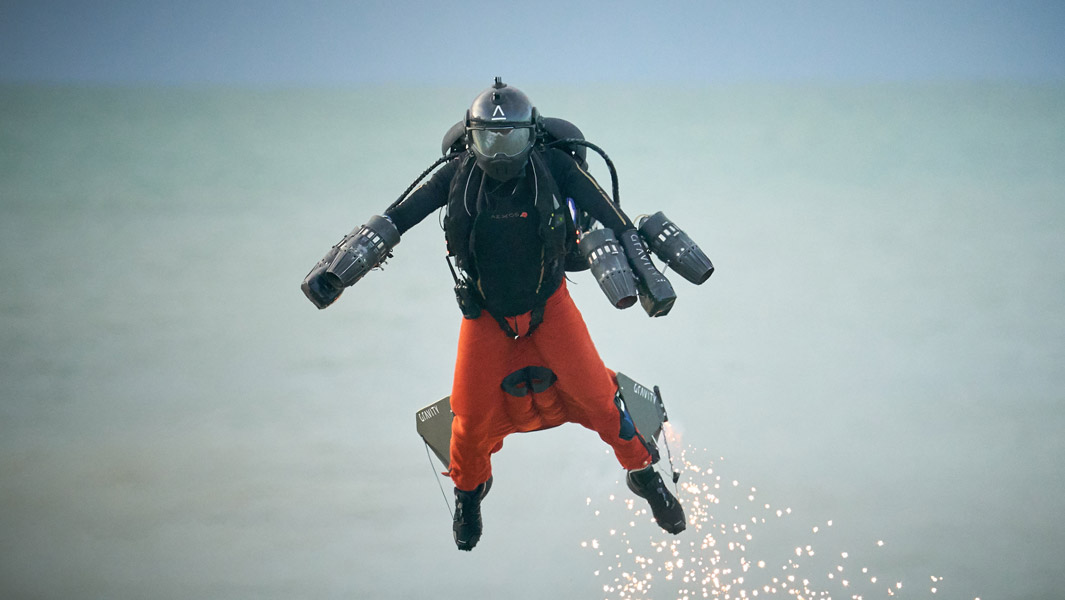 The mk 3 won the Guinness World Record for fastest speed in a body-controlled jet engine powered suit in 2019 (at 85.06 MPH), and was piloted by Gravity Industries founder Richard Browning, beating the previous record of 32.02 MPH which was also set by himself in the mk 2 back in 2017.
Additive manufacturing was also used in the development of the previous suits, where the company used a selection of printed metals and polymers for structural and fixtural items. You can see the printed arm mounts of a previous variant in the image below.
This time the company has opted for the polypropylene plastic, for its mechanical properties and also due to its ability to mimic the flexing of human bone.
The previous suits with their metal cores would normally have taken over 2 weeks to fabricate out of aluminium and including assembly time. But by using the plastic this time, they are able to consolidate multiple parts (including cooling ducts) into single pieces, and reduce the manufacturing time to less than 24 hours.
"The Jet Suit is testament to the tenacity of engineering," said Mark Dickin, Additive Manufacturing & Moulding Engineering Manager at Ricoh UK.
"Thanks to polypropylene and its organic nature, people see a human who is flying when someone is in the Jet Suit. They aren't strapped into a device or seated in a vehicle, they appear to be genuinely flying and it's that distinction that makes all the difference."
Indeed it does. And you can see for yourself in the video below, where we see the founder racing up the side of a mountain, in a demonstration of a potential mountain rescue scenario.
So, why go electric?
For starters, getting rid of all that heat and fuel from the pilot's immediate vicinity is beneficial for obvious reasons. Those mini turbines get plenty hot. And as well as all that thermal management required, there is the issue of maintenance. Reliability is always a pain in the asbestos-coated butt where it comes to running things hot and fast, and trying to not fall out of the sky.
Switching to electric does away with all the safety hazards of flying around at over 80 MPH with jet fuel strapped to your body and replaces it with some form of battery.
Presumably the turbines will be replaced by some kind of ducted fan setup also.
"Inspector Gadget" type open-rotor helipacks are less than efficient, so we guess they won't go that route in the pursuit of electric personal flight.
The question is, how much flight time will it give? And asides from the obvious safety improvements of going electric, is it lighter also?
We will see for sure on the 8th-11th July 2021 when it will be revealed to the public at the Goodwood Festival of Speed, UK.