Nouns DAO has funded a 3D printed fashion collection designed by Danit Peleg, which made its debut at NFT Paris. And if you're wondering what any of those words mean, then you're not the only one.
Nouns.wtf?
First up, what is Nouns? And what is a DAO?
Nouns is a generative NFT collection on the Ethereum blockchain, whose owners are part of Nouns DAO, a decentralized autonomous organization.
Nouns DAO is the governing body of the Nouns ecosystem, utilizing a fork of Compound Governance. The DAO treasury receives 100% of ETH proceeds from daily Noun auctions. Each Noun is an irrevocable member of Nouns DAO and has the right to one vote in all governance matters.
However, these votes cannot be transferred if the Noun is sold but can be delegated to others as long as the Noun is owned. This unique governance structure ensures that the community of Noun holders has a say in the direction of the ecosystem and its future development.
Hopefully that clarifies things. Oh, and you can get your Nouns NFTs on Nouns.wtf.
3D Printed Clothes
The 3D printed clothes collection features five looks and accessories that draw inspiration from Nouns' NFTs. Using various 3D-printed techniques such as Polyjet, FDM and MJF, Peleg utilized OPTITEX, a pattern-making software, to create both 2D and 3D versions of the collection.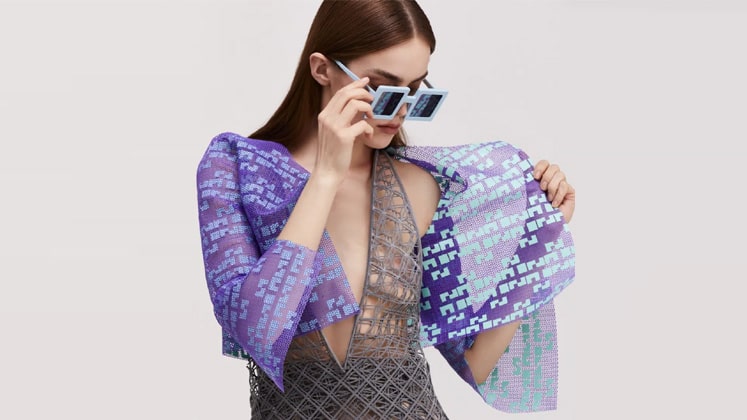 Peleg partnered with venture studio Moon Creative Lab to create the collection, with Nouns DAO committing US $140,000 in funding to the project over the past year. The pieces were showcased at NFT Paris and displayed using AR, holograms, and physical pieces.
Nouns DAO has funded various creative projects and is known in particular for its CC0 art collection. This latest collaboration between Nouns DAO and Danit Peleg is an example of how NFTs and blockchain technology are being used to revolutionize the fashion industry by offering new opportunities for designers and artists to showcase their work.
"I think this is the beginning of a golden age for creators," said Peleg.
"Nouns DAO is an inspiring organization with beautiful CC0 art. With its vast treasury, Nouns is empowering artists, designers and creators to pursue their passions and bring their creations to life."
Come and let us know your thoughts on our Facebook, Twitter, and LinkedIn pages, and don't forget to sign up for our weekly additive manufacturing newsletter to get all the latest stories delivered right to your inbox.