The National Research Council of Canada and Quebec-based engineering solutions company Polycontrol are starting up a new joint-venture. The two bodies are setting up a research facility that supports manufacturers and researchers in studying, adopting and deploying cold spray additive manufacturing (CSAM) technology. The facility will, among other things, provide industrial-scale demonstration for Cold Spray systems.
The companies have dubbed the new research center the 'Poly/CSAM facility'. They expect to open it February 2020, at the NRC's existing site in Boucherville, Quebec. The research it engages in will especially focus on scaling-up the CSAM process with the aid of industry partners. In doing so, they hope to amp up the technology's capabilities for factory and mass production requirements.
The Research Facility

"We see Poly/CSAM as a way to strengthen Canada's industrial leadership in cold spray additive manufacturing and becoming more agile and competitive on the national and international scene," said Luc Poullot, Vice President of Operations at Polycontrols.
He also added that the technology will be particularly useful for the aerospace and surface transportation industries. The facility will further explore large-scale manufacturing integrator options, offering custom equipment platforms with the objective of bringing disruptive technologies such as hybrid robotic manufacturing, data analytics and machine learning.
The partnership between the two companies is part of a six-year-long agreement. Aside from CSAM facility it they will also offer training programs to manufacturers looking to optimise their adoption of CSAM technologies. They will also showcase how to safely use and implement the technology into manufacturer's existing processes.
CSAM Metal Printing Adoption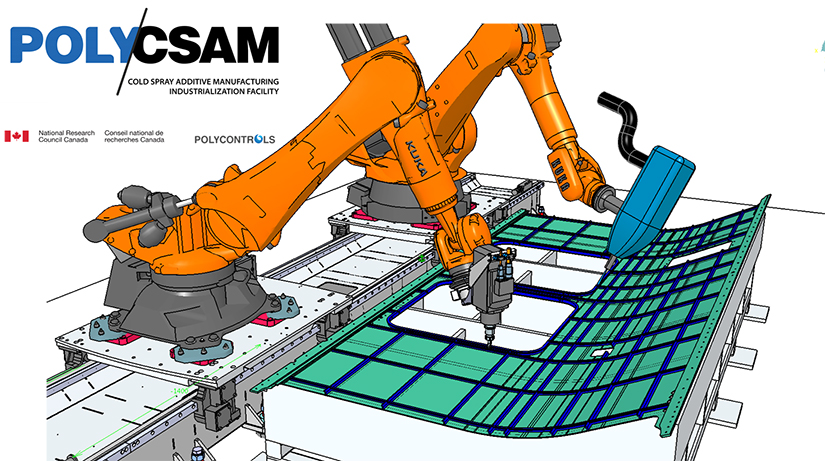 The research into cold spray additive manufacturing provides an interesting counter-balance to heat-based methods. Sprayed parts do not undergo the usual heat distortions that heat-based methods incur. Another advantage is the lack of toxic output from the heat-based metal manufacturing processes. Similarly, the process can (theoretically) have no size or shape constraints.
Other companies have also been looking into cold spray as a viable process. This research centre, however, provides a far greater opportunity for wider adoption. The facility will look at various forms of surface preparation, coating and 3D buildup by cold spray. They will also research local, laser-based thermal treatments, in-situ robotic machining and surface finish. The researchers will be investigating cutting edge sensor technologies, extensive data logging and analytics/machine learning.
François Cordeau, Vice President of Transportation and Manufacturing at the NRC states "we see great potential in bringing together different stakeholders to enable innovation and to build a network of industrial partners for a stronger Canadian supply and value chain. Our renowned technological expertise and capabilities in additive manufacturing research and development will support Poly/CSAM and contribute to developing demonstration platforms targeted at end user-industries and cluster networks."
Featured image courtesy of the NRC & Polycontrol.