Nuburu, a Colorado-based company specializing in blue laser technology, has joined forces with GE Additive to explore the advantages of using blue lasers in 3D printing. Through a joint technology agreement, the two companies will focus on investigating the speed, accuracy, and commercial benefits of incorporating Nuburu's blue laser technology into AM processes.
Nuburu's CEO, Dr. Mark Zediker, expressed his excitement about the partnership, stating that their enhanced blue laser technology has achieved significant performance milestones. He believes that the collaboration with GE Additive, a leader in metal AM, will help optimize Nuburu's area printing approach and further expand the application of blue lasers in metal 3D printing. This innovation has the potential to revolutionize various industries, such as military logistics, aerospace manufacturing, and medical device fabrication.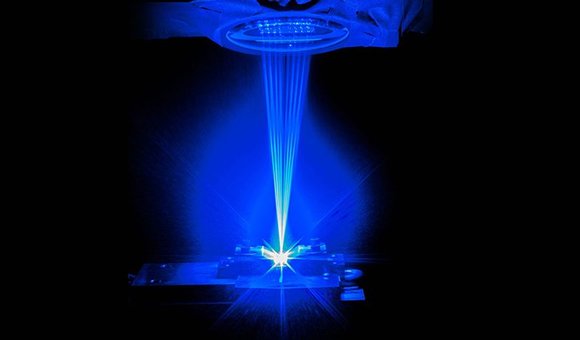 Nuburu's approach is based on the unique advantage of blue light absorption by metals, enabling efficient laser-based melting for a wide range of industrially important metals. By combining their blue laser module with an optical conditioning system, Nuburu aims to optimize manufacturing performance. As part of the collaboration, GE Additive will contribute its Powder Bed Fusion machine and expertise in integrating and characterizing Nuburu's prototype light engine to quantify any advancements compared to existing technology.
Chris Schuppe, General Manager of Engineering & Technology at GE Additive, highlighted the company's eagerness to evaluate Nuburu's blue laser technology and its potential benefits. As an industry leader with experience in qualifying parts for regulated industries, GE Additive aims to leverage their expertise in metal AM to assess the performance improvements brought by Nuburu's technology.
This joint development agreement complements Nuburu's existing collaboration with GE Additive, supporting their AFWERX Small Business Innovation Research (SBIR) Phase II contract, which was awarded in 2022. Together, these partnerships will pave the way for exciting advancements in the field of AM, harnessing the potential of blue laser technology for future manufacturing applications.
Come and let us know your thoughts on our Facebook, Twitter, and LinkedIn pages, and don't forget to sign up for our weekly additive manufacturing newsletter to get all the latest stories delivered right to your inbox.