Spine and orthopedics company, Orthofix Medical Inc. has introduced the WaveForm A interbody Anterior Lumbar Interbody Fusion (ALIF), a 3D printed implant designed to assist with spinal conditions.
This innovative implant seamlessly integrates with Orthofix's Meridian ALIF system, offering an advanced solution for patients suffering from degenerative disc disease requiring fusion. The WaveForm A interbody boasts a proprietary wave-like design, striking a balance between strength, porosity, and stability. Its large implant graft aperture allows for the addition of bone graft material, creating an osteoinductive environment to optimize supplemental fixation procedures.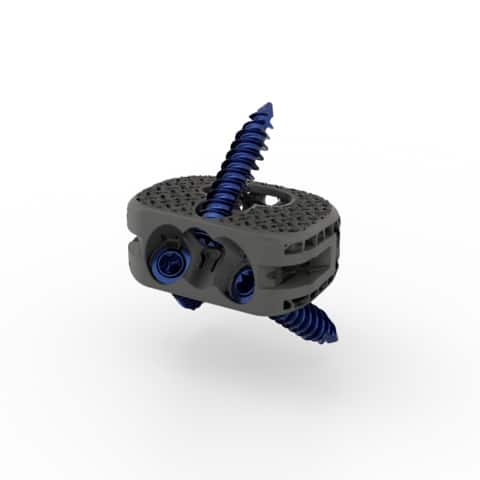 Orthopedic spine surgeon Dr. Neil Arif Tayyab, from Girard Orthopaedic Surgeons in San Diego, California, emphasized the significance of implant design and surface technology in facilitating bone growth during fusion. He praised the WaveForm A interbody's novel design, which stimulates better bone growth response and instills greater confidence in the success of the fusion process.
The Meridian ALIF system, compatible with both the WaveForm A interbody and Orthofix's Reef A interbody, offers a modular instrument and implant system that streamlines ALIF procedures. By providing diverse fixation options for single and multilevel ALIFs in a reduced number of trays, the Meridian system aims to address the approximately $200 million ALIF market segment in the United States.
The WaveForm A implants, created through 3D printing, feature Orthofix's WaveForm technology—a repeating and continuous wave-like structure. This design enables the implants to withstand high compressive loads while maximizing endplate porosity, promoting early stabilization. The balance of strength and porosity provides benefits such as increased bone packing capacity, reduced stiffness profile, and enhanced imaging properties.
"Our Meridian ALIF system integrates the most advanced technologies into our surgical sets, minimizing the need for multiple instrument sets during the procedure," said Kevin Kenny, President of Global Spine.
"The WaveForm A interbody is an exciting addition to our portfolio of solutions for ALIF procedures and enables us to provide a more streamlined option so surgeons can do more for their patients."
With the launch of the WaveForm A interbody, Orthofix has introduced an advanced solution that holds great promise for improving patient outcomes in ALIF procedures. By leveraging 3D printing and innovative design, Orthofix continues to push the boundaries of medical technology, driving progress in the field of spine and orthopedics.
Come and let us know your thoughts on our Facebook, Twitter, and LinkedIn pages, and don't forget to sign up for our weekly additive manufacturing newsletter to get all the latest stories delivered right to your inbox.