Researchers at PENN State have just discovered a new method of creating improved PDMS constructs. The new approach involves the amalgamation of PDMS elastomers Sylgard 184 and SE 1700 to greatly enhance the strength and cell adhesion of the material. It also allowed the researchers to print more complex geometries which would have previously required molding, casting, and spin coating.
PDMS, aka silicone rubber, has several applications. It is widely prevalent in medical devices such as point of care devices and biological machines. It is also effective for the production of tissue/organ-on-a-chip devices. Previously, creating simple structures required far more complex forms of manufacturing. The newer method is quite similar to FFF/ FDM but requires material preparation before entry into the nozzle.
Optimising PDMS Fabrication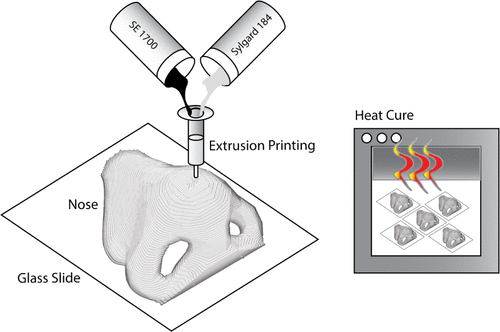 The main crux of the new discovery is the mixture of Sylgard 184 and SE 1700. This required a bit of fine-tuning when considering the properties of the individual materials. One of the issues with using Sylgard 184 is its viscosity. Sylgard 184 does not have a significant thickness so it puddles rather than adhering. However, when the researchers mixed it with SE 1700, it was significantly more suitable for printing.
Adjusting the ratio of the two materials allowed them to adjust the viscosity as needed. Another advantage of optimising the two materials in a mixture was a factor called shear thinning, where a material behaves like a solid when still, but like a liquid when force is applied. This is immensely helpful for 3D printing for obvious reasons. They also adjusted cell adherence by adding various coatings.
As part of their first test the researchers printed a nose. After consulting with the National Institute of Health, they decided the human nose would be ideal because of all its complex geometries and the varying densities in its many parts. The material managed a great job at capturing the complex cavities without support materials. They even compared this to casted PDMS with imaging technology (image above) and were happy to report many improvements in tensile strength.
PDMS has many applications within medicine and many more outside of it. It can offer new possibilities in single-piece electronics with the use of conductive inks, for example. It's easy to see why, the researchers are very optimistic about what this research presents.