We have all read about so-called bioplastics. They are made from biological materials such as corn.
Many bioplastics do not meet the requirements currently satisfied by oil-based commodity plastics such as PET though.
PET, used extensively in plastic bottles, is valued for its low cost, ease of manufacture, and mechanical, thermal and chemical stability in a range of environments. These are all desirable features when manufacturing food-safe containers such as drinks bottles.
Many bioplastics simply fail to live up to these requirements. In addition, not all bioplastics are as ecologically friendly as they are marketed to be.
However, a new type of plastic made from biomass might be on the horizon thanks to a team of researchers from École Polytechnique Fédérale de Lausanne (EPFL) who have been producing stable yet degradable plastics from lignocellulose. Lignocellulose can come from non-edible plant matter and is the most abundant raw material on Earth for the production of biofuels. It contains two carbohydrate polymers, cellulose and hemicellulose, and an aromatic-rich polymer (lignin), which is also found in wood.
The research team has utilized the hemicellulose portion, and transformed it into a tricyclic diester plastic precursor during integrated plant fractionation with glyoxylic acid.
What does that mean? It means this:
"By using a different aldehyde — glyoxylic acid instead of formaldehyde — we could simply attach 'sticky' groups to both sides of the sugar molecules, which would allow them to act as plastic building blocks," said Lorenz Manker, one of the researchers from EPFL.
"Using this simple technique, we can turn up to 25% of the weight of agricultural waste or 95% of refined sugar into plastic."
The new plastics can be processed into goods by typical thermoplastics thermoforming processes such as that could be processed by injection molding, thermoforming, twin-screw extrusion and three-dimensional printing. You can see a leaf structure that has been 3D printed with the material in the image below.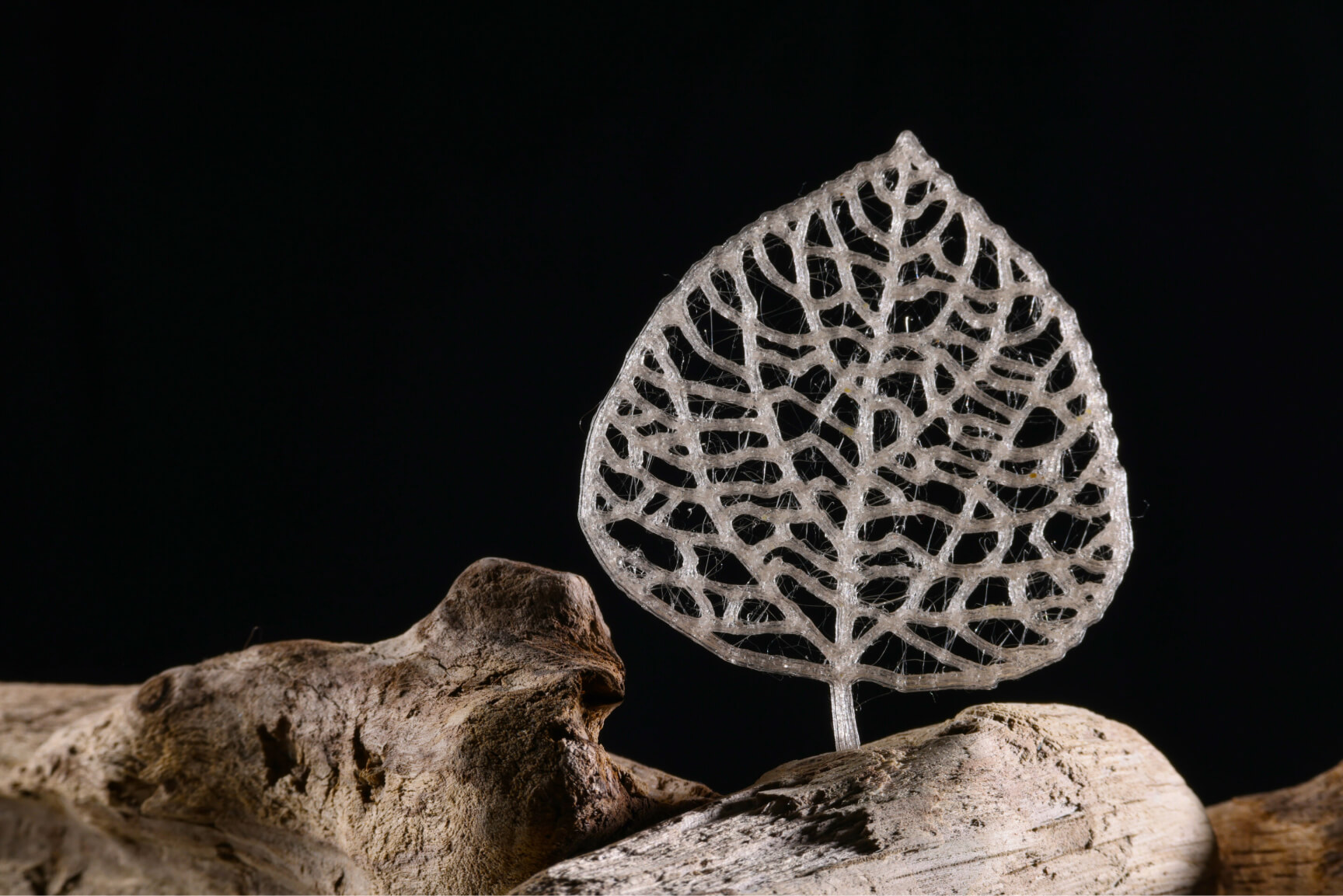 "Essentially, we're just 'cooking' wood or other non-edible plant material, such as agricultural waste, in low-cost chemicals to make a plastic precursor in one step," said Professor Jeremy Lutherbacher from the EPFL School of Basic Sciences.
"By preserving the structure of the sugar in the molecular structure of the plastic, the chemistry is much simpler than existing alternatives."
With this process the team at EPFL have been able to create amorphous polyesters with high glass transition temperatures (72–100 °C), ultimate tensile strength in the region of 63–77 MPa, tensile moduli of 2,000–2,500 MPa and elongation at break values in the region of of 50–80%.
It's comparable to ABS or Nylon, mechanically speaking.
"Plastic has very interesting properties, especially for applications like food packaging," said Lutherbacher.
"And what makes plastic unique is that it has an intact sugar structure. This makes it incredibly easy to make because you don't have to modify what nature gives you and easy to break down because it can go back to a molecule that is already abundant in nature."
Additionally the plastic provides a strong gas barrier (oxygen transmission rates low water vapor transmission rates, meaning its good for storing fluids in.
In terms of the degradability of the new plastics, while standardized biodegradation studies are yet to be conducted, the research paper states that due to the the inherently degradable nature of these materials, their chemical recycling can be achieved via methanolysis at 64 °C, and eventual depolymerization in room-temperature water.
So in conclusion, it's degradable, it's easy to form, it's sustainable and it's strong.
This is exactly what is needed as the planet attempts to transition to sustainable materials, especially for packaging. It may even lead to a replacement for ET which is one of the most common commodity plastics, and is responsible for a lot of plastic waste.
Their research findings have been published in Nature Chemistry and you can read the full paper at this link.