Cincinnati-based 3D modeling start-up Physna has raised $6.9 million for a search engine that specialises in 3D models. The Physna search engine can also reportedly sift through millions of 3D files in seconds. This allows users to easily locate models by filtering through shapes, patterns and features. In effect, the company hopes to become a Google-esque resource for 3D models and files.
With this investment, the company hopes to further enhance their engine, which will allow for more than just searching. Physna, an amalgamation of the words Physical and DNA, is a geometric search engine that, aside from being a resource for files and models, also aims to increase the efficiency of CAD design, 3D printing and other manufacturing methods. Physna allows users to compare and analyze countless 3D models, comparing them for quality control and automated inspection.
The search results will consist of the user's own 3D file database. Though the search engine may at first seem to operate like certain previously proposed databases, there are some differences. This software will take into account similarities and differences between 3D models. In doing so, it aims to identify common manufacturing problems and fix them. Physna is also reportedly able to sift through millions of 3D models in seconds, allowing users to easily locate models by filtering through shapes, patterns and features.
"The results are orders of magnitude more accurate and faster than was ever previously possible in 3D search," Physna's founder Paul Powers commented. "We are just scratching the surface. The uses for Physna's core technology are virtually limitless."
3D Model Analysis & Security Measures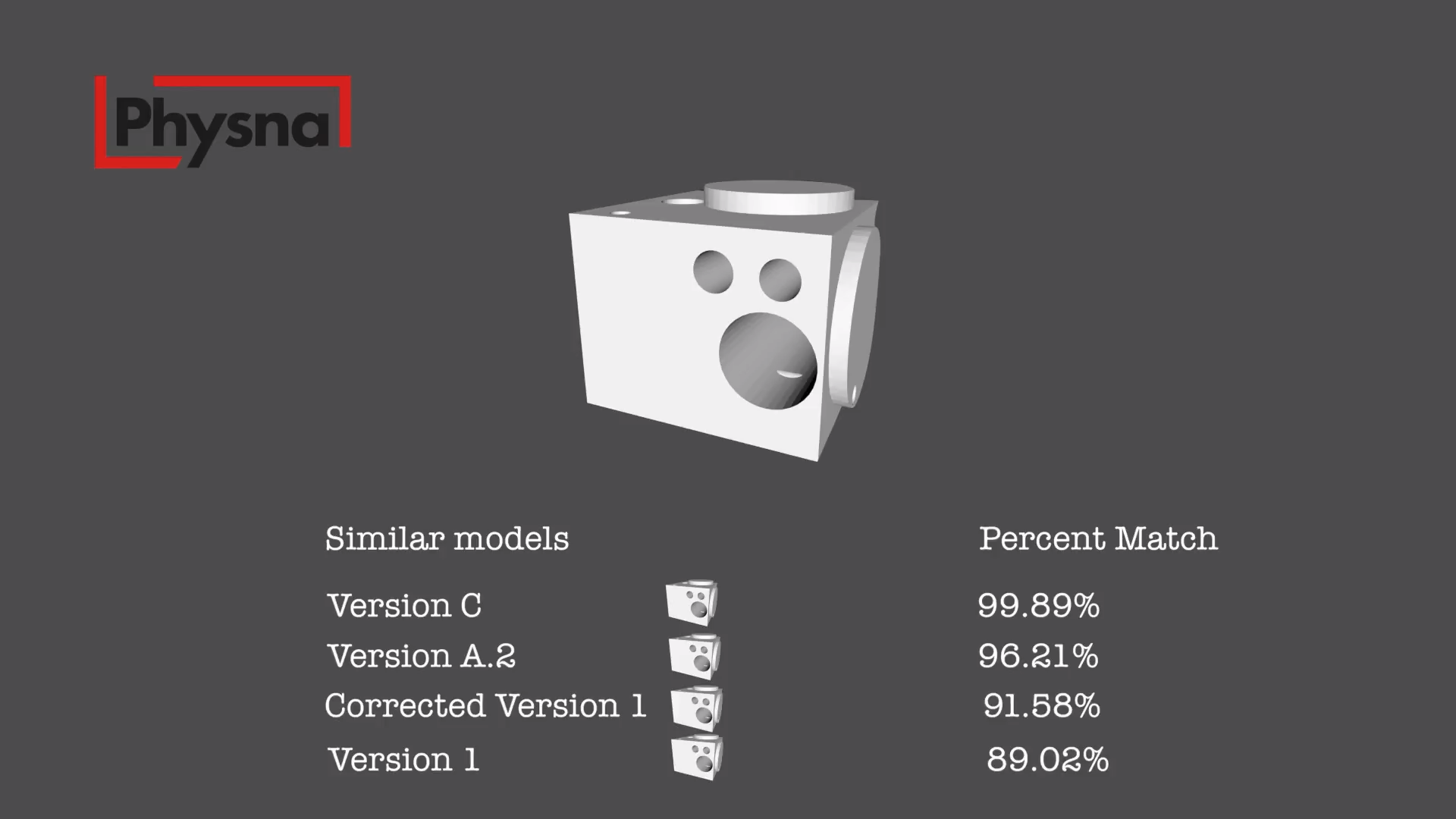 The series A funding round was led by Columbus venture capital firm Drive Capital. "We are very excited for the opportunity to invest in Physna," states Drive Capital Partner Mark Kvamme. "We believe what Paul and his team are doing in search has the potential to revolutionize the workflows of engineers around the world." 
Physna's search engine operates in conjunction with CAD and PLM programs, storing 3D files as wire mesh structures. This allows it to better analyse the form of each structure and, using a patent-pending algorithm along with machine learning technology, it compares them. As a result, it's able to identify common characteristics between such files and classify them as similar. Then, when users are looking for a particular file, they can search via shape or structure.
According to the company, the 3D model search engine could autonomously determine whether objects meet standards or custom compliance far before the manufacturing process. It may also aid in keeping CAD models secure. Physna has included security doublechecks and timestamps to safeguard against misuse. The company has a number of high-ranking clientele already, so ensuring that data won't be misused would be a welcome relief.
Featured image courtesy of Physna.