A new study from the Fraunhofer Institute for Surface Engineering and Thin Films, proposes the possibility of implants that can encourage bone growth with the use of plasma jets.
This revolutionary new finding could allow doctors to treat patients using implants as a scaffold that allow the bone to grow over it. The finding comes courtesy of a method where the printer extrudes jets of cold amino-containing plasma on each layer of the implant. While currently a hypothetical method, the substrate could accelerate tissue growth and decrease the risk of bodily rejection.
"This development by our project partners from Maastricht University makes it possible to individually vary the stability inside the implant. Like natural bones, implants can now have areas with different strengths," says Dr. Thomas Neubert, manager of the EU project at Fraunhofer IST.
Aiding Bone Recovery With 3D Printing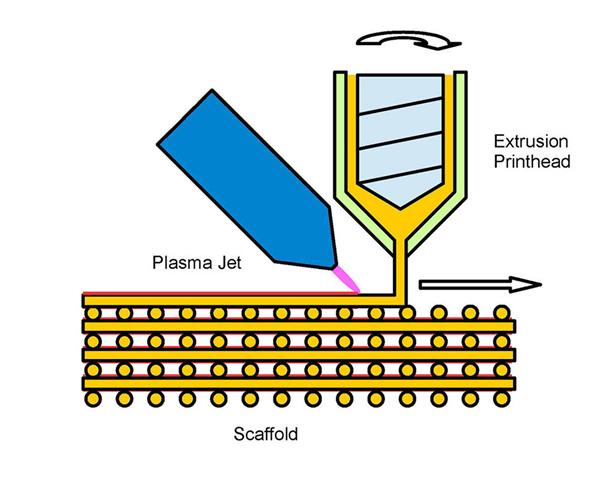 The researchers have gone further, stating that adding antibiotics to the mix could help prevent infections. Additionally, the implant itself remains in the body with the bone growing around it. This is due to the use of a 3D printed copolymer that dissolves over time, so there's no removal process necessary. The level of implementation is therefore safer throughout the whole process.
Jochen Borris also states: "We're currently working on simplifying the process and making it more stable. To be able to further pursue development and carry out clinical studies, we're on the search for industrial partners."
Another project that recently proposed dissolvable implants came from UNL. However, Fraunhofer's method is far more complex, especially with the addition of plasma jets to encourage growth and the antibiotic mixtures. Seeing the appearance of both methods makes one hopeful that patients will receive the crucial care soon. Although, as of right now testing and certification will take time.
Featured image courtesy of Fraunhofer Institute for Surface Engineering and Thin Films.