A team of Stanford University researchers have published details of a new nanoscale 3D printing material.
The paper, published in the journal Science, shows how they added metal nanoclusters into their polymer printing feedstock before printing with the two photon polymerization (TPP) method.
Typically, when printing with TPP methods, organic photoinitiators are used to start the polymerisation process, but these organic photoinitiators often work best with specific polymers. The organic additives generally do not add anything to the functionality of the printed material after polymerization is complete.
However, the researchers found that the metal nanoclusters worked with a variety of polymers (acrylates, epoxies, and proteins), and also contributed to enhancing the mechanical properties of the printed composite material.
The resulting composite structures printed measured smaller than the width of a human hair, as you can see in the printed Stanford University logo in the image below.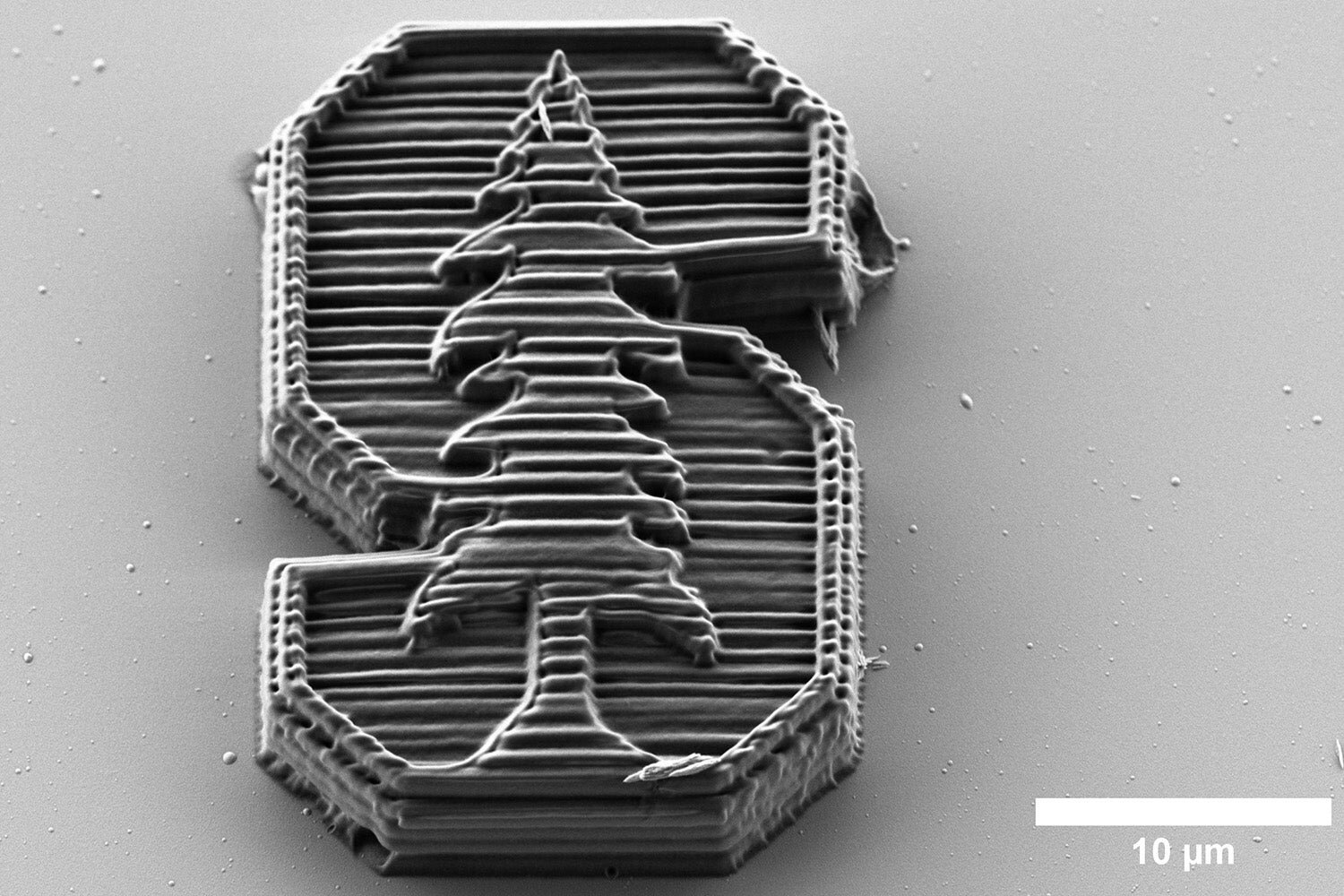 The researchers printed tiny lattices which were both strong and light, and had energy absorption capabilities that were double that of materials with similar density.
This could pave the way for new means of protecting delicate and valuable components from impact, such as those found in spacecraft hardware.
"There's a lot of interest right now in designing different types of 3D structures for mechanical performance," said Wendy Gu, an assistant professor of mechanical engineering at Stanford.
"What we've done on top of that is develop a material that is really good at resisting forces, so it's not just the 3D structure, but also the material that provides very good protection."
The clusters of metal atoms were shown to have excellent laser absorption properties, resulting in accelerated chemical reactions. In the case where proteins were added, the team were able to print at a rate of 100 millimeters per second, which is two orders of magnitude faster than what was previously possible with protein printing.
Various lattice structures were printed and the materials properties were tuned in each, with some structures being capable of supporting heavy loads, while some were tailored for high impact resistance.
All of the material samples were shown to have an excellent combination of strength, energy absorption, and recoverability against deformation.
"The lattice structure certainly matters, but what we're showing here is that if the material it's made out of is optimized, that's more important for performance," said Gu.
"You don't have to worry about exactly what the 3D structure is if you have the right materials to print with."
And because the metal nanoclusters worked with a range of polymers, the researchers say it has the potential to print multiple materials in the same structure, offering even greater degrees of tunability.
You can read the full paper, titled "Mechanical nanolattices printed using nanocluster-based photoresists" in the Science journal over at this link.