One of the core problems with fixing complex cardiac tissues and vessels is that of getting replacement parts to behave like the real thing. Take heart disease for example: hardening blood vessels present an issue that makes them hard to replace. That's why a team of researchers at Colorado University Boulder is using 3D printing as a means of producing artificial blood vessels with programmable rigidity control. As a result, they've been able to accurately mimic the blood and oxygen flow present in the human body.
The research uses a fine-grained, programmable control over rigidity achieved via elaborate layering. Through the method, the researchers can print objects with the same shape, size and materials while displaying variable rigidities. The researchers printing these items with a high-resolution desktop printer (the biomaterials were as small as 10 microns). The key is to control oxygen migration, while simultaneously managing flexibility and size.
"This is a profound development and an encouraging first step toward our goal of creating structures that function like a healthy cell should function," said Xiaobo Yin, CU mechanical engineering associate professor and the study's senior author. "The idea was to add independent mechanical properties to 3D structures that can mimic the body's natural tissue."
Medical Applications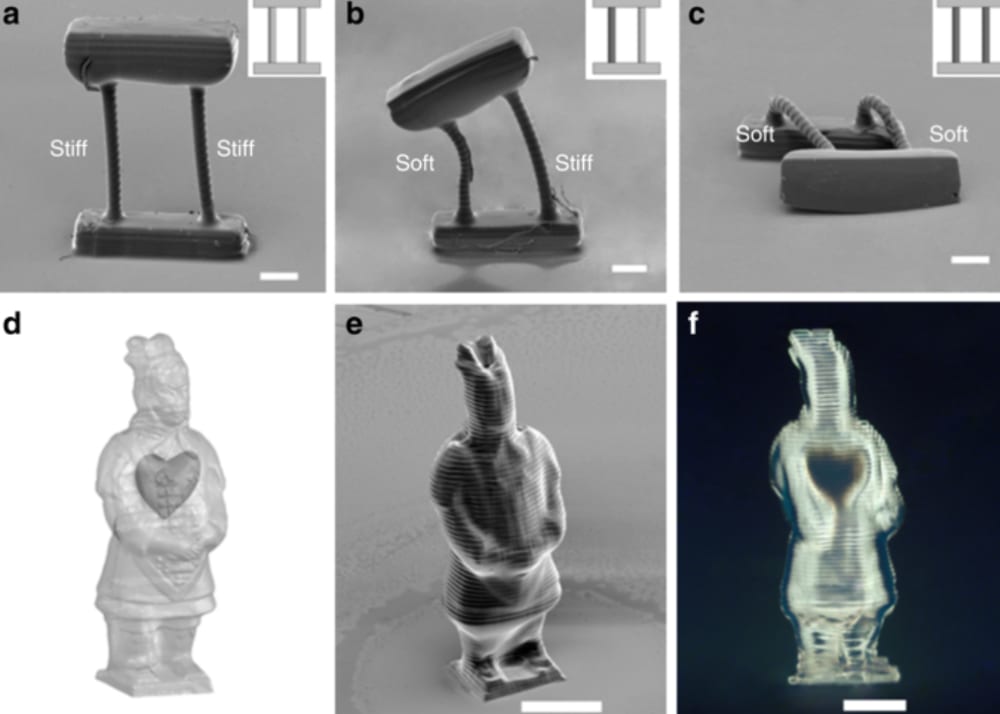 This technology allows researchers to create customisable microstructures for any patient's disease models.   The researchers demonstrated this by printing various models with programmable rigidity control. The level of control comes courtesy of varying up the rod rigidity as shown in the image above. This creates items that display a level of flexibility without altering their other properties. The prints come in 3 combinations: soft/soft, hard/soft and hard/hard (from left to right in the picture).
"The challenge is to create an even finer scale for the chemical reactions," Yin said. "But we see tremendous opportunity ahead for this technology and the potential for artificial tissue fabrication."
The research could lead to many potential improvements in cardiology. It has a particular potential in solving the issues associated with hypertension and hardening vessels. As with many other forms of medical 3D printing, the greatest benefit is the patient specific care it provides. Doctors could alter the process, size and rigidity for each different patient. While the research is still young, it has immense potential in creating medical bio-structures as well. Perhaps it may also prove useful for simplistic nanomachines in the future.
Featured image courtesy of Colorado University.