Having recently acquired Solidscape from Stratasys, Prodways is already putting it to use with entirely new releases. The company has just unveiled its SolidscapeDL DLP printer and all-new photopolymer resins. The new printer and affiliated resins are ideal for high-precision jewelery production using their own MovingLight technology. This advent is further proof that the company is placing itself squarely as the largest provider of jewelery production solutions.
Prodways SolidscapeDL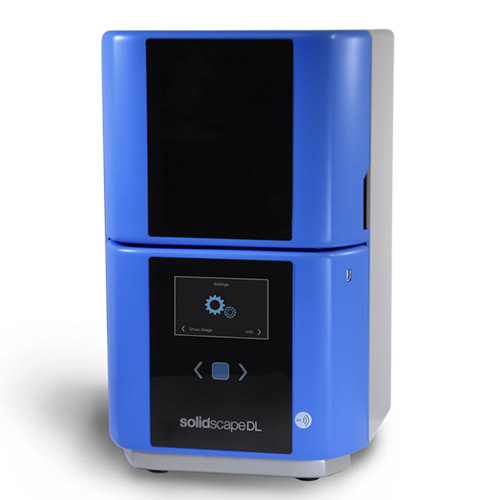 The SolidscapeDL is a DLP printer which can pint castable resins engineered specifically for jewelry manufacturing.
Manufacturer country:
USA
Print size millimeters:
84 x 47 x 90 mm
Print size inches:
3.3 x 1.8 x 3.5 inches
Printable material(s):
EmeraldCAST™, DiamondCAST
The SolidscapeDL promises high speed manufacturing and "smarter, more efficient, beautifully precise and profitable" production, according to Prodways. In acquiring Solidscape, Prodways inherited their 20 year expertise in designing and manufacturing high-precision 3D printers capable of producing objects with wax patterns, especially for lost wax investment casting and mold making applications. It will be interesting to see the capabilities of the SolidscapeDL once it's on the market later in the year.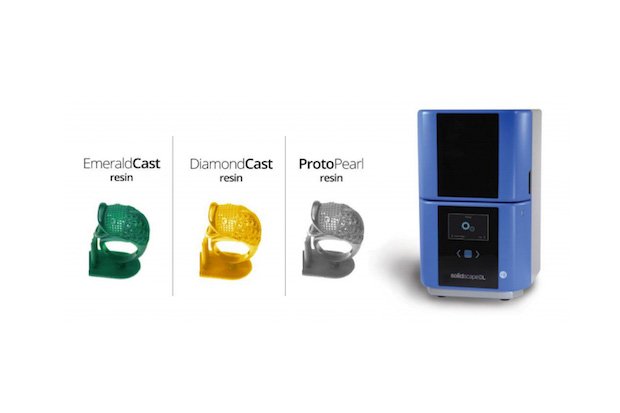 EmeraldCast, DiamondCast, and ProtoCast are the 3 resins Prodways is pushing out with the SolidscapeDL. The Prodways group is already taking full advantage of the integration of their various sub-companies. Deltamed, another of Prodways subsidiary, developed this new line of jewelery-specific resins. The company also states that the hardware and materials, in conjunction, can cut production costs by a third.
Prodways & Jewelery Production
Jewelery production is highly capable in making a further switch to additive manufacturing. It's easy to see why considering the lower material wastage, automation and enables users to produce high-res, castable wax models. The company also released the Solidscape S390 high precision 3D printer earlier this year, designed for custom jewelry production.
The recent increase in production and releases is part of the company's plan to be the big name in jewelery systems. Prodways announced that they want to take direct 3D printing usage in the global jewelery production from 10% to 50% in the next 5 years. Their company and subsidiary integration makes them capable of producing software, hardware and materials so it's clear they've go an upper hand in achieving this goal.
SolidscapeDL will be available for purchase in the 2nd quarter of 2019. Till then, it will also make its debut at the Vicenzaoro tradeshow in Vicenza Italy between January 18 – 23.
Featured image courtesy of Prodways Group.