PTC has recently showcased a groundbreaking achievement in additive manufacturing at the LiveWorx 2023 event. They unveiled a "fully additively manufactured jet engine", weighing around 3.6 kg, which was designed using PTC's Creo CAD software.
The project was spearheaded by Dr. Ronen Ben Horin, Vice President of Technology at PTC and Senior Research Fellow at Technion – Israel Institute of Technology, along with Beni Cukurel, an Associate Professor of Aerospace at Technion. Their goal was to create a self-supported micro turbojet engine that required no assembly, including all rotating and stationary components, representing a significant breakthrough in designing for Additive Manufacturing (DfAM).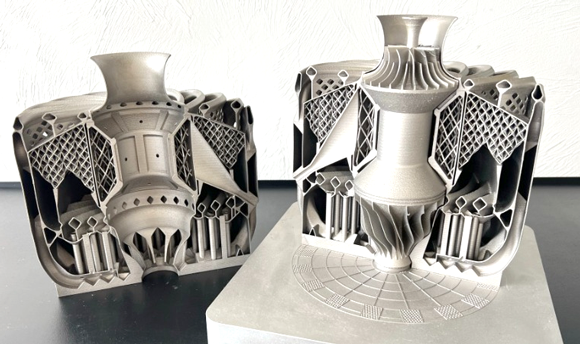 PTC's Creo software played a crucial role in the design process, leveraging its advanced capabilities for lattice modeling and generative design. This allowed for material and weight reduction while maintaining the engine's strength and performance. Creo's beam-based lattices automatically optimized designs for additive manufacturing, and the software supported self-supported formula-driven lattices, which could be adjusted for manufacturing efficiency.
Furthermore, Creo was compatible with various additive manufacturing equipment, facilitating the build and post-processing stages. The software's 3D component design capabilities also enabled traditional machining for precise assembly. Additionally, Creo offered a range of formats, including 3MF, for sending 3D models to different printer technologies in the market.
PTC's fully additively manufactured jet engine represents a remarkable achievement in the field of additive manufacturing, demonstrating the power of advanced design software like Creo in pushing the boundaries of what is possible in this field. This breakthrough opens up new possibilities for lightweight and high-performance engine designs, with potential applications in aviation and other industries.
Come and let us know your thoughts on our Facebook, Twitter, and LinkedIn pages, and don't forget to sign up for our weekly additive manufacturing newsletter to get all the latest stories delivered right to your inbox.