In traditional manufacturing, it is said that when choosing a process, it's best to opt for the one that removes the largest amount of material in the quickest amount of time. This applies to additive manufacturing as much as it does subtractive manufacturing.
Sure, the part may need finessing before it's a fully net shaped part, but in most cases, getting the bulk of the basic geometry formed as fast as physically possible without ruining the piece is the way to go.
This is why injection molding and casting are preferred for rapid creation of net shape parts. All the deposition happens more or less in one go.
In order for AM to even begin to compete with these methods, it needs to increase the deposition rate of the material.
The Saint Exupéry Institute for Research in Technology (IRT), France, has raised the bar in that regard and has set a new record for deposition of metal in an industrial metal 3D printer. Using an EBAM (electron beam) printer manufactured by American company Sciaky, Inc they were able to deposit 18.14kg of titanium per hour, which is a fairly good sized chunk.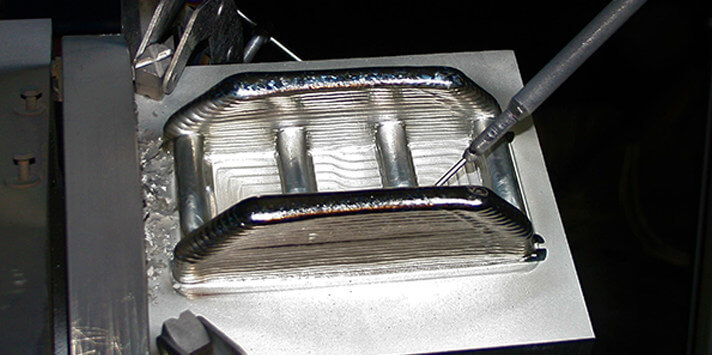 Sure, it's not as fast as casting, but hey, at least you don't have to build a mold each time..
The IRT achieved this feat while working on its Metallic Advanced Materials for Aeronautics (MAMA) project. One of MAMA's initial goals was combining die forging with metal 3D printing to develop a new process for manufacturing titanium aircraft parts.
"Sciaky is excited about EBAM's new deposition rate milestone," said Scott Phillips, President and CEO of Sciaky, Inc.
"We are committed to discovering new applications for EBAM that will help manufacturers save significant time and money on part production, as well as improve part quality."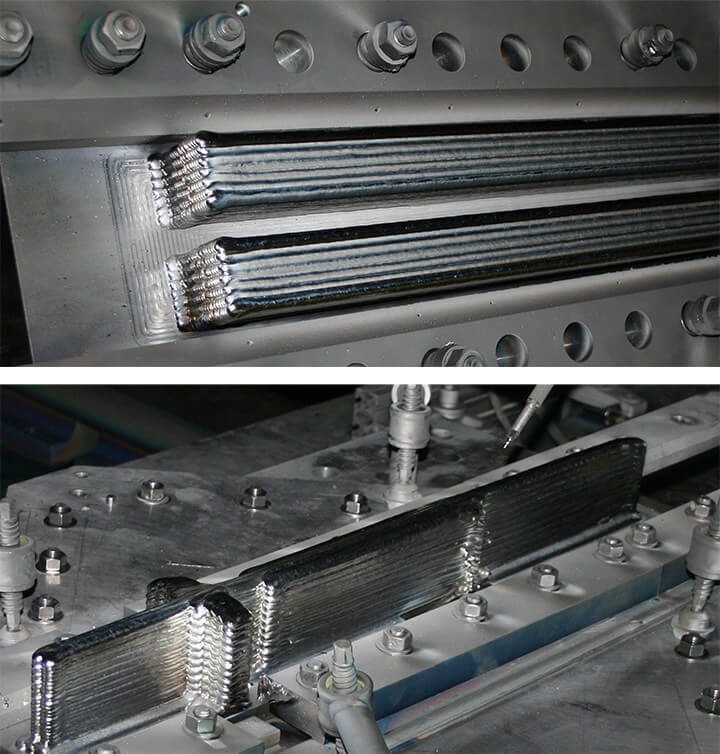 The Sciaky machines Sciaky's EBAM systems can print metal parts up to 5.79 meters in length and features a real-time imaging and sensing system, which is a closed loop adaptive control system capable of sensing and digitally self-adjusting metal deposition with precision and repeatability between layers.
If you were wondering exactly how the IRT were planning to combine EBAM and forging, well, specifically they use "closed-die" forging, as opposed to open-die forging, and they place the near-net shape printed titanium part, and compress it (forging) until it fills the shape of the die.
According to IRT, the hybrid process uses 30% less material than closed-die forging on its own. Of course, another benefit of this method is that you don't have to worry about those big ol' ugly EBAM layer lines and bumps on your final part as they are squished away on the interior of the die, aided by a 1000 ton press.
You can see the result below, which is a 1:1 replica of an Airbus fuselage component, measuring 800mm.
It looks like a cast part and it doesn't look like there was much machining needed afterwards either. Nice!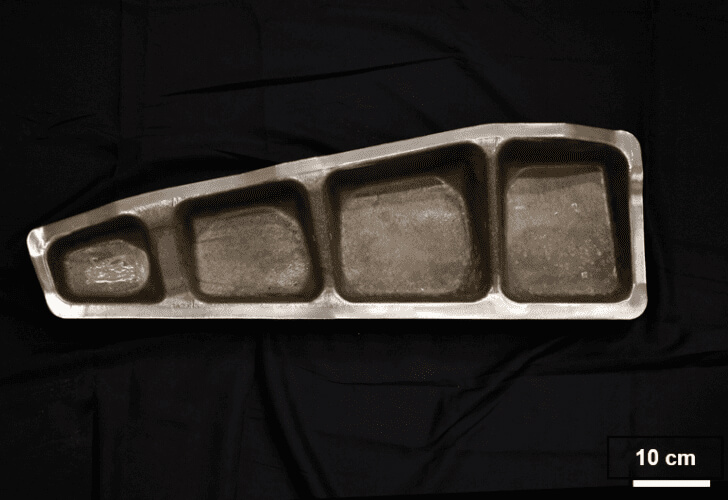 So overall, the combination of fast depositing AM combined with the final step of forging to bring the part up to shape (as it were) seems to be very promising. If you'd like to read more about the research at IRT and the MAMA project, you can head on over to this link.