Researchers at Washington State University have shown that the addition of curcumin as an ingredient to 3D printed scaffolds can aid in bone growth by up to 45%. Curcumin is a yellow chemical present in certain plants and a crucial component of the spice turmeric. This project has demonstrated that traditional, simplistic remedies can have astounding effects within medical 3D printing.
The researchers have titled their research Effects of PCL, PEG and PLGA polymers on curcumin release from calcium phosphate matrix for in vitro and in vivo bone regeneration. Essentially, the research looked into how the substance reacts to living tissue and a control group. Overall, it showed an increase in the regenerative capabilities.
The bone scaffolds in the experiment consist of ceramic materials that are similar to the kind researchers often use in tissue regeneration research. The scaffolds contain cells that gradually form new tissue in the correct environment. Although these are marvellous chemicals already, they have a few drawbacks as they tend to suffer from bone growth quality issues and can interfere with natural cycle of tissue growth.
Combining Organic Remedies with Bio-printing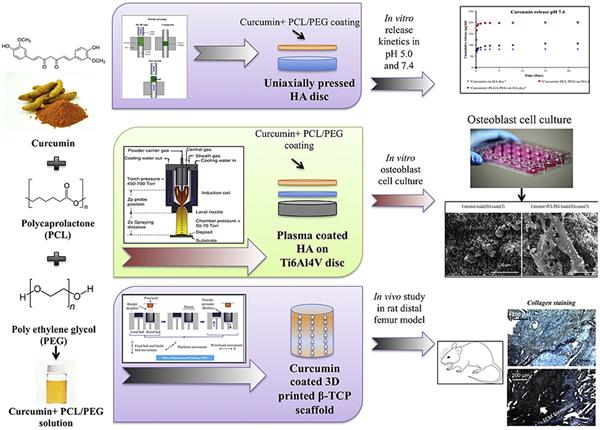 Susmita Bose, Herman and Brita Lindholm Endowed Chair Professor in the School of Mechanical and Materials Engineering led the project. The project also received funding from a National Health Institute grant. The need to find an organic solution was key to the research according to Susmita Bose:
"As a mother and having a chemistry background, I realized I didn't want my children to be exposed to so many chemicals for every illness," Bose said. "I started looking at home remedies."
While oral ingestion of turmeric/curcumin is beneficial, fast digestion sets in before the positive effects can set in. By applying it to the effective area directly, the scaffold is far more effective. The research presents a massive leap forward for multiple fields including bio-printing and osteoporosis research. While it is still in its initial stages the findings are very promising. They can potentially present solutions to a wide range of problems. The researchers are focusing on compounds that can also aid against bone disorders, infection control or cancer.