Researchers at the University of Cambridge have developed a low-cost, energy-efficient robotic hand capable of grasping various objects using passive movement from its wrist and tactile sensors on its 'skin'. This innovation, published in the journal Advanced Intelligent Systems, addresses the challenges robots face in handling objects of different sizes, shapes, and textures.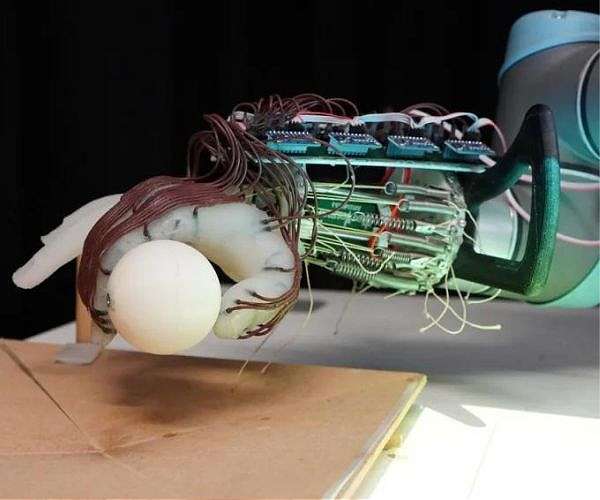 The 3D printed robot hand, designed by Professor Fumiya Iida's Bio-Inspired Robotics Laboratory, uses a small amount of energy to mimic human hand movements without the need for fully motorized fingers. The hand is implanted with tactile sensors, allowing it to sense the object it's touching, and can predict whether it will drop objects based on the sensor data.
Successful Trials
Through more than 1200 tests, the robot hand demonstrated its ability to grasp 11 out of 14 objects, including a peach, a computer mouse, and a roll of bubble wrap. The passive design is easier to control, provides a wide range of motion, and simplifies the learning process.
"In earlier experiments, our lab has shown that it's possible to get a significant range of motion in a robot hand just by moving the wrist," Dr Thomas George-Thuruthel, co-author of the paper.
"We wanted to see whether a robot hand based on passive movement could not only grasp objects, but would be able to predict whether it was going to drop the objects or not, and adapt accordingly."
Natural Movement
This breakthrough could pave the way for the development of affordable robotics with natural movement and adaptability. Future expansions could include computer vision capabilities or teaching the robot to exploit its environment for grasping a broader range of objects. The project was funded by UK Research and Innovation (UKRI) and Arm Ltd.
You can find the research paper, titled "Predictive Learning of Error Recovery with a Sensorized Passivity-Based Soft Anthropomorphic Hand" over at this link.
Interview with professor Fumiya Lida
Come and let us know your thoughts on our Facebook, Twitter, and LinkedIn pages, and don't forget to sign up for our weekly additive manufacturing newsletter to get all the latest stories delivered right to your inbox.