A new 3D bioprinting process developed by the University of Huddersfield has the potential to revolutionize the creation of tissue-compatible artificially engineered organs, saving thousands of lives. While 3D bioprinting has been used in organ creation for years, it has struggled to match the complexity of human tissue, leaving patients dependent on natural organ transplants and facing various risks. However, a research project led by Dr. Amirpasha Moetazedian from the university's School of Computing and Engineering aims to address this challenge.
The project aims to develop a cost-effective and simplified manufacturing pipeline for microfluidic tissue, which overcomes the limitations of previous methods. Currently, the production of microfluidic tissue is expensive and labor-intensive. By reducing costs and simplifying the process, the research team hopes to facilitate the wider adoption of microfluidics in organ engineering.
The pipeline focuses on use of material extrusion additive manufacturing and a continuously varied extrusion (CONVEX) approach to create microfluidic systems with complex seamless geometries. These systems include innovative variable-width zigzag (V-zigzag) mixers with channel widths ranging from 100 to 400 µm, as well as hydrodynamic flow-focusing components.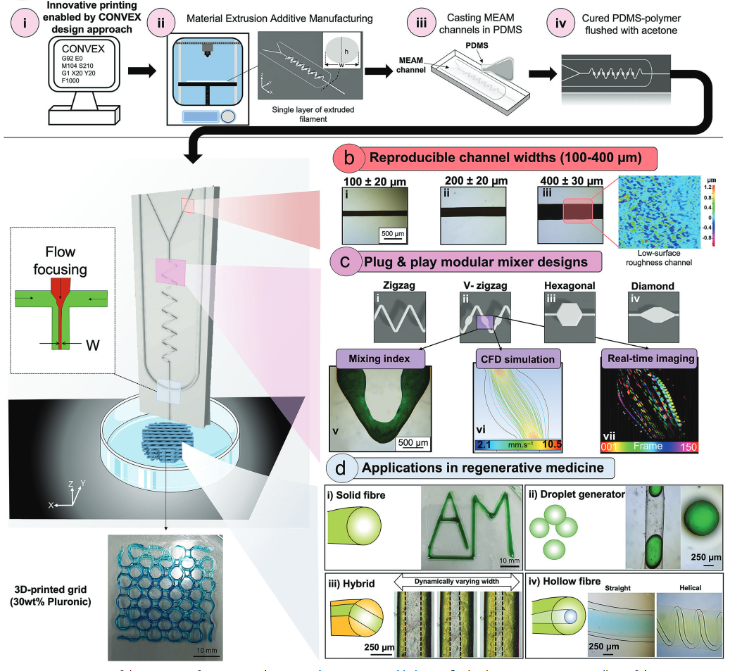 The microfluidic systems enabled rapid mixing of fluids by decelerating them at specific zones, promoting increased diffusion across interfaces. This improved mixing, even at high flow rates of 100-1000 µL min−1, without inducing turbulence. The cytocompatibility of the system with cells was high (>86%), even when using 100 µm nozzles.
The potential impact of this breakthrough is significant. Dr. Moetazedian highlights that producing complex microfluidic devices at a fraction of the cost opens up new opportunities in various applications, such as tissue scaffolds, cell culture systems, and biochemical sensors. Associate Professor Gowsihan Poologasundarampillai from the University of Birmingham emphasizes the urgent need for tissue grafts and artificially engineered organs that can be successfully transplanted without immunosuppression.
The new manufacturing pipeline combines additive manufacturing with innovative design approaches, enabling the rapid integration of modular microfluidic components. This approach promises greater flexibility and versatility in organ fabrication, including blood vessels, tissues, and organs. The hope is that this breakthrough will save lives not only in the UK but also globally.
By reducing costs and simplifying the production process, this breakthrough has the potential to revolutionize organ transplantation, saving countless lives and improving healthcare outcomes worldwide.
You can read the full details in the research paper titled "Versatile Microfluidics for Biofabrication Platforms Enabled by an Agile and Inexpensive Fabrication Pipeline", at this link.
Come and let us know your thoughts on our Facebook, Twitter, and LinkedIn pages, and don't forget to sign up for our weekly additive manufacturing newsletter to get all the latest stories delivered right to your inbox.