Researchers in Barcelona are pairing up additive manufacturing with another growing field: cruelty-free meat solutions. Giuseppe Scionti and his team have developed a plant based steak production method that aims to replicate the real thing.
While Scionti's "steaks" are made entirely of plant-based ingredients, they manage to imitate the texture of meat. Although the look needs more work, they claim to have the taste and texture down to a reasonable degree of authenticity. The methods works in a similar way to a lot of food printing technologies, using syringes of pastes. The printer deposits the paste into a steak-shape taking 30 and 50 minutes to create a 100-gram of meat. Scionti derived the paste from protein powder comprising rice or peas, a staple of vegetarian diet as nutritional supplements. Once the steak exits the printing, it is ripe for cooking.
The method also brings in some printing elements of cultured meat techniques, ones where fake meat is grown using animal cell cultures. While his work is plant based entirely, the technology uses some of those ideas in the assembly phase. "I use techniques that are normally used for cultured meat, and techniques borrowed from bioprinting and adapted for use with materials for plant-based meat," he explains.
Printing Alternatives to Meat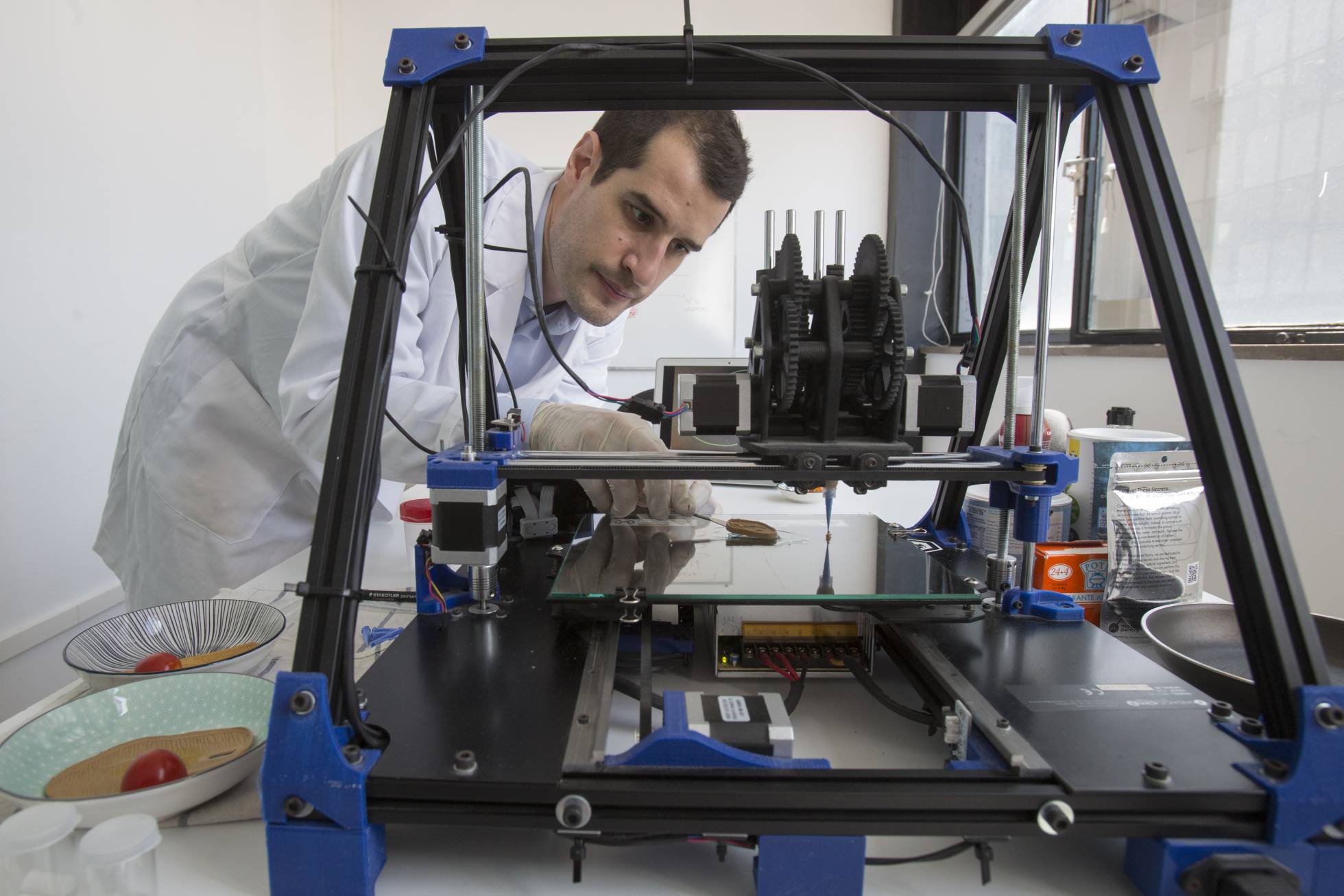 Scionti is 31-year-old researcher from Milan specializing in biomed and tissue engineering. He spent three years developing this project at the Polytechnic University of Catalonia (UPC). His aim was to create a feasible means of reducing animal agriculture's impact in the world while combating malnutrition.
"The difficulty lies in reorganizing the nanofibers from vegetable proteins to make them seem like animal proteins," explains Scionti. "First you have to study the histology of the animal tissue, how the muscle fibers are organized, and then you have to try to replicate that with plant-based ingredients that have not been genetically modified."
In the current model, printing 100 grams of this meat alternative costs €2. Scionti expects the price will go down even further as volume increases. It could provide a viable alternative to the agriculture industry's many failings. The environmental toll of meat harvesting does a number on the world's CO2 emissions already. It's also possible that this method could prevent food wastage simply by being on-demand in terms of production units, while simultaneously being less perishable overall.
Featured image courtesy of Consuela Bautista, retrieved via El Pais.