Researchers at the University of California San Diego have developed a low-cost smartphone attachment that enables blood pressure monitoring at users' fingertips. The 3D printed clip, combined with a custom smartphone app, utilizes the smartphone's camera and flash to provide accurate readings. With a production cost of around 80 cents, the researchers anticipate that the clip could be manufactured for as little as 10 cents per unit at scale.
The technology aims to make regular blood pressure monitoring easy and affordable, particularly for individuals in resource-limited communities. This advancement could benefit older adults and pregnant women in managing hypertension and other conditions. By reducing the barriers to blood pressure monitoring, the innovation has the potential to enhance healthcare access for those who cannot visit clinics regularly.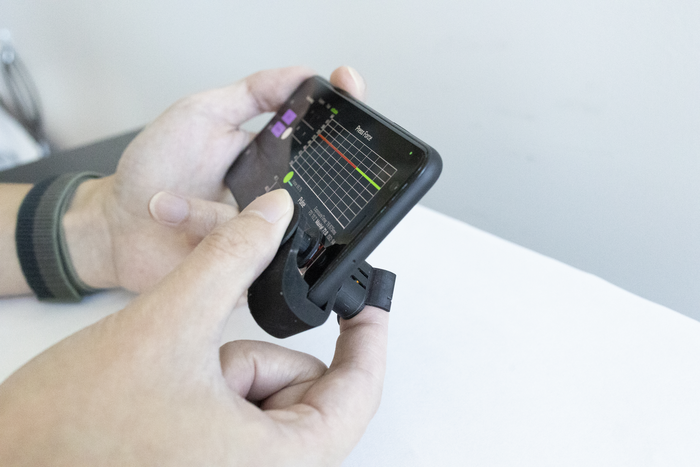 One major advantage of the clip is its calibration-free feature, distinguishing it from other cuffless blood pressure monitors. Users simply press their fingertip against the clip while following the app's instructions, providing a reliable blood pressure reading without the need for additional measurements with a cuff.
The printed clip fits over the smartphone's camera and flash, projects a red circle onto the camera when pressed. The app analyzes the circle's size and brightness to determine pressure and blood volume, converting the data into systolic and diastolic blood pressure readings using an algorithm.
"Because of their low cost, these clips could be handed out to anyone who needs them but cannot go to a clinic regularly," said study senior author Edward Wang, a professor at UC San Diego and director of the Digital Health Lab.
"A blood pressure monitoring clip could be given to you at your checkup, much like how you get a pack of floss and toothbrush at your dental visit."
With its affordability and simplicity, this blood pressure monitoring solution holds significant potential for widespread distribution, empowering individuals to take charge of their health. Further refinement and commercialization efforts could transform the way blood pressure is monitored, improving healthcare outcomes globally.
Successful testing with 24 volunteers at UC San Diego Medical Center yielded results comparable to traditional blood pressure cuffs. Future plans include improving user-friendliness, validating accuracy across different skin tones, and developing a more universal design.
You can read the researchers' paper, titled "Ultra-low-cost Mechanical Smartphone Attachment for No-Calibration Blood Pressure Measurement" in Nature journal, at this link.
Come and let us know your thoughts on our Facebook, Twitter, and LinkedIn pages, and don't forget to sign up for our weekly additive manufacturing newsletter to get all the latest stories delivered right to your inbox.