A Ph.D. candidate at Florida Tech is researching ways to improve ACL (anterior cruciate ligament) reconstruction surgery outcomes with 4D printing.
Researcher Nashaita Patrawalla has a vested interest in her own research, having suffered an ACL injury and undergoing revision surgery herself.
About 175,000 surgeries to reconstruct torn ACLs are carried out annually in the US, yet approximately 10% of ACL reconstructions result in a failure of the skin graft used to replace the torn ligament.
Patrawalla is focusing on reconstructing the "enthesis," the transition region from the ligament to the bone, which is missing in reconstructed ACLs and increases the chances of re-tears.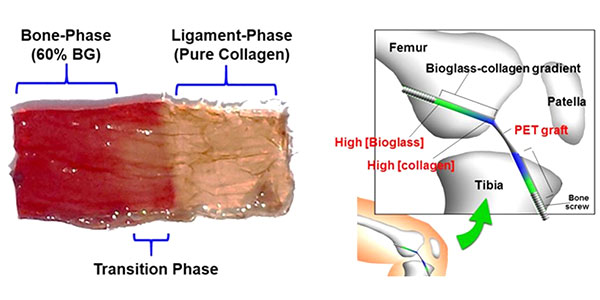 She is using 4D printing techniques to produce a functional ACL enthesis to reduce the risk of re-tears and injuries. The research combines advanced technologies such as Raman spectroscopy and 3D printing to recreate the enthesis region.
Researchers in the lab at Florida Tech are investigating different alignment techniques for collagen fibers in native tissues to improve tissue regeneration. Patrawalla's work focuses on combining magnetic field application with 3D-printing to create a 4D printing platform. The aim is to produce highly aligned collagen matrices by adjusting the magnetic field applied to the manufactured tissue scaffolds.
Aligned collagen fibers are important for impacting cellular response, which is critical for successful tissue regeneration.
"With regular 3D printing of collagen, the fibers would orient randomly, which would impact the mechanics and cell response," said Patrawalla.
"When you achieve alignment of the fibers within the graft, it has the potential to improve some of the properties by resembling the native tissue closely and by providing cues for expedited tissue regeneration."
The lab is also exploring the use of bioceramics to generate a gradient in mineral composition on the tissue-engineered scaffold. Future projects will involve testing the ACL enthesis in rabbit models with the goal of getting the process adopted into clinical settings.
Come and let us know your thoughts on our Facebook, Twitter, and LinkedIn pages, and don't forget to sign up for our weekly additive manufacturing newsletter to get all the latest stories delivered right to your inbox.