Rheinmetall, an OEM for military vehicles, has unveiled a groundbreaking solution for on-the-go production of spare parts for military vehicles. The Mobile Smart Factory (MSF), showcased at an event organized by the European Defence Agency, offers metal 3D printing and post-processing capabilities. Integrated into Rheinmetall's IRIS digital ecosystem, the MSF consists of two 20-foot shipping containers: one as an office container and the other as a production container.
The office container houses an air-conditioned workstation, storage space, a polymer printer, and a handheld scanner for quality control. The production container is equipped with a Metrom P7000, a versatile 6-axis hybrid machine capable of wire arc additive manufacturing (WAAM) and CNC milling for on-site finishing and post-processing. This flexibility empowers Battle Damage Repair personnel with additional options for repairs and overhauls.
You can see the MSF below.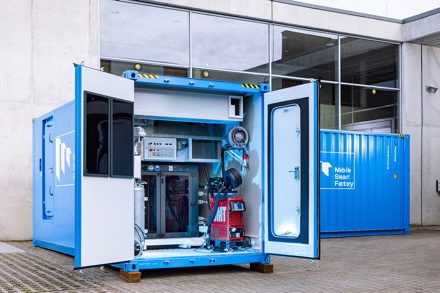 The MSF can produce components with a maximum size of 700 mm in diameter and 450 mm in height, utilizing weldable wires and polymers. What sets the Mobile Smart Factory apart is its integration into Rheinmetall's IRIS platform. IRIS ensures secure data exchange and lifelong product monitoring of the printed parts, including quality assurance. IRISwork provides operators and maintenance personnel with access to technical documentation and spare parts catalogs, while IRISfleet acts as a fleet management tool, recording the installation of specific printed parts on vehicles and storing relevant information in a digital product passport.
With the cloud-enabled IRIS platform, armed forces and the defense industry can establish a secure network, integrating partners and enabling rapidly deployable additive capabilities for the modern battlefield. Rheinmetall's Mobile Smart Factory represents a significant advancement in mobile spare parts production, facilitating efficient repairs and maintenance of military vehicles in the field.
Come and let us know your thoughts on our Facebook, Twitter, and LinkedIn pages, and don't forget to sign up for our weekly additive manufacturing newsletter to get all the latest stories delivered right to your inbox.