There have been several big unveilings at RAPID + TCT 2019, but Sandvik's announcement may outshine the rest: a 3D printed diamond composite. Actually, the composite doesn't shine like diamond, but it's just as strong and wear resistant. Industrial manufacturing and machining will forever change with this discovery.
"Historically, 3D printing in diamond was something that none of us imagined was achievable. Even now we are just starting to grasp the possibilities and applications that this breakthrough could have," said Anders Ohlsson, Delivery Manager at Sandvik.
Diamond is 58 times harder than any natural material so it's no wonder material scientists have been trying to harness it for industrial uses. Diamond composites have been available since 1958, but shaping the material is very difficult since machining diamond is nearly impossible. With Sandvik's technology, diamond composites can now be fabricated into complex forms, even parts with internal cavities.
The Full Process
An SLA process is employed to 3D print a slurry consisting of diamond powder and polymer using ultra violet light. It is however the proprietary post processing that brings out the true nature of diamond. Sandvik has developed a tailor made post-processing method that is able to produce the exact properties of a dense super hard diamond composite.
Sandvik doesn't share further details of the process but it's probably safe to assume that it involves heat and sintering.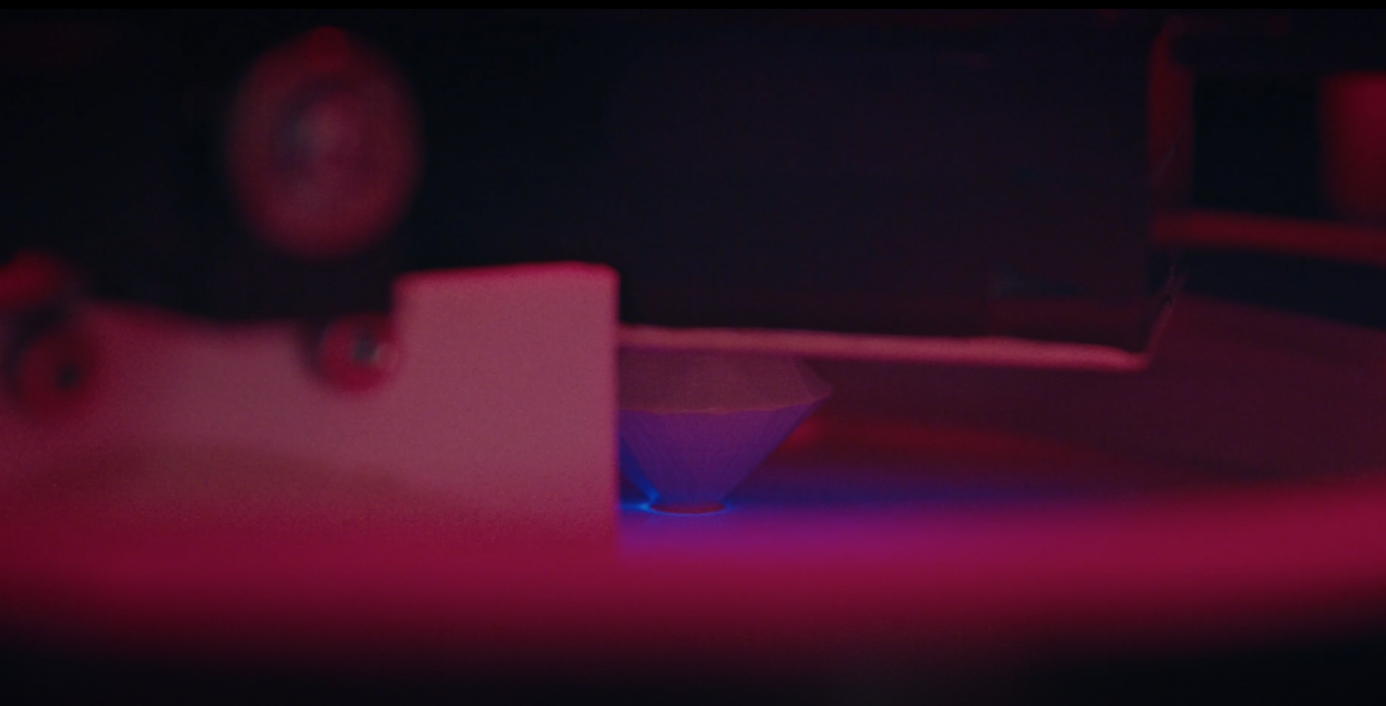 Mikael Schuisky, Head of R&D and Operations at Sandvik Additive Manufacturing elaborates, "This step was extremely complicated. However, after extensive R&D efforts and several trials we managed to take control over the process."
The breakthrough opens so many doors that Sandvik isn't entirely sure which direction to go, as Ohlsson explains: "We began to wonder what else would be possible from 3D printing complex shapes in a material that is 3 times stiffer than steel, with heat conductivity higher than copper, the thermal expansion close to invar – and with a density close to aluminum. These benefits make us believe that you will see the diamond composite in new advanced industrial applications ranging from wear parts to space programs, in just a few years from now."
Remember the he movie Ocean's 8? It set up a lot of viewers to be let down when it depicted a MakerBot desktop 3D printer making shimmering diamonds. Ocean's 8 is fiction but this Sandvik's 3D printed diamond composite is very real.