Have you ever been watching Star Wars and thought, "If I got my hand cut off with a lightsaber, then I would want to have Luke's hand?" Well, we are one step closer to that reality as Scientists from the Italian Institute of Technology (IIT) have 3D printed artificial muscles that can mimic the human and lift 1000 times its weight.
For a while, scientists have struggled to create a robot hand that can move with similar grace as a human hand. The actuators have been one of the main limitations as most are either too stiff or lack the strength needed to complete those movements.
However, that has changed as researchers from the Italian Institute of Technology are 3D printing actuators that are printed from a monolithic component making them stronger and more flexible than artificial muscles that predate them, allowing for more finesse when moving.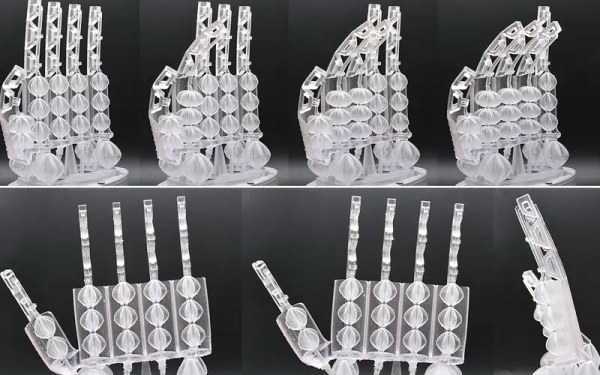 The group at IIT dubbed their new technology GRACE, which stands for GeometRy-based Actuators that Contract and Elongate. These differ from previous generations of artificial muscles because of their additions of pleats into the actuators. By using mathematical models and flexible SLA resin, the scientists were able to construct them in such a way that allowed them to furl and unfurl, much like a human muscle does and gave them a much higher strength to flexibility ratio. Impressively, one 8 gram actuator can lift 1000 times its weight (8 kilograms).
Wanting to explore the capabilities of this system further, the team wanted to see how realistic a robotic hand would move when using these artificial muscles. They then combined 18 different size actuators for their robotic hand, and to their amazement the device was able to twist, rotate, and bend its wrist and fingers similar to a human hand.
The researchers did state, "it still remains difficult to recreate the 'versatility and grace of movements' made possible by the complex arrangements of muscles inside the human body" with these new 3D printed actuators, the muscles are still a vast improvement on previous generations.
One area of exploration the IIT group is keen to explore next is that of resin formulations. The devices could see even more robust implementation if they could improve in both flexibility and strength. Developing and designing new resins could do just that and open even more possibilities for these artificial muscles.
With the rising interest in prosthetics and robotics these 3D printed actuators could play a role in the future of those fields. They are not perfect, but it's exciting to see where the technology goes from here. Then maybe one day, when we do get our arm sliced off while battling our father in a galaxy far far away, this technology could help create our personal Luke Skywalker prosthetic.
The full journal article can be found here.