Lighting company Signify recently unveiled a new venture for printing tailor-made lighting products. Their new service allows users to customize and print their own light shades and fittings, mostly developed using recyclable materials. Among these items, Signify have showcased the ability to produce appliances like table lamps from recycled CDs. The company's model proposes a sustainable mode of production for producing custom lighting and decorations.
The online service will launch on November 28 allowing users across Europe to create their lamps in the shape and color they choose. The end-product will be 3D printed on demand and delivered within 2 weeks. Most of their custom lamps, shades and fixtures utilize high-quality, 100% recyclable polycarbonate.
Signify's custom lamps, excluding the electronics and the bulb, have a 47% lower carbon footprint than traditional light fixtures. In addition, they do not use any glues and their products consist of fewer parts, making it an excellent example of Design for AM . They are lighter as well, coming down to about two-thirds of the weight of a conventional luminaire. This also translates to a 35% carbon emission saving for shipping and transport.
We are the first lighting manufacturer to produce 3D printed luminaires on an industrial scale, reinforcing our position at the forefront of lighting and sustainable innovation.
Olivia Qiu, Chief Innovation Officer at Signify
Sustainable Lighting Solutions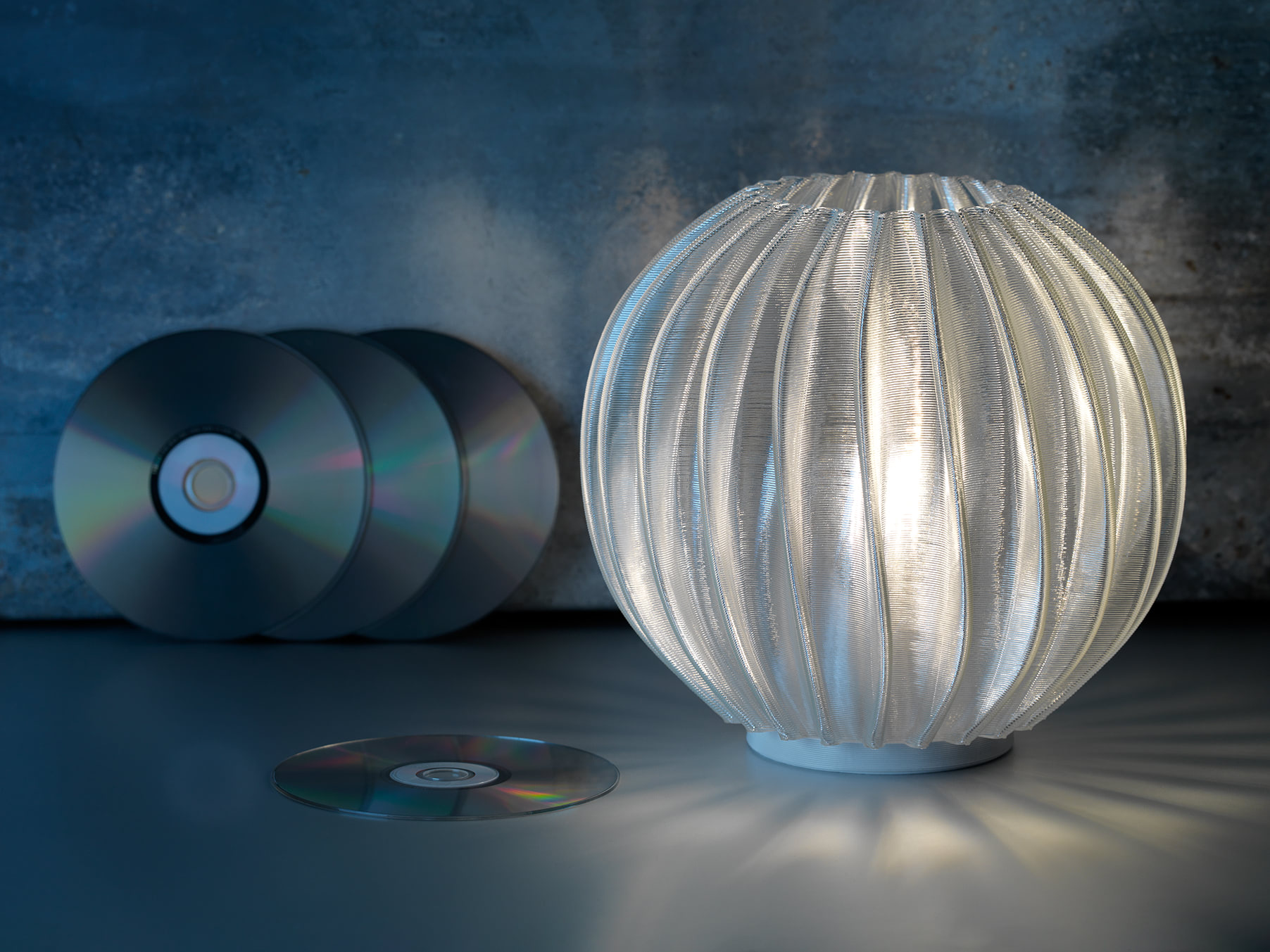 3D Printer Farms All Across the World
Signify recently unveiled their latest facility along with their flagship online service. The new facility is located in The Netherlands and will eventually contain about 500 3D printers of different sizes with the ability to create 600mm tall luminaires. They also announced plans to establish more 3D printing factories in the US, India and Indonesia.
Partnerships
The company's business model has already drawn heads from international firms. They've scored a major partner by launching the Philips-branded LED table lamp. This product was derived from 24 different recycled CDs and printed out for use with Philips' LED hue bulbs. Similarly, fashion and food retailer, Marks and Spencer (M&S) announced it is in the first phase of rolling out thousands of 3D printed luminaires across stores in the UK by the end of 2020. It joins other major customers including Dutch grocery chain Albert Heijn, SAS, Total and Praxis.
Carbon Neutral by 2020
In 2018, 79% of Signify's sales were sustainable revenues, making the company one of the most environmentally friendly. The company is committed to being carbon neutral in 2020 and recently received major accolades. They won Industry Leader in the Dow Jones Sustainability Index for the third year in a row. Their latest plans for more 3D printed recyclable goods further cements this commitment.
Featured image courtesy of Signify.