Researchers from City University of Hong Kong have discovered some size dependent mechanical properties in specimens printed with a micro SLA printing method.
They have observed that certain properties increase beyond what was expected when the prints are scaled down to a small scale.
What is causing this effect? Read on to find out.
PµSL
Micro SLA, also known as projection micro stereolithography (PµSL), is just like SLA, but smaller. It utilizes a micro display screen to produce dynamic masking to allow for ultra-high resolution, accuracy and precision. PµSL systems can print with resolutions at sub-micron scale.
It was at these small scales that the researchers observed increased strength and ductility in the samples of the printed acrylic acid resin.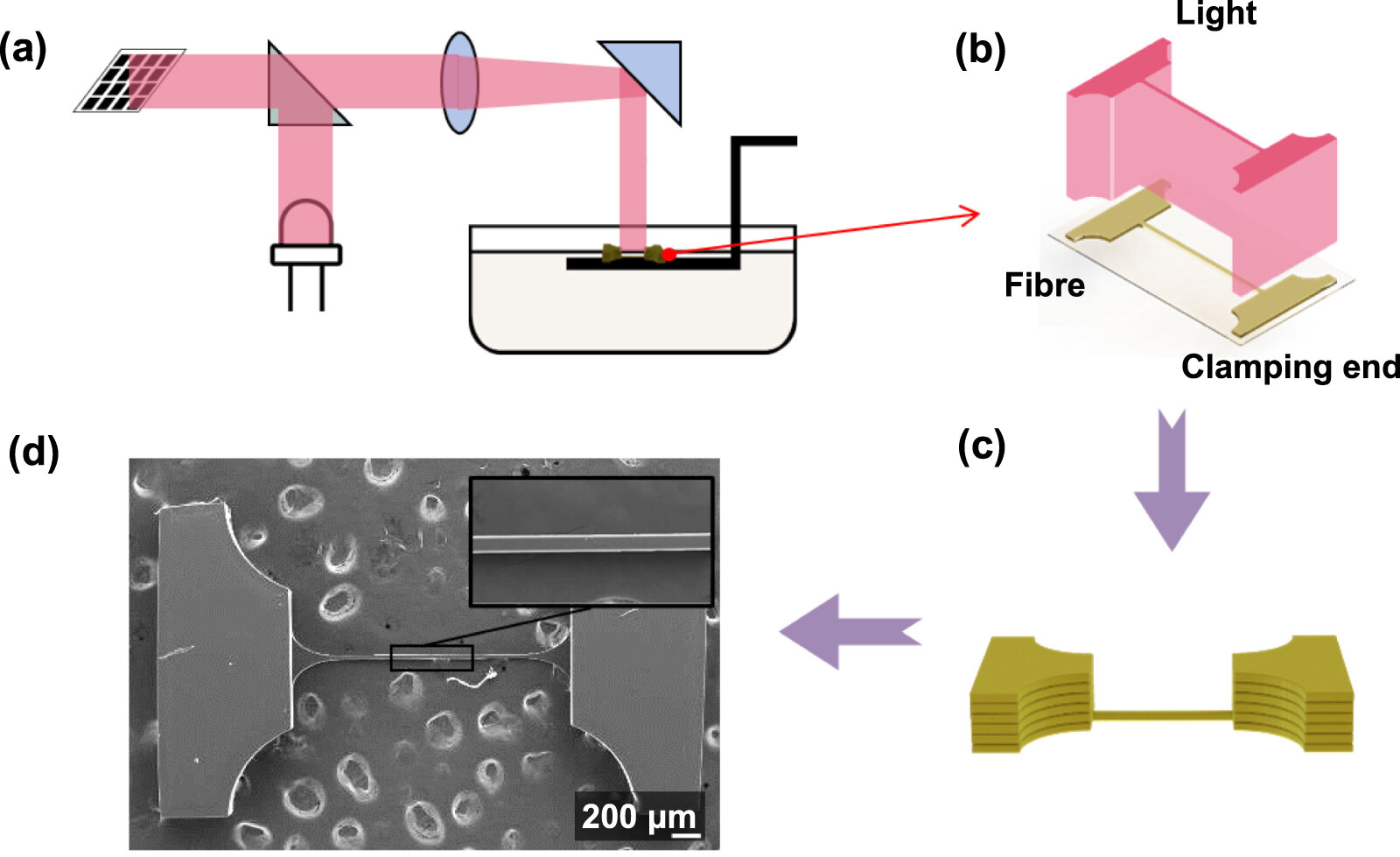 By utilizing PμSL the team printed test specimens with microfibers with diameters ranging from 20 μm to 60 μm .
When printing fibers with diameters down to sizes of 20 μm, it was noted that the fracture strain of the fiber increased up to ∼100% and the fracture strength saw gains of up to ∼100 MPa.
The research was aimed at testing the fibers for use as basic elements of microlattice metamaterials.
The mechanical properties were systematically investigated by in situ tensile tests. Dog bone tensile samples were fabricated with diameters ranging from 20 μm to 60 μm. The fibers, which would appear to be stiffer when printed at larger scales, were found to perform like rubber when the size was reduced to 20 μm.
Smaller, yet Stronger
There was a transition from plastic fracture to ductile fracture when the size of acrylic fibers were reduced to the order of tens of microns. The size-dependent mechanical properties were attributed to the minimization of surface or inner defects.
The effects of defects can reduce the strength of macro-scale materials to several orders of magnitude of the theoretical strengths. Reducing the size of the macro-structure and printing at micron-scale resolutions effectively reduces the size of the defects. This helps to increase the mechanical properties of samples to be close to their theoretical maximum.
Surface effects also contribute to the mysterious increase in material strength at a smaller scale.
Polymer chains typically demonstrate an increased degree of mobility when they are closer to the material surface than those within the bulk of the materials. For this reason, thinner polymer samples have a higher number of surface polymer chains closer to the surface, hence why higher ductility was observed in the smaller samples.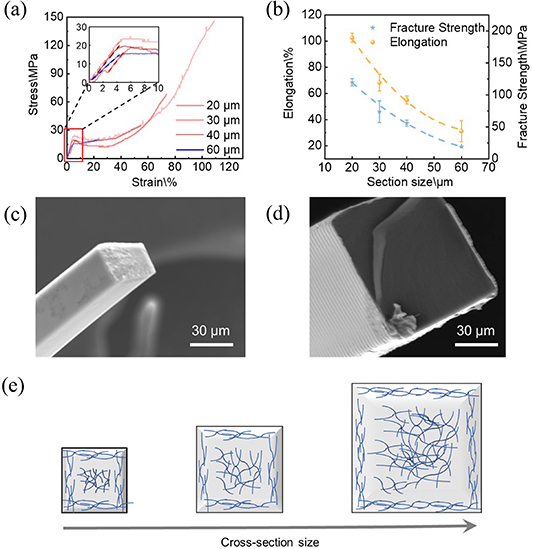 "Nowadays, vat photopolymerization 3D printing technologies, such as PµSL, can provide an excellent combination of ultrahigh printing resolution and large printing size, paving the paths for geometrically complex components with well-defined hierarchical structures for structural and functional metamaterials," said Professor Lu Yang, lead researcher at the university.
"A deep understanding of the mechanical properties of PμSL-printed polymer at small length scales will accelerate the development of advanced mechanical metamaterials such as micro/nanolattice materials with unprecedented performance. Size-dependent mechanical properties of materials has always been the central focus of my group's research. It also inspires us to pay more attention to utilize such size effects for designing advanced mechanical metamaterials with critical features steps into micro/nanoscales."
The research enables the fabrication of microlattice scaffolds with desired/programmable mechanical properties for the development of micro-lattice mechanical metamaterials.
You can access the paper from the International Journal of Extreme Manufacturing at this link.