The use of smart metamaterials has allowed Rutgers University-New Brunswick to make objects with variable stiffness. The stiffness of the materials changes based on their temperature, allowing for softness similar to a sponge while cool or hardness closer to wood while hot. This finding could allow for novel designs for aerospace technology or medical applications.
What's remarkable about this particular material is how neatly it can transform back and forth from these states. As a result, by altering the heat they can change their purposes and levels of shock absorption along with stiffness. According to the researchers, the smart metamaterial can alter its stiffness by 100-fold. These properties and states vary in temperatures between room temperature (73°) and 194° F. The materials are also easy to mold into a wide variety of purposes.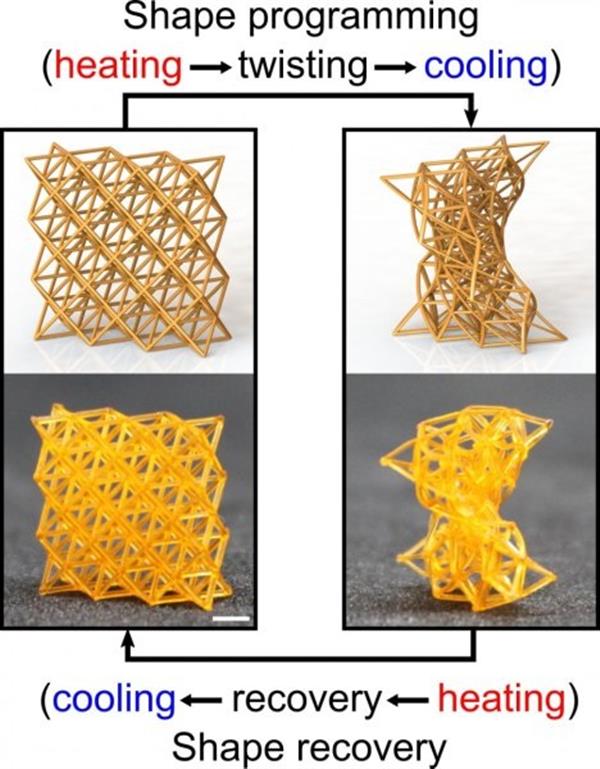 "We believe this unprecedented interplay of materials science, mechanics and 3D printing will create a new pathway to a wide range of exciting applications that will improve technology, health, safety and quality of life," Howon Lee, an assistant professor in the Department of Mechanical and Aerospace Engineering.
4D Printing Heat-Based Properties
Aside from the stiffness, there is another feature that makes this smart metamaterial far more interesing. The researchers have shown the ability to deform and return it to its original shape upon heating. Unlike a lot of metamaterials, this new one shows off a lot of reconfiguration and transformation. Often materials are difficult to get back into their original state once they transform.
It can also carry 300 times its own weight. Even when it deforms, it's a simple matter to bring it back to its original shape and size. The smart metamaterial also displays the ability to take on shapes like 90° angles and manages to pick up the same weight. This property could make it useful for pushing it through tight spaces when soft, when it's capable of taking on various, convenient shapes, and hardening it to create blockages or plugs.
One of the capabilities the researchers are looking at is in aerospace, where it could serve as a lightweight yet durable wing component. It could also serve well in soft robotics, where various 3D printed flexible designs have gotten massive traction. Either way, 4D printing is helping discover designs that show off the ability to transition between properties and purposes. Future research may unveil even more flexible and versatile designs for smart metamaterials.
Featured image courtesy of Rutgers University-New Brunswick.