Snapmaker, the 3-in-1 3D printer manufacturer that found fame as the highest funded 3D printer on Kickstarter back in 2019 has announced a sale for the upcoming Easter season.
Let's take a look at what is on offer, for those who are interested in a 3-in-1 solution that is at once a 3D printer, a CNC router and a laser engraver.
Read on to know more.
3-in-1 Fun
Since the release of the original Snapmaker system back in 2019, the Shenzhen-based company has released new iterations and bundles for their flagship product.
The Snapmaker Original is still available, with its 125 x 125 x 125mm print bed and this will be on sale for $439 (usual price is $699).
For those wishing a bigger solution, the Snapmaker 2.0 is available in various sizes and bundles.
The Snapmaker 2.0 comes in different forms including the F250/F350 (as seen in the video below), and the A250/A350 variants.
For those wanting a quieter machine but with the larger build area, the upgraded A250T/A350T systems are coming up on sale in bundle form with its own enclosure at 15% of the usual price. You can read more about that bundle here.
The discounted price list of deals available over the Easter sales includes:
– Snapmaker Original $439
– Snapmaker A350 $1499
– Snapmaker A250/Bundle $1099/1399
– Snapmaker A150/Bundle $899/1139
– Snapmaker AT/Bundle 15% OFF
– Snapmaker F250/F350 15% OFF
– Snapmaker Accessories/Add-ons 15 % OFF
And if those deals aren't enough, there is a 3-hour flash sale on April 11, 10:00 – 12:59 AM. For the first specified number of customers the following offers will be available during the flash sale: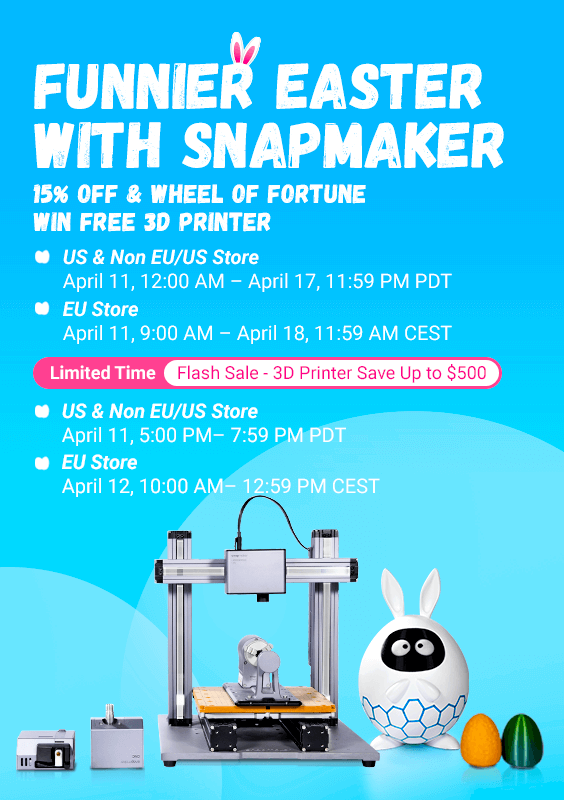 – Snapmaker A350 extra $100 OFF (20 pieces US store)
– Snapmaker A350 extra $200 OFF (20 pieces UK store)
– Snapmaker A250 extra $100 OFF (50 pieces EU/US/UK store)
– Snapmaker A150 extra $100 OFF (50 pieces EU/UK store)
The Snapmaker Easter Sale starts on April 11 at 00:00 AM PST for US customers and April 11, 9:00 AM CET for customers in the EU. It ends April 17, 11:59 PM PST for customers in the US and on April 18, 11:59 AM CET for those in Europe.
So if you want to get your hands on a Snapmaker deal and get some 3-in-1 desktop manufacturing action in your life this Easter, then head on over to the Snapmaker website during those dates and get yourself a deal.