Rapidia Inc, in partnership with spherene AG, has recently revealed images of a 3D printed bone structure made using the sphereneRhino software plugin. The 316L stainless steel implant, created with Rapidia's printing technology, highlights the potential of personalized metal implants in the medical industry.
The success of this endeavor can be attributed to spherene's Adaptive Density Minimal Surface (ADMS) algorithm, developed by CEO Christian Waldvogel and Creative Technologist Daniel Bachmann. Through the sphereneRHINO plugin, they designed a qualitative interpretation of a femur's intricate internal structure, laying the groundwork for the physical additive manufacturing work.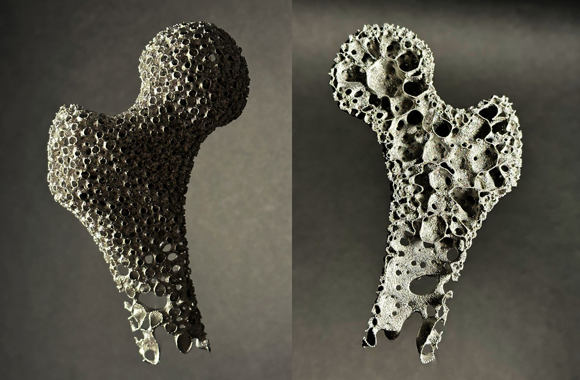 Rapidia's two-step AM technology, introduced in 2019, played a pivotal role in the project's success. By extruding a flowable bound metal paste and drying it layer by layer, the technology significantly reduced binder content compared to traditional metal filaments or Metal Injection Molding (MIM) feedstocks. This room-temperature process allowed for shorter sintering cycles, streamlining production time to less than twenty-four hours.
It's important to note that the showcased femur-styled structure is not a viable implant. However, this milestone proves that additively manufactured metal femur replacements hold immense promise in orthopedics. One of the significant advantages of this technology lies in its ability to personalize implants based on precise medical imaging data, leading to improved patient outcomes and reduced recovery periods.
As sphereneRhino continues to evolve, the integration of advanced software platforms with additive manufacturing techniques promises to revolutionize the medical industry. Patients can look forward to a future where custom-made implants offer enhanced comfort, durability, and biomechanical compatibility, ultimately transforming the way orthopedic treatments are approached.
To learn more about the sphereneRhino plugin, you can head on over to this link, and to find out more about the Rapida 3D printing technology, you can do so right here.
Come and let us know your thoughts on our Facebook, Twitter, and LinkedIn pages, and don't forget to sign up for our weekly additive manufacturing newsletter to get all the latest stories delivered right to your inbox.