The ARM2u biomedical engineering team from the Barcelona School of Industrial Engineering (ETSEIB) has developed a groundbreaking low-cost 3D printed transradial prosthesis, providing an alternative to conventional prostheses. Composed of 15 students from various engineering disciplines, the team has been working tirelessly since 2018 to create a fully functional robotic arm that responds to the user's nerve impulses.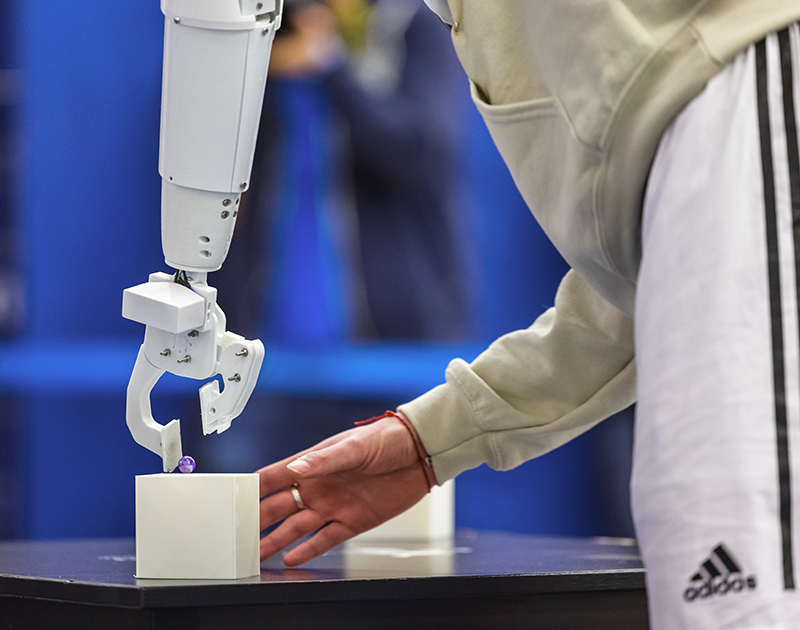 The ARM2u prosthesis employs myoelectric control, harnessing the natural electrical signals produced by muscle contraction. By utilizing EMG sensors, it collects commands from the patient's muscle contractions and translates them into signals that the microcontroller can understand and utilize. The design is customizable to fit individual arm sizes and boasts a reduced weight for enhanced comfort.
AI-control
Having already developed two prototypes, the team is focused on refining their technology further. They are incorporating artificial intelligence (AI) techniques for myoelectric control, enabling greater adaptability of the prosthesis. Additionally, they are working on integrating a hand with fingers into the next iteration of the prototype.
The ARM2u team aims to market their prosthesis at a significantly lower cost compared to existing models, offering an affordable solution to individuals with limb disabilities. Produced using 3D printing techniques with PLA plastic, the prototype is both cost-effective and easily reproducible.
The team's efforts have earned them a spot in the prestigious Cybathlon 2024, the ultimate platform for testing prostheses. During this event, individuals with physical disabilities will perform everyday tasks using various prosthetic designs. ARM2u will be the sole representative from Spain, showcasing their advanced technology and garnering interest from the audience and participating companies.
Looking for Collaborations
To further their mission, the ARM2u team is actively seeking sponsors to support their project and aid in marketing the prosthesis. They emphasize that sponsor support is crucial for enhancing the technology, expanding its functionalities, and ensuring adaptability for end-users. Additionally, the team is in search of new carriers to collaborate with during the design and development process, enabling real-world testing of the prosthesis.
With their innovative low-cost robotic arm, the ARM2u team is poised to make a significant impact on the lives of individuals with limb disabilities. By leveraging cutting-edge technology and their multidisciplinary expertise, they are driving advancements in prosthetics and paving the way for a more inclusive future.
Come and let us know your thoughts on our Facebook, Twitter, and LinkedIn pages, and don't forget to sign up for our weekly additive manufacturing newsletter to get all the latest stories delivered right to your inbox.