A designer in Jordan has recently revealed her range of 3D printed organic wearable biomaterials to the public.
To promote sustainable fashion, Haneen Khalaf has been utilizing food waste from her home and local supermarkets to create her designs. A Fabricademy graduate, Khalaf was inspired to pursue zero-waste fashion due to the textile industry's harmful impact on the environment.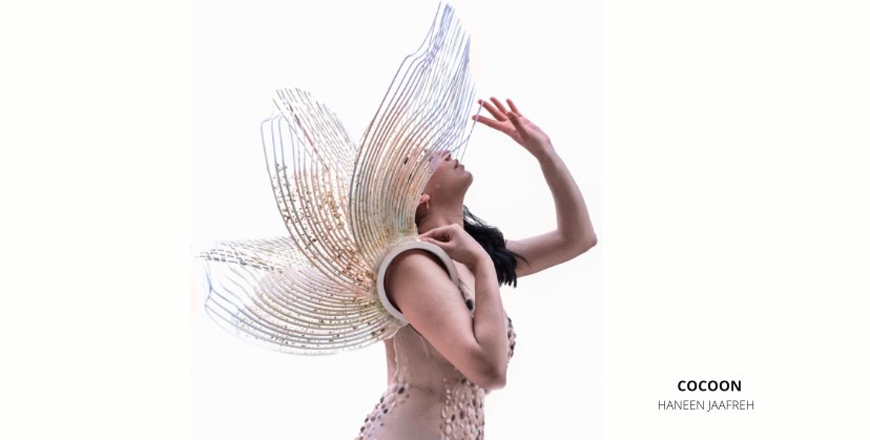 The United Nations Environment Programme (UNEP) reveals that textiles account for 9% of annual microplastic losses to oceans and contribute to 10% of annual global carbon emissions. The fashion industry also consumes 93 billion cubic meters of water annually, which could meet the needs of 5 million people.
Khalaf works with agricultural waste companies to turn waste, such as date seeds, into biomaterial for accessories. She uses 3D printing and laser cutting technologies in her manufacturing process.
"I only use food items that are no longer edible or viable for consumption because the goal is to reduce waste," said Khalaf.
"The main purpose of using biomaterial is that it doesn't last forever; it decomposes after it's disposed of without causing any harmful impacts on the environment."
Although biomaterials are not as durable as traditional fabrics, they decompose without negatively impacting the environment. Khalaf aims to reduce fabric use by incorporating biomaterials and recycled fabrics in her designs, including earrings, vests, and scarves.
One of her 3D printed wearable art pieces, made from sustainable material and recycled fabric, is currently on display at the National Gallery of Fine Arts. The piece's colorful design represents the sounds made by coral reefs, highlighting the environmental impact of the textile industry and the importance of protecting ecosystems.
Come and let us know your thoughts on our Facebook, Twitter, and LinkedIn pages, and don't forget to sign up for our weekly additive manufacturing newsletter to get all the latest stories delivered right to your inbox.