In 2022, Thai a company by the name of "The Concrete Products and Aggregate Co., Ltd" (an affiliate of Siam Cement Group) successfully constructed the world's first 2-story residential PPVC building in Saraburi, Thailand. It was constructed using 3D printed prefabricated prefinished volumetric construction (PPVC) technology, and resulted in a building covering a total area of 68 square meters.
Let's take a look at the project, named "CPAC-PP3DVC" in some more detail.
CPAC-PP3DVC
Prefabricated Prefinished Volumetric Construction (PPVC) is a construction method whereby free-standing three dimensional modules are completed with internal finishes, fixtures and fittings in an off-site fabrication facility, before it is delivered and installed on-site.
Using the PPVC method of construction has numerous advantages including increased productivity, a better construction environment (free from exposure to the elements, and dust), and improved quality.
Typically PPVC buildings are made off-site using molds and poured concrete – PP3DVC does away with the molds, and instead uses 3D construction printing to achieve the same goals of modular construction.
And this is exactly what The Concrete Products and Aggregate Co (also known as "CPAC") has used to achieve their world-first construction in Saraburi. You can see the assembled building at its final location in the image below.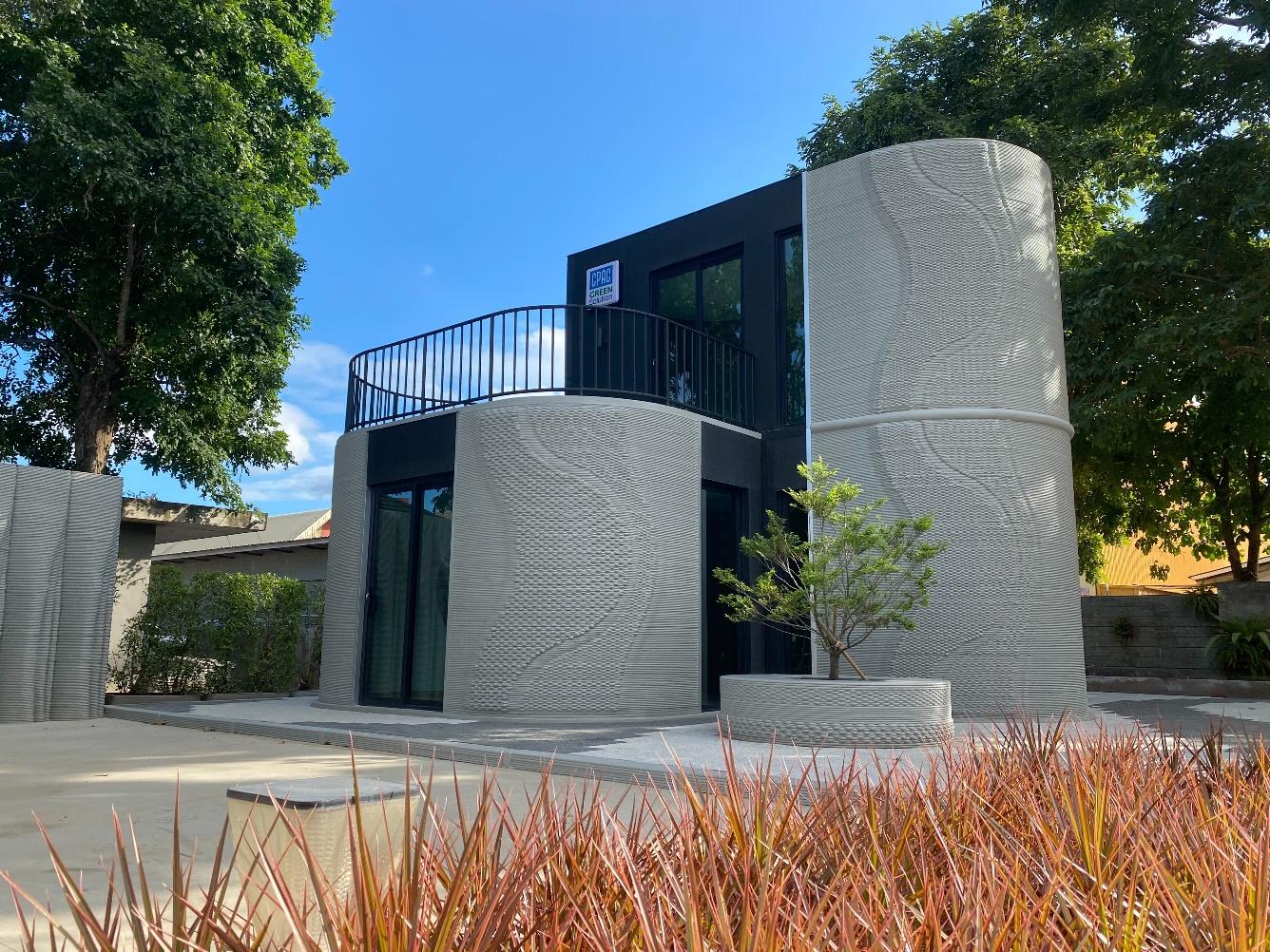 Comprising four modules of varying dimensions (ranging from 3×3 meters to 3×6 meters), each module was 3D printed to feature distinctive curved walls, adorned with various parametrically-designed textures. The digital design of the modules was performed to ensure that each module had the optimal wall thermal properties.
The building's structural integrity combines the strength of 3D printed mortar walls with a steel frame. A rigorous finite element analysis was conducted to ensure safety throughout the building's lifecycle, from construction and transportation, to when the building is in use.
Lightweight Construction for Efficiency
Modular construction often grapples with the weight of modules, posing challenges during assembly. In a bid to mitigate these concerns, the CPAC-PP3DVC project imposed a maximum module weight limit of 10 tons, substantially lighter than traditional reinforced concrete modules.
To accomplish this feat, engineers developed a lightweight 3D printing mortar with a density of 1,600 kg/m³, rendering it 16% lighter than conventional counterparts. Remarkably, this lightweight mortar boasted comparable compressive strength, ensuring the building's robustness.
The building's floor system also adopted an innovative approach, embracing a hybrid steel-concrete composite system to reduce floor weight by 40% compared to traditional methods. Collaborative research between SCG and universities optimized the 3D printed walls to incorporate infill concrete with reinforcement, achieving superior wall design performance. Ultimately, the 3D printed PPVC modules weighed in at an impressive 70% less than their reinforced concrete counterparts.
Off-Site Finishing and Rapid Assembly
Embracing the PPVC methodology, the CPAC-PP3DVC building was completed with internal finishes, fixtures, and fittings at an off-site fabrication facility before being transported to the construction site. This dramatically increased construction productivity and minimized reliance on on-site labor. To further accelerate construction, 3D printed footing formwork was employed.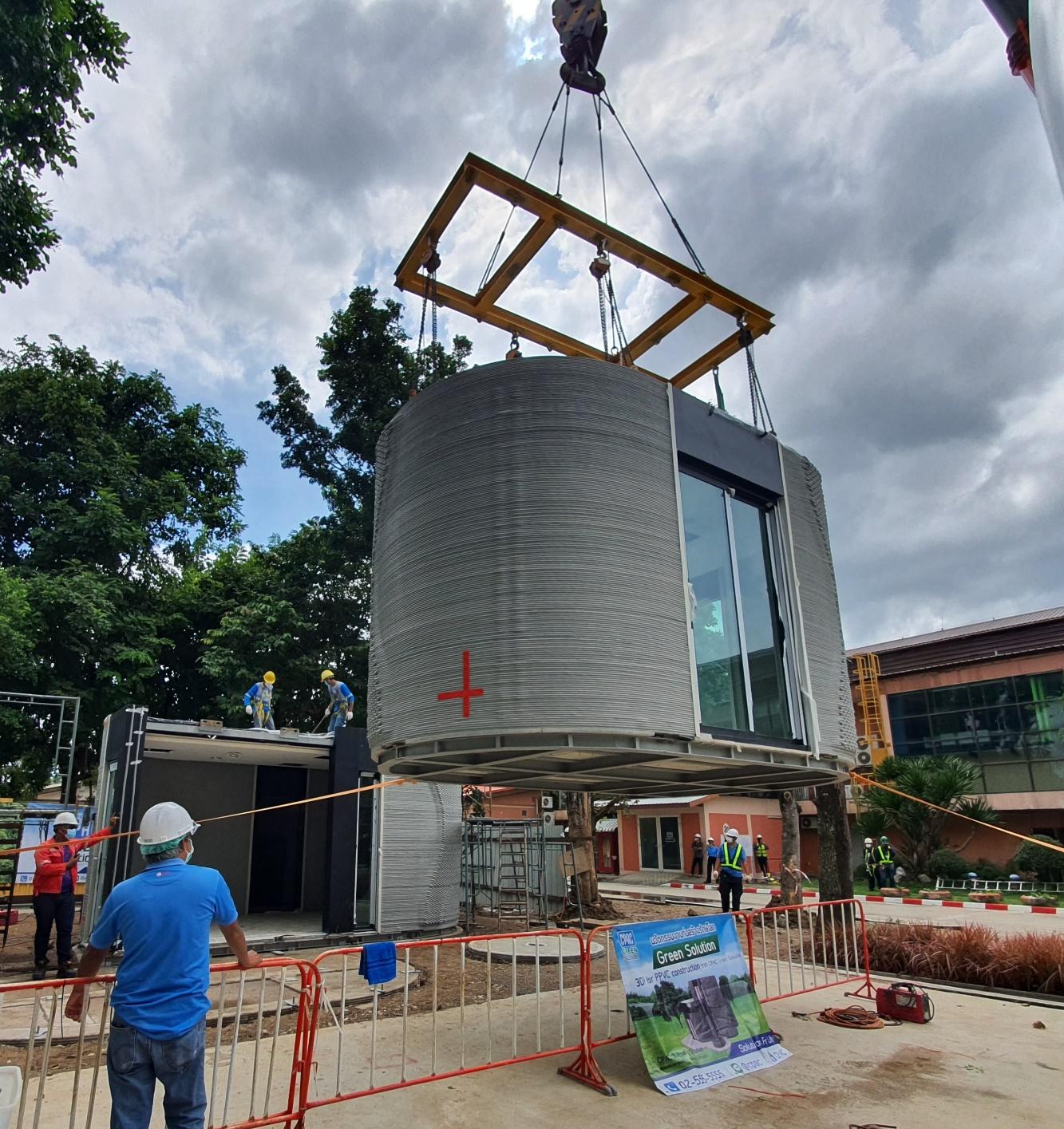 One of the most impressive feats of the CPAC-PP3DVC project was its rapid assembly. The entire building was erected in just four hours, and the project's construction timeline was completed in approximately eight weeks, 51% faster than traditional brick-and-mortar construction methods.
Sustainability and Reduced Waste
Beyond the impressive construction speed, the CPAC-PP3DVC building also demonstrated sustainable construction practices, with the 3D printed PPVC approach resulting in a staggering 95% reduction in construction waste compared to masonry construction methods.
This equated to a reduction of 3.7 tons of CO2 equivalent in terms of waste materials. Sustainability metrics like this demonstrate that PP3DVC construction methods can make a significant contribution to the fight against climate change.
Conclusion
All-in-all, the CPAC-PP3DVC has shown that 3D printing of buildings has great promise, especially when contractors do not have to transport construction printers and materials to a site. The pre-fabrication of the modules with 3D printers allowed the designers and engineers to produce structures as strong as traditionally formed PPVC buildings, with the added advantages of reduced CO2 footprint, and mold-free textured finishes.
The building is now operational, and serves as a co-working space for the local community.
CPAC will be presenting their project at the 16th International Congress on the Chemistry of Cement 2023, which will be held at the Centara Grand & Bangkok Convention Centre At Centralworld, Bangkok, on 18-22 September 2023. So if you are in the Bangkok area and would like to learn more about PP3DVC construction, then head on over to the congress to find out more.
Come and let us know your thoughts on our Facebook, Twitter, and LinkedIn pages, and don't forget to sign up for our weekly additive manufacturing newsletter to get all the latest stories delivered right to your inbox.