In the realm of furniture manufacturing, a fusion of traditional and modern processes has taken shape through "The Wood Project" by Mexican studios Manufactura, and La Metropolitana.
This collaborative endeavor shows a synergy between classic woodworking techniques and modern technology, presenting a viable solution to the challenges of efficiency and sustainability.
Centered around the utilization of wood and its inherent transformation processes, The Wood Project tackles a pertinent issue faced by the common woodworking shop—daily accumulation of sawdust. By harnessing the potential of robotic 3D printing, the initiative aims to reuse that sawdust to construct intricate structures, while triggering a circular economy and decarbonization process.
You can see the printed trellises in the picture below.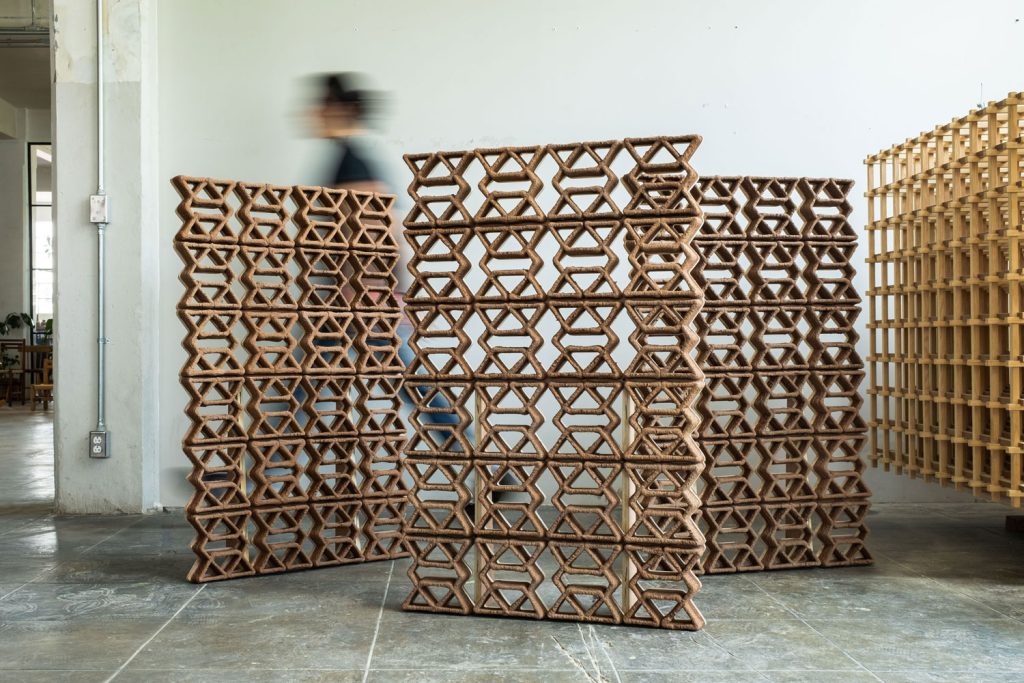 The process revolves around a semi-liquid extruder mounted on a robotic arm, enabling the precise 3D printing of a multitude of geometries. This novel approach not only enhances material utilization and minimizes waste, but also opens up a plethora of applications, from architectural elements to furniture and more.
The feedstock is a bio-composite made from the from sawdust, predominantly sourced from the Tzalam tree, and has been developed from a collaboration between industry and academia.
During experiments with the material, numerous blending trials unveiled alterations in both the physical characteristics and the bonding tendencies while undergoing drying. These transformations were notably impacted by the machinery responsible for producing the sawdust, which in turn modified the size of the particles. After conducting a series of prototype tests, it was ascertained that the sawdust derived from the calibrating machines and the CNC router exhibited the most favorable physical attributes for the 3D printing procedure.
With a spotlight on sustainable design, circular systems, and the conscious repurposing of waste, The Wood Project is carving a path forward to a less wasteful, yet aesthetically pleasing future.
Source: parametric-architecture.com
Come and let us know your thoughts on our Facebook, Twitter, and LinkedIn pages, and don't forget to sign up for our weekly additive manufacturing newsletter to get all the latest stories delivered right to your inbox.