Researchers from Khalifa University in Abu Dhabi have successfully printed glasses for aiding people living with color blindness.
Using photopolymer resins, they printed the lenses with dyes added, and increased the optical efficiency when compared with currently available offerings.
You can see some examples of the printed lenses in the image below.

Read on to know more about how AM is helping people with color blindness.
Color Blindness
Color blindness, also known as Color Vision Shortage (CVD) is a condition that causes the decreased ability to see color or differences in color. It is most commonly caused by defects in the cone cells in the retina, which mediate color vision. This can vary in severity and can cause different losses in color.
One one side, people with total color blindness (monochromacy) only see the world in hues of grey.
More commonly, people with the condition experience loss of two colors (dichromacy) with loss of red/green from their vision being the most common.
Red/green dichromacy affects up to 8% of males and 0.5% of females.
While there is no cure for color blindness, certain color tasks in life can be aided by use of optical devices (lenses) with various tints and filters to allow certain colors through and block others.
These lenses will typically help to improve discrimination between colors, in some cases will help the wearer to identify the numbers in a color blindness test.
The research team has designed and tested lenses for people with the more common red/green variety, as well as the second most common, yellow/blue dichromacy.
Higher Efficiency
While there are currently glasses and lenses available for people with these types of color blindness, they are apparently uncomfortable and not especially fun or attractive to wear.
By printing the lenses and frames, the researchers have been aiming to produce a pair of color blindness glasses that are both optically functional and also comfortable to wear, more like regular glasses.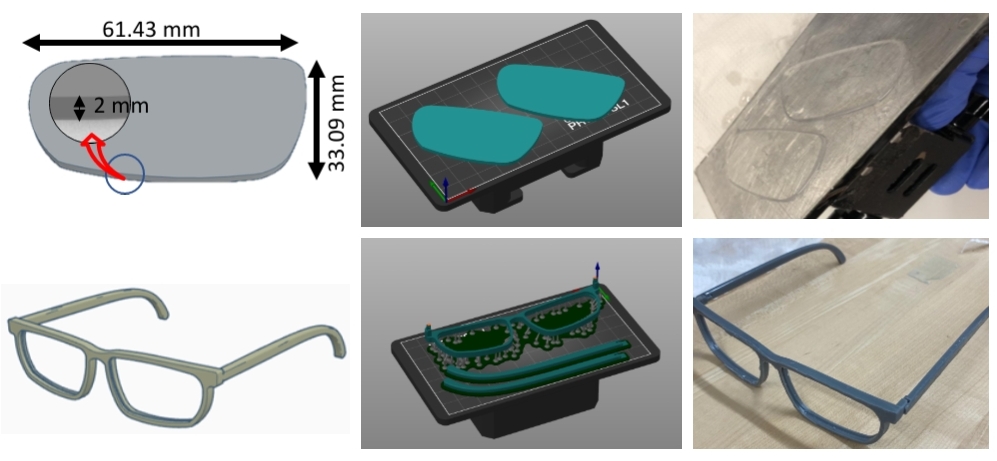 The lenses have been made by using a clear resin combined with 2 wavelength-filtering dyes to create a tinted effect.
One type of lens was designed to block the unwanted wavelengths for wearers with red/green dichromacy, and the other was for blocking undesirable wavelengths for those with yellow/blue dichromacy. During tests, both groups reported that the glasses were effective.
"Our results show that 3D printing has no effect on the wavelength filtering properties of the dye. In fact, the dye is bound to the resin and 3D printed, so it remains unchanged," said Dr Haider Butt, Associate Professor of Mechanical Engineering at Khalifa University.
This is good news and signifies that, from a process perspective, there should be no issues arising from dyes mixing in the resin. In fact, this process was seen as an improvement.
"When we compared the optical performance of our glasses to commercial glasses for color blindness, our results show that our 3D printed glasses are more selective than commercial glasses in filtering unwanted wavelengths. They have great potential in the treatment of color blindness, and their ease of manufacture and customization means they can be tailored to each patient, custom made."
More optically efficient, and more comfortable glasses, are potentially good news for many people all over the world whose color tasks are impeded by the condition.
The research team has authored a paper, titled "Development of 3D-Printed Glasses for Color Vision Deficiency" in the journal of Advanced Engineering Materials, which can be accessed at this link.