The medical industry uses 3D printing in all sorts of ways, some in actual medical practices and others in tools. However, a new project showcases how additive manufacturing can aid in the production of training. Engineering students of the University of Alabama in Huntsville (UAH) have 3D printed medical training equipment for use by undergraduates at their own College of Nursing.
Medical tools and training equipment need to be top notch so they can accommodate a complex set of tasks. The students have so far developed cricothyrotomy trainers, vein finders, as well as an onychectomy trainer. These could serve as crucial tools in training the next generation of healthcare professionals.
Dr. Lori Lioce, Clinical Associate Professor at UAH 's College of Nursing and research scientist Norven Goddard led the project. While medical 3D printed models are nothing new, the idea of saving funds by producing them in-house is something universities rarely consider.
"These models cost more than a thousand dollars, but we wanted something that would save money, be cost-effective and use the university's resources," said Goddard. "We asked ourselves, how cheaply can we do this?"
In-House Medical Training Equipment Production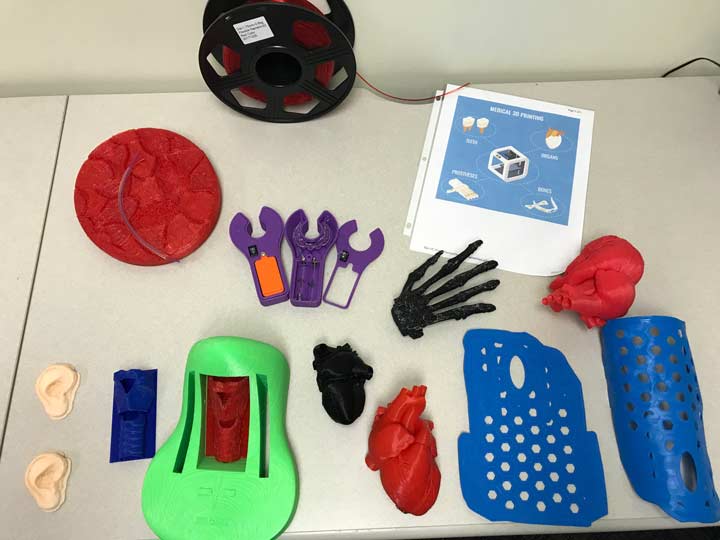 Lioce enlisted a "3D specialist team", containing engineering and information technology students, to assist in equipment production. Of course, when it came time to gather the digital models, the team turned to Thingiverse. There, they managed to find a cricothyrotomy trainer model, which effectively is a simulation of the human neck. Following 3 prototypes, the team had created 4 models in total.
Next, they 3D printed an onychectomy trainer. This tool is used for practicing the removal of thumbnails. They also saved about $100 by printing out vein finders themselves. Overall, a student team could create these units using $6 open-source design files. Medical schools can potentially learn to save a lot on their anatomical models and .
Featured image courtesy of UAH.