The first 3D printed concrete water chamber has been built and installed in Cheshire, UK.
Among other things, the printed water chamber, which is to be installed as part of the local sewage system is designed to reduce the risks associated with working at heights.
Read on to know more about this example of "Printfrastructure", which you can see in the image below.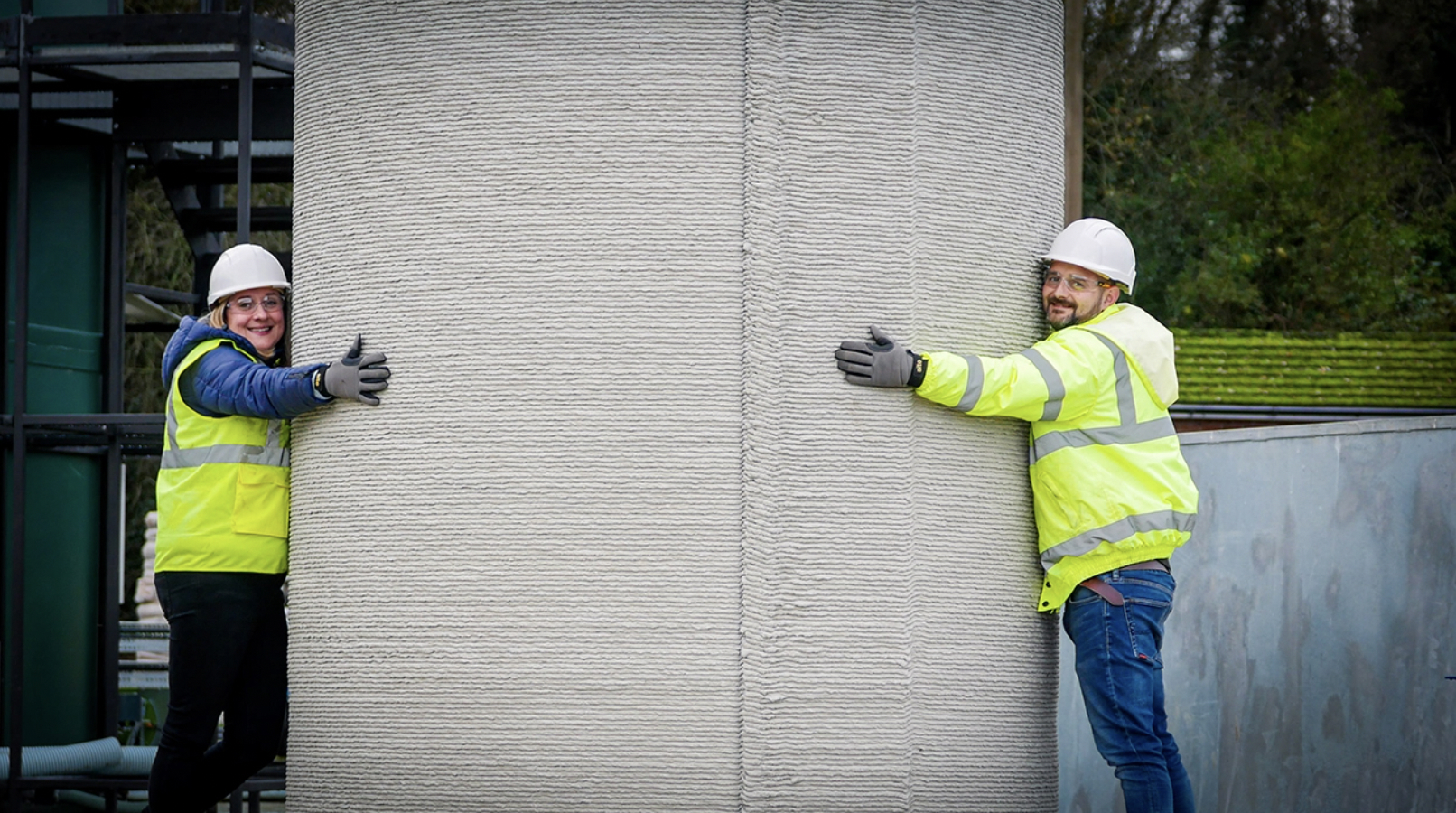 The structure which has been installed at the local water authority facility for testing was designed in collaboration with Costain, United Utilities and ChangeMaker3D.
The concrete water tank, which will contain wastewater from the sewage system was printed in just four hours, and offered a 25% reduction in carbon, 20% cost saving and 55% reduction in labor versus traditional construction methods.
"A 3D printed structure of this kind is ground-breaking within the UK water sector. We work with water and wastewater companies to develop solutions that improve water quality, affordability and resilience," said Gavin Stonard, technical development director at Costain.
"Partnering with United Utilities has highlighted how technology can provide novel solutions to help overcome industry challenges on safety, and efficiency, whilst driving down carbon."
By printing the structure at a lower height and wider diameter than traditional tanks, worker safety is increased by reducing the need to work at heights and within confined spaces.
"After months of hard work, we are thrilled to see the water chamber in situ, with proven environmental and cost benefits," said Natalie Wadley, co-founder and CEO of ChangeMaker3D.
"It's the result of a brilliant collaboration with United Utilities and our team of delivery partners, including CyBe Construction, Costain, Constructure, Ainscough and AutoMutatio.
Typically such concrete structures are manufactured by casting, which is fairly labor and resource intensive as molds are needed, and curing times can be fairly lengthy depending on the thickness of the structure and other environmental factors such as relative humidity.
You can see the structure being installed in the video below.
The tank itself was not the only first for the UK on this project, as the installation of the tank itself required a crane to hoist it into position.
This was the first time that a piece of printed concrete infrastructure has been lifted by a crane in the UK.
"Our mission is to support industry to leave a lighter footprint and transforming the UK's infrastructure is critical if the UK is to reach 'Net Zero'," said Wadley.
"We believe 3D printed concrete has the potential to help deliver the green growth our country needs."
"Our aim now is to continue to work with United Utilities to grow the impact. We want to prove this is a technology that can have widespread uses not just in the water sector, but for rail and highways, too."
You can read more about Changemaker3D and their vision for Printfrastructure over at this link.