Black Friday is upon us again and Geeetech has some bargains bargains BARGAINS for you!
There are some great discounts on Geeetech's range of printers and filaments too.
Read on to learn more about how to get your mitts on this discounted kit over the coming Black Friday period.
Thunder
First up in the line of discounted printers is the Geeetech Thunder.
Featuring rapid print speeds, this extrusion based printer can move its printhead around the bed at anything between 50 to 300 mm/s, with accelerations of up to 5000 mm/s² for the X-axis and 4000mm² for the Y-axis.
When compared against the same model and same print quality, these speed gains result in a saving of between 30% and 70% in printing time.
The Geeetech Thunder is not only fast, but it comes with an all-metal body, a super strong cooling system, and big printing volume too.
How much is this printer in the upcoming sale? You can get it for $489 (reduced from $699), that's how much!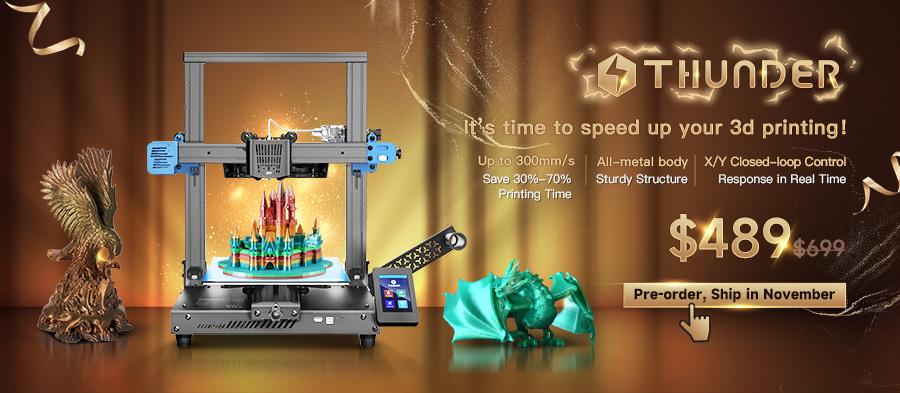 Mizar S
Do you find hotbed leveling annoying? Yes! Of course you do. Well don't worry, because the one-touch leveling button on the Mizar S has been designed with these woes in mind.
Offering modular assembly, 32-bit control board, great print quality and a 255x255x260mm print volume, and silent drivers, the Mizar S is a good all-rounder for those who want a no-fuss printing experience at a great price point.
And that price point just got 40% cheaper, because this coming Black Friday you can get this printer for $279 (compared to the usual price of $469).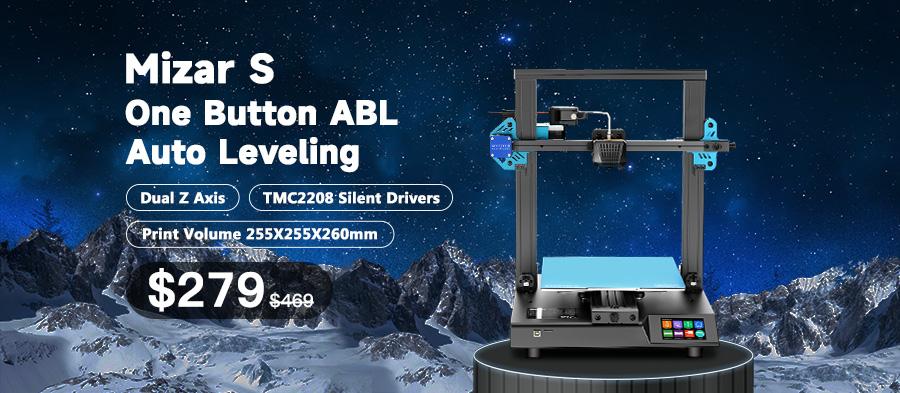 Mizar M
The new Mizar M is also a modular assembly printer, but this one comes with dual printheads for those wanting to dip their toes into multicolor printing.
Equipped with two print head modules named the "Separated Color Module" and "Gradient Color Module" for different printing modes.
The Separated Color Module of Mizar M allows the rapid switching between colors without mixing. This is good for printing parts containing two separate colors and has a higher printing speed.
The Gradient Color Module works by feeding from the two extruders, and mixing the colors in the channel. The color gradient can be set according to height, creating a transition between colors on the same piece.
It's easy to replace the printheads too because the Mizar M is designed for quick replacement of components with a system that will intelligently identify the print head modules.
Don't forget to check Geeetech official store, and get your pre-ordering on!
Early birds can bag a bargain at a price of just $399 (usual price is $599).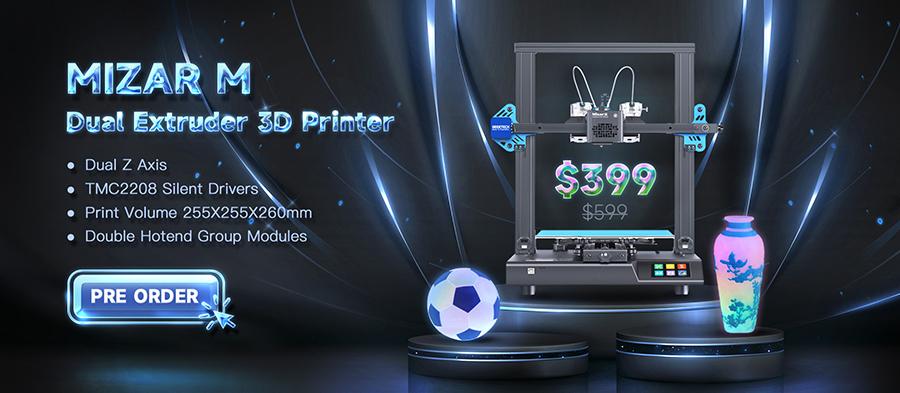 Mizar
The Mizar is for DIY fans, and requires full assembly from scratch, meaning that you also get to save a bit of cash right from the get go. Now on Black Friday, you can get it even cheaper!
With a one piece metal frame, it's a stable workhorse for the budget conscious.
Not only that, with the TMC2208 silent drivers the noise is reduced to less than 50dB.
How much is it?
You can get 42% off the Mizar, meaning you will get it for $149 during the sale period.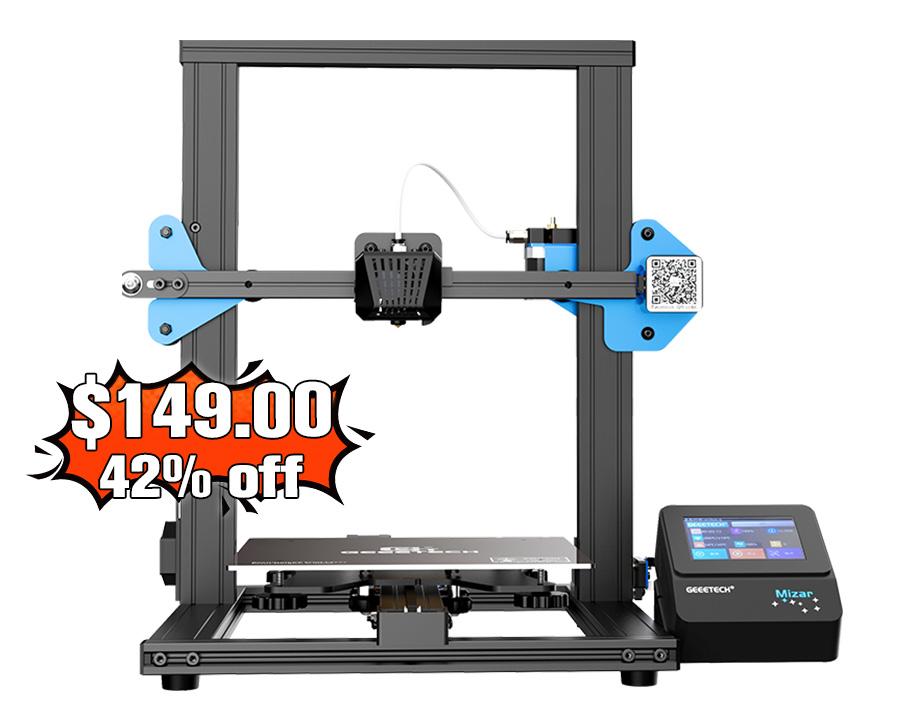 Filament
Yes, it's not just printers Geeetech are reducing the price for over Black Friday, but filaments too.
Their PETG starts at $10.99 a roll, the PLA can be nabbed for $11.99 per roll, and there are great offers on other filaments such as the high-speed PLA and also their luminous filaments.
There are even discounts on bulk orders, so the more you buy, the more you save.
Go see the company filaments page for more information.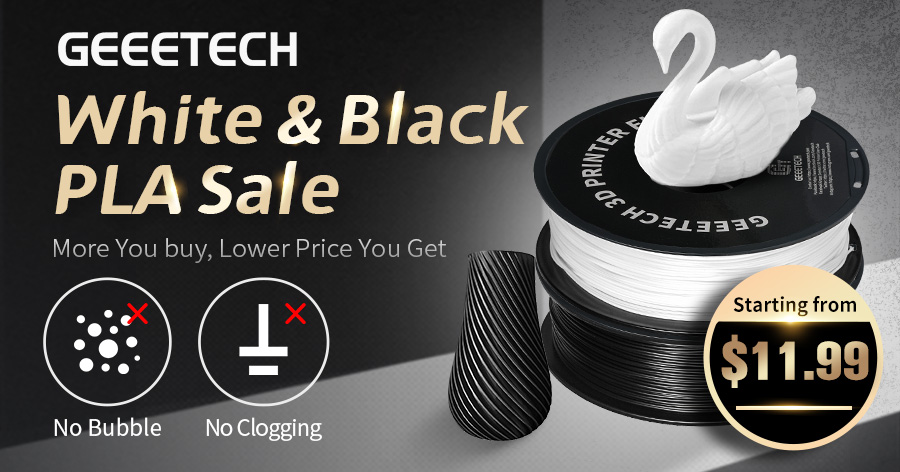 For more information and to get your hands on these goodies, head on over to the Geeetech website at this link and see what is on offer!