Bioprinting technology has taken a significant leap forward thanks to the collaboration between UpNano and BIO INX. The partnership has resulted in the development of a new biocompatible hydrogel resin, Hydrotech INX U200, that enables two-stage 3D printing of organ-on-chip devices with encapsulated live cells.
This novel resin facilitates 2-photon polymerization (2PP) 3D printing at micro- to meso-scale with exceptional resolution, opening the door to fabricating complex and versatile lab-on-chip designs.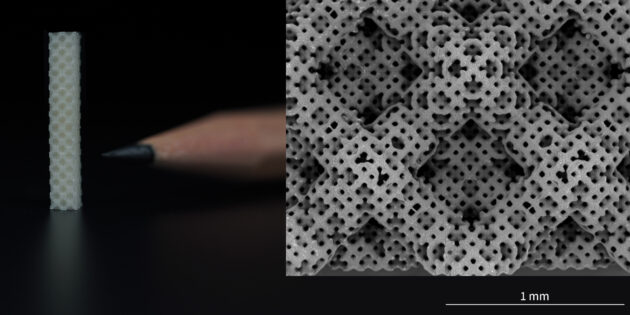 The joint efforts of BIO INX, a material specialist based in Belgium, and UpNano, an Austrian leader in 2PP 3D printing, have led to the creation of bioinks that combine multiple biocompatible materials. By combining Hydrotech INX U200 with the cell-encapsulating gelatin-based hydrogel Hydrobio INX U200, researchers can now develop highly versatile cancer-on-chip models.
Hydrobio INX U200 is the first commercially available high-resolution bioink that facilitates cell interactivity, further expanding the capabilities of bioprinting.
The advanced features of 2PP 3D printing, such as sub-micrometer resolution combined with the ability to print macro-scale objects, have been amplified by the introduction of Hydrotech INX U200. This bioink, certified for excellent biocompatibility according to ISO 10993-5, enables the precise 2PP 3D printing of macrostructures. It is an ideal choice for organ-on-chip applications due to its bio-inert nature and robust characteristics.
Printing Bioinks with 2PP
To fully utilize the potential of this novel bioink, a state-of-the-art high-resolution 3D printer is necessary. UpNano's NanoOne 2PP printer range, known for being the fastest high-resolution 3D printing system available, offers an excellent choice. The NanoOne Bio model, specifically designed for printing with living cells under sterile conditions, is a perfect match for fabricating complex 3D scaffolds for cell cultures while embedding living cells into these structures.
The combination of UpNano's NanoOne Bioprinter and the two bioinks, Hydrotech INX U200 for inert structures and Hydrobio INX U200 for living cells, simplifies the production of complex designs. Hydrotech INX U200 optimizes the high-resolution fabrication of bioinert microstructures, while Hydrobio INX U200 is a water-soluble natural hydrogel that allows for the direct transfer of cell cultures into intricate 3D structures.
This advancement in bioprinting not only offers unprecedented precision but also facilitates the direct embedding of living cells, saving time and enhancing the significance of research results. Lab-on-a-chip devices can now be produced with surface structures resembling natural tissues, allowing the creation of biomimetic structures within microfluidic channels.
Come and let us know your thoughts on our Facebook, Twitter, and LinkedIn pages, and don't forget to sign up for our weekly additive manufacturing newsletter to get all the latest stories delivered right to your inbox.