A large portion of 3D printing supplies that come into the US are from China. This is especially true of PLA and ABS 3D printer filament, which feature prominently in lists of imports. They are, after all, cheaper than the competition. However, this may be about to change with a new set of tariffs imposed by the current administration as part of their trade war with China. The 25% duty on imports on raw polymers and mono-filaments could affect the 3D printing industry in the long run.
While this round of tariffs has been bullish on many Chinese electronics and parts, they've also wedged in a lot of plastics. The statement from the trade office does not appear to mention 3D printing filaments directly, however once readers dig deeper they may notice that there are mentions of an increase in duties on plastic filaments of more than 1 mm excluding ethylene, vinyl chloride and acrylic polymers. This would mean that any 1.75 mm plastic filament outside of these will suffer.
The list also includes raw polymer imports, which is bad news for manufacturers of filaments in the US in case they thought they were safe. Many of them may not bring in full filaments, but they might still use Chinese raw materials. The US tariffs might be shaking up the production chains of a lot of other industries as well, considering how vague they are.
The Chinese Market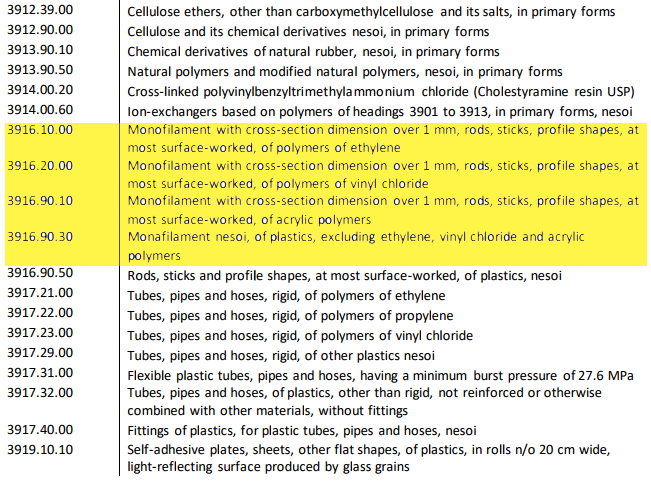 The Chinese market has been stable in terms of price for a while now. As the tariffs go into effect on 23rd August, that may change. What we cannot predict is the effect on the average consumer prices. The exact effect of tariffs on the average joe can be very difficult to predict as companies might find alternative markets or burden a bit of the costs to mitigate price increases in the short run.
Global trade can be difficult to navigate as it is, so we'd be unable to give those definitive answers. While China is the largest supplier of these sorts of goods within the US, it's still hard to say how ingrained they are in the market and whether it would be easy to shift agreements and alliances among companies.
Featured image courtesy of Hackaday.