Volkmann USA, a manufacturer of pneumatic vacuum conveying equipment, recently introduced the vLoader metal powder conveyor. This new system, designed for direct installation atop 3D printers, automates the transfer of metal powders from various sources like bulk storage containers and glove boxes to the printer's hopper. The vLoader operates through vacuum conveying technology, ensuring a steady, uninterrupted supply of powder to the printers, facilitating 24/7 operation.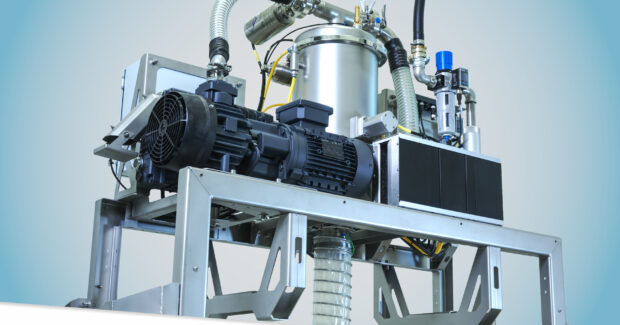 The system's primary advantage lies in its ability to automate what was previously a manual and potentially hazardous process. The vLoader's sealed, closed-loop system minimizes worker exposure to toxic metal powders and protects the powders from environmental contamination. This feature is crucial in maintaining material integrity in sensitive manufacturing settings.
Compatible with most 3D printers, the vLoader can function in both standard and inert atmospheres, offering versatility for diverse manufacturing environments. Additionally, it can be retrofitted onto existing printers, broadening its applicability. An optional companion, the vDryer vacuum dryer, is available to regulate the moisture content of the metal powders, further enhancing the system's efficiency.
Custom configurations of the vLoader can be tailored to specific additive manufacturing processes, indicating a flexible approach to various industry requirements. This development represents a significant enhancement in the field of 3D printing, offering a more efficient, safe, and controlled powder handling process.
Come and let us know your thoughts on our Facebook, X, and LinkedIn pages, and don't forget to sign up for our weekly additive manufacturing newsletter to get all the latest stories delivered right to your inbox.