In the world of architecture, innovation often springs from an unexpected source. The Washi Paper Pavilion, a creation by YET Architecture, is no different in this regard. Unveiled at the Vives Architecture Festival in Montpellier, France, this pavilion stands as a unique blend of artistry, sustainability, and technology.
What sets the pavilion apart is its unconventional material: paper. Paper is not typically associated with architectural masterpieces, but YET Architecture's experimentation with recycled paper has given rise to something truly unique. The pavilion's delicate skin is painstakingly crafted from recycled Washi paper, a translucent material that boasts environmental friendliness due to its lack of binding agents like glue.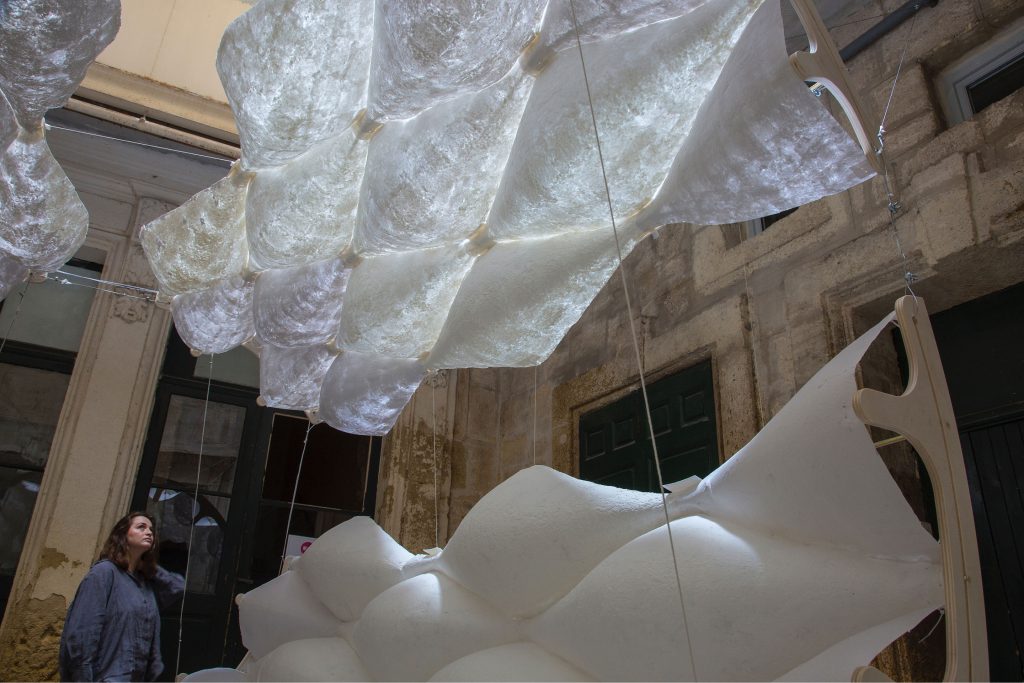 The project measures 6.5 sqm in area, and is a harmonious fusion of digital design and handcrafting, with every facet, from the overall structure to the intricate paper modules and joints, being crafted to create a shape unattainable with conventional paper sheets. 3D printing has played a pivotal role in bringing these unique designs to life, as custom joints and modules were printed to serve as molds for the Washi paper pieces.
However, the Washi Paper Pavilion is more than just a marvel of technology and sustainability; it also embodies the festival's theme of "sacredness." Elevated above the ground and suspended from facades, the pavilion evokes a sense of tranquility and serenity. Its gentle shapes and translucent patterns create an atmosphere akin to floating among fluffy clouds, making it a place where visitors can escape the mundane and experience a profound connection with their surroundings.
In addition to being a demonstration of design and fabrication, this project holds a deeper message about the sustainable use of resources. By repurposing recycled paper, often considered disposable, the designers have breathed new life into a material typically discarded at the end of its lifespan. Not only can the Washi Paper Pavilion be recycled after its use, but it also encourages us to rethink the potential of everyday materials in the creation of public spaces.
Source: parametric-architecture.com
Come and let us know your thoughts on our Facebook, Twitter, and LinkedIn pages, and don't forget to sign up for our weekly additive manufacturing newsletter to get all the latest stories delivered right to your inbox.