Swansea University researchers have developed the world's first fully roll-to-roll (R2R) printable perovskite solar cell, a major breakthrough towards their large-scale production and commercialization.
The team at the SPECIFIC Innovation and Knowledge Centre discovered a low-cost and scalable carbon ink formulation, which replaces the expensive and slow gold electrode evaporation process typically used in solar cell manufacturing.
Wet Chemistry
The key to their success was identifying a solvent mix that dries as a film without dissolving the underlying layer. This innovative layer can be applied continuously, compatibly, and at high speed, making high-volume manufacturing more feasible and economical.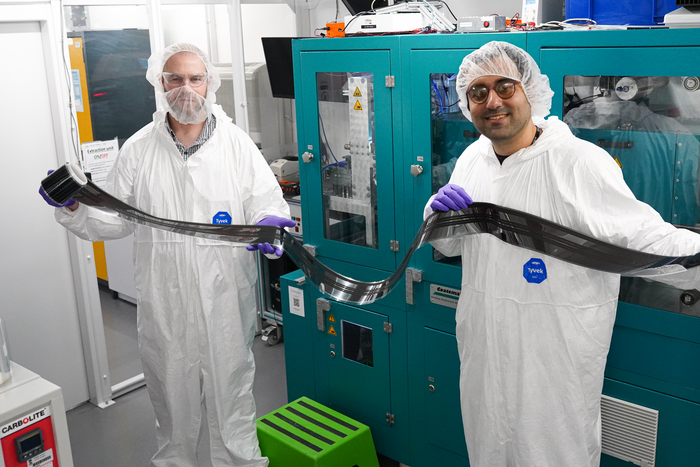 The devices with carbon electrodes demonstrated similar photovoltaic performance to conventional evaporated gold electrodes, while outperforming them at higher temperatures and exhibiting better long-term stability.
"Perovskite solar cells show great promise in the drive towards cleaner, greener energy," said Professor Trystan Watson, photovoltaic researcher at the university.
"The ability to produce a fully working device entirely in-line makes high-volume manufacturing easier and more economical and is a big step towards their commercialisation. It unlocks the idea of a manufacturing process where a solar ink is added to one end and a solar cell emerges from the other."
Long and Flexible
The fully R2R coated device was printed onto a 20-meter-long flexible substrate, achieving a stabilized power conversion efficiency of 10.8%. This new generation of solar cells, developed by a collaborative team of chemists, materials scientists, and engineers, has brought the possibility of printing and installing millions of meters of solar cells around the world closer than ever.
Come and let us know your thoughts on our Facebook, Twitter, and LinkedIn pages, and don't forget to sign up for our weekly additive manufacturing newsletter to get all the latest stories delivered right to your inbox.